This post contains affiliate links; if you click on a link in this post I may make a small commission at no additional cost to you. Additionally, the duvet cover and shams featured here were gifted to me by Crane and Canopy. As always, all opinions are mine.
For years, we've poured money into different parts of our home … but like most people, our main bedroom was always last on the reno list.
And whenever I decided it was time to give the room a little facelift — which I did at least a few times — it always wound up being underwhelming.
But today — for the first time ever — I can honestly say our bedroom feels luxurious.
The best part?!
I only made a few key changes in our space to take it from "basic" to "beautiful."
And I'm so very excited to be joining nearly a dozen other bloggers who also refreshed their own bedrooms!
Make sure to scroll to the bottom of my post for the list of links to all their bedroom reveals — you won't want to miss 'em!
Master Bedroom Refresh: The "Before" Photos
When we moved into our home nearly seven years ago, our main bedroom was a sight for sore eyes.
No, I'm not just saying that because that's what you're supposed to say when you're talking about the "before" state of a room.
It really was a hot mess, and I think that's a generous statement.
See what I mean in my grainy iPhone photo below?
The green walls were left over from the previous owners, but wow …. it was really, really not good.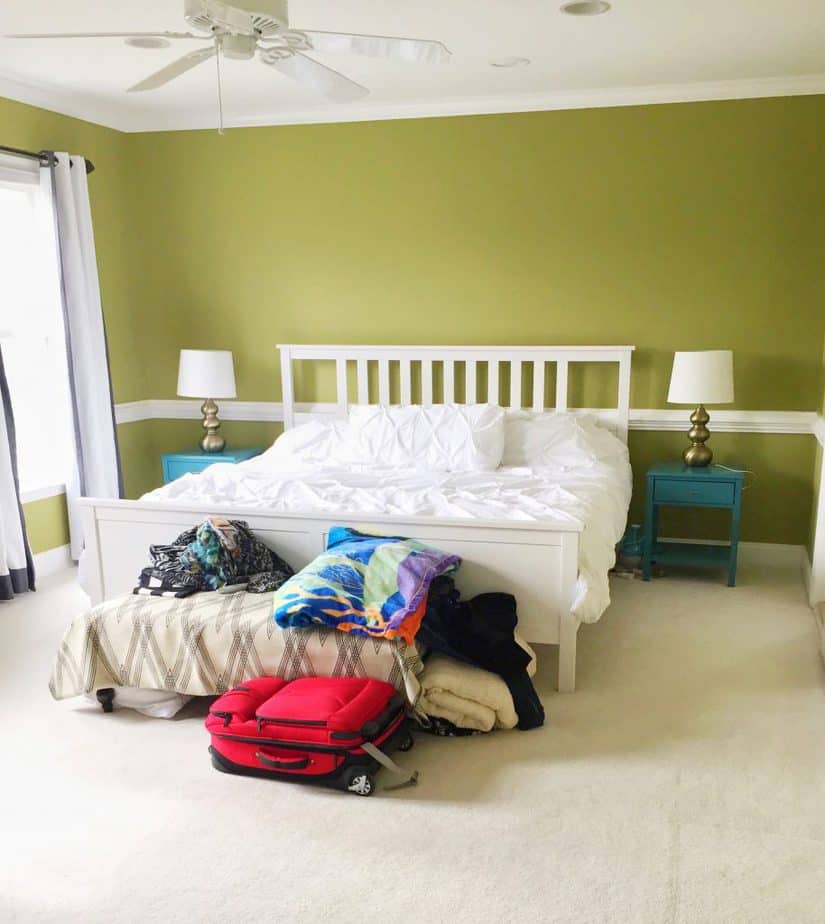 Luckily, there are plenty of ways to make a tired bedroom look better — while staying within budget — and we pulled out all the "please make this not so hideous" stops shortly after moving in.
Here's my very first "Our bedroom looks better!" post from a few years ago.
And I wrote an entire post sharing my perspective on when to splurge versus when to save when it comes to bedroom decor.
We changed the wall paint color (thank goodness), and that alone made a huge difference.
We then added some new wall art, new bed linens, and swapped out our curtains.
Updated Master Bedroom Makeover Reveal!
The result wasn't my dream bedroom my any stretch of the imagination, but it was a big improvement over where we started:
We eventually added a pretty Persian rug and got new curved wooden nightstands.
And I hacked our Hemnes IKEA bed to look like a far more expensive, grasscloth-covered bed.
Last but not least, I added three gorgeous watercolor prints from one of my favorite local DC artists, which brought the room together:
Still, though, something felt off.
Maybe it was the too-short lamps or the boring bedding.
So I promised myself once and for all that I'd upgrade our room and make it into a space that I'm insanely proud of — and that's exactly what I did!
How to Make an Old Bedroom Look New: upgrades we made to our master bedroom
A few changes in our main bedroom went a long way this time around!
There are three key things I changed that I believe made all the difference in making our space feel new and more upscale:
Upgrade #1: New bed linens
We lived for years with our Target bedding, and there wasn't anything wrong with it.
But let me tell you, our new Crane and Canopy duvet cover and shams make our bedroom look and feel downright luxurious!
I chose the Linden duvet cover and matching shams in navy blue (see below). Not only is the bedding pretty to look at, but it's so incredibly soft.
Linden duvet cover and shams in navy; photo courtesy of Crane and Canopy
If you're still using budget linens and you can afford to upgrade … do it.
This is one of those things that you won't regret. In fact, you'll probably wonder why you didn't make the change earlier.
Upgrade #2: Taller (and colorful) lamps
The old white lamps in our bedroom were pretty but were clearly too short. Between the large bed frame and the taller nightstands, they visually got lost among those bigger elements.
So I swapped them out for this pair of moss green lamps, which I got at Target for a great price!
Upgrade #3: New "artwork"
Perhaps the most luxurious (or most expensive) thing in our bedroom is now the wallpaper that I turned into wall art.
Thibaut's Honshu wallpaper is extremely pricey, but I knew this pattern would look absolutely stunning in our bedroom.
Here's a look at this gorgeous wallpaper in all the available colorways. Can you guess which one I chose?
Photo courtesy of AD Couture Home
So I purchased one roll of wallpaper and three gold frames, and turned a single roll of wallpaper into art (with plenty of paper to spare!).
The "After" Photos of Our Master Bedroom Makeover
Ready to see how all our upgrades completely changed the look and feel of the room?!
Here's the view as you enter our bedroom:
So much better, right?
The crisp navy and white bedding and that framed wallpaper made an incredible difference.
Here's a look at my side of the bed, where you catch a glimpse of the chair in our bedroom.
If I'm being honest, no one ever sits here, but I think it's beautiful and so it's got a permanent spot in our room.
And here's a close up of our new "art."
I am just so obsessed with this wallpaper!
Last but not least, here's my most favorite photo of all:
What do you think?
I'm so happy with how our "new" bedroom turned out.
And once again, just a couple small changes made a world of a difference.
More bedroom refresh reveals — don't miss them!
Now that you've seen our new space, make sure to check out all the other bloggers who gave their rooms a facelift, too!
Don't miss their posts — just click on the links below to go right to their sites and see all the beautiful changes they've made.
Camila from Effortless Style
Kate from Kate Decorates (that's me!)
Ashley from At Home with Ashley
Chelsea from Two Twenty One
Carmel from Our Fifth House
Tiffany from My Eclectic Nest
Jenna from Rain on a Tin Roof
Tasha from Kaleidoscope Living
Yuni from Love Your Abode
Katrina from Katrina Blair
Like this post? Pin it for later!