Today's the day, you guys. It's finally time to share our budget-friendly modern boho master bedroom makeover reveal with you, and I honestly want to hop out of my desk chair and do a cartwheel right now. (But I actually kinda suck at cartwheels, so I'm probably just going to stay right here.)
You see, when we moved into our home about three years ago, we painted. We replaced outdated stuff. We bought new throw pillows and new decorative accents and a new kitchen table. We upgraded our front door and purchased plants for the front yard.
But the master bedroom?
We did nothing. Nada.
And so for those three years, it looked like this, give or take a random suitcase or piles of clothes shoved here or there: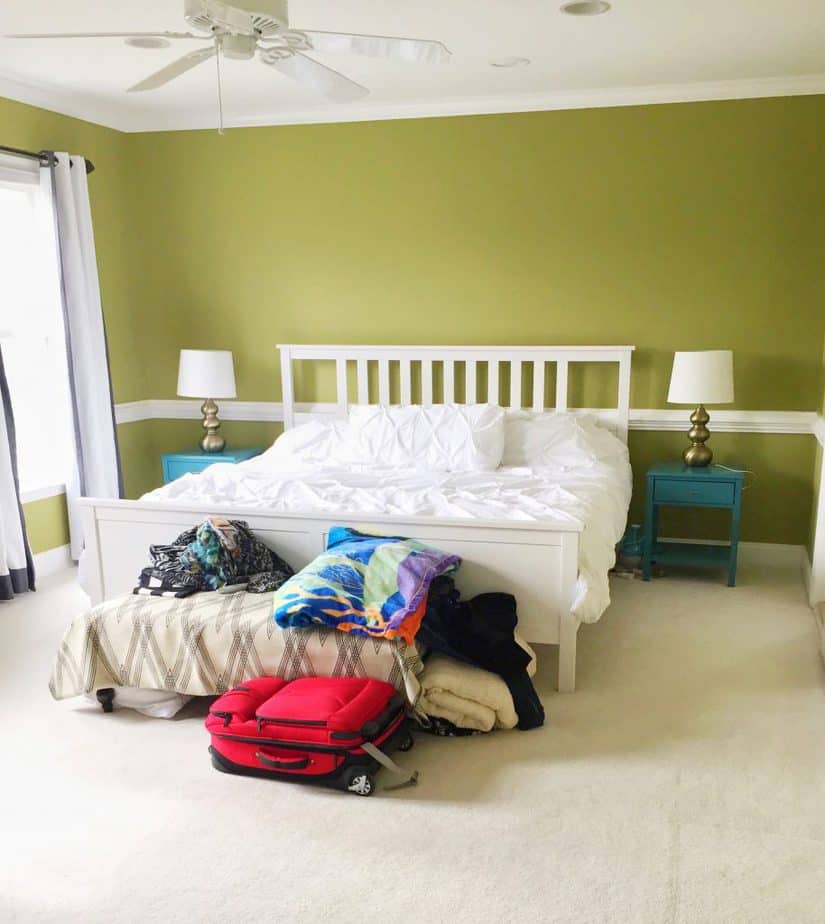 I can't even handle this photo. Seriously. It's so embarrassing.
Instead of giving our master bedroom — the place that is supposed to be a sanctuary to get away from the craziness of everyday life — the attention it deserved, I stuck it on the bottom of the to-do list and decided I'd get there someday.
In the meantime, it turned into a room I didn't enjoy being in, and so we wound up treating it kinda like a storage closet as opposed to the peaceful, welcoming spot it should have been.
A few months ago, we finally bit the bullet and had the room painted. (I still can't believe we lived with that pea soup color on the walls for so long. Good Lord.) And then I put together a design plan to guide our makeover, one that didn't require any major changes or the purchase of new, big-ticket items like a new bed or other large furniture pieces. You can read all about the plans for the room and the story behind some of the pieces I chose right over here.
Okay. But enough chit chat. I'm dying to show you what the space looks like now.
Ready? Here it is!
This post contains affiliate links. For my full disclosure policy, please click here.
I can't even handle it. I am so thrilled with how our budget-friendly makeover turned out. Our bedroom is finally a spot I actually enjoy being in. And the entire makeover wasn't even that expensive, as we kept our bed, the two teal nightstands, the gray and white ottoman at the foot of the bed, and the amazing Crate & Barrel mirror that you see on the left-hand side of the photo (for the record, that is one of my all-time favorite purchases).
All that was left to do was get some new bedding, pull together a gallery wall and some other decorative accents, and invest in new curtain rods and curtains. The curtain rods and drapery that I purchased from West Elm was probably the biggest investment we made with the room makeover, but frankly that was a complete game changer.
Truth be told, installing the rods and curtains was the last step in decorating (although if we're being serious, I made my husband do it), and I was unsure of the room as a whole until those went up. All of a sudden — kinda like magic — the room came together. Thank goodness!
Here's another peek at the entire room.
I'm still contemplating if I need to hang something on the right-hand wall, but I don't want anything to detract from the gallery wall we already have. And anything like a shelf that juts out is just asking for trouble (read: I'm totally going to walk into it at 3 o'clock in the morning when M is crying because he dropped his paci).
Any ideas for me as to what I could add? Tell me in the comments below!
This might be what I'm most proud of: Our gallery wall!
What I love most about it is that many of the pieces are meaningful to us in some way. Obviously the wedding photos are sentimental, but let's talk about the other pieces here and why they're so special.
First, the black and white date print you see is from Minted (man, I love that place!) and June 12, 2010 was our wedding day. This print comes in a few different colors and is such a beautiful way to commemorate a special milestone.
Second, the Monaco art print is by Rifle Paper Co., another brand that has a special place in my heart. (Pro tip: Amazon.com carries a number of Rifle Paper Co. art prints, plus their greeting cards, journals and more. Hooray for lovely artwork with 2-day Prime shipping!) This is reminder that someday we will get to go on a real vacation again. 😉
And last but definitely not least is the gorgeous abstract print in the matte brass frame. It's from Stephie Jones, and was inspired by one of her favorite vacation spots: the Outer Banks of North Carolina. And guess what? That's the beach my family and I frequented growing up. How awesome is that? I knew I had to have that lovely piece for our gallery wall, and Stephie was kind enough to gift the print to me. (Thanks, Stephie — you're the best!)
Here's one more view of our gallery wall….
And a close-up of the beautiful blue abstract work from Stephie Jones! Stunning, right?!
I did some light accessorizing on our nightstands, but let's be real….my husband pretty much only needs a spot for his Kindle, and beautiful vases with faux roses tend to cramp his style. 😉
We're lucky that we have recessed lighting in our bedroom so we didn't need to add too many extra lighting sources to the room, but I did love this brass table lamp from Target's Project 62 line (here's one that's similar). So….it magically found my way into my Target cart and onto this nightstand. "Honey, I really have no clue how that happened. Honestly."
I'm a little more tolerant of decorative accents on nightstands than my husband is, so my side of the bed includes a potted snake plant (SO good for filtering air, by the way, and they're impossible to kill), my favorite Voluspa candle, a sweet "XOXO" sign that I snagged a while ago from Marshall's, and an adorable tray to hold my glasses.
I also upgraded the knobs on the nightstands to make them feel a bit more high-end. Swapping out hardware is such an easy way to make dressers, nightstands and consoles look more chic! This particular set of brass knobs is from Anthropologie.
And of course it was important to have woven catch-all baskets on either side of the bed to hold all the kids' books and other odds and ends that somehow make their way into our room…..
Let's talk about that pretty candle again, shall we? Here's a PSA for you: Voluspa candles are AMAZING and they will last forever. The crane flower scent is one of my faves!
And now let's look at the other side of the room. I already mentioned the gorgeous Crate & Barrel mirror that I purchased a couple houses ago — it's still one of my favorite pieces in our home. The West Elm curtain rods and drapes felt a little bit like a splurge since we were trying to be super budget-conscious with our decorating, but let me tell you, I'm SO glad I took the plunge.
Sadly, this exact set of curtains is no longer available (which is a bummer, because a couple people on Instagram have been asking about them), but you can find similar sets here and here.
I'm also mildly obsessed with this little corner of the bedroom. I snagged this modern boho chair from Target (somehow it seems to be unavailable, but here's one that's similar and less than $100), and the "coffee, books and rain" pillow cover? I snagged it on Amazon. I just love it….. even if my reality these days is more like "milk and Elmo on the iPad and rain." Ha! You can find that cute pillow cover right over here.
And in case you thought our bedroom was always this pristine, here's a glimpse as to what usually goes on in this space.
It's the perfect spot for reading, snacking and jumping!
Or, if you're like my daughter, it's a nice little getaway for those times when your little brother is being a pest (but a cute pest, of course).
Yep, still loving that coffee pillow. And these gorgeous palm leaf pillows have adorned many rooms in our home, but now have a permanent spot in our master bedroom.
So there you have it! Our master bedroom makeover is in the books!
How's your master bedroom looking? Is this a space in your home that you've focused on when it comes to decorating, or are your plans still in the works?
If you wanna snag any of the items you saw above that I used in our master bedroom makeover, here's a super handy list for ya. Simply click on each item to get more details and make a purchase. A few items are no longer available, in which case I linked to some similar things below!

LIKE THIS POST? PIN IT FOR LATER!