I've loved our dining room, but it's looked the same for years and now I'm itching for a change — which is why I'm sharing our colorful dining room makeover plans with you today!
I know that some of you are going to say, "But why are you changing this room?!"
I get it. I do love it.
But after six years it's time to refresh things.
Our Updated Colorful Dining Room Decor
Here's what the space looks like today:
I know, I know. There's nothing wrong with it.
But all the grays in here aren't working for me anymore.
And it's the only room in our home that we haven't touched in years.
So … onward to a room refresh and some fun design plans!
What's the One Room Challenge?
To get myself motivated to start (and finish!) this room makeover fairly quickly, I decided to join in on this spring's One Room Challenge.
If you're not familiar with the One Room Challenge, the concept is pretty simple: Participants have 8 weeks to transform a room in their home, sharing the process along the way.
That's it! Simple, yes, but let me tell you, it really lights a fire under your you-know-what if you're like me and tend to procrastinate when it comes to decorating projects in your home.
I've participated in the One Room Challenge before: Last year, I gave my daughter's bedroom a colorful refresh.
You can read about my tween girl's bedroom makeover right here.
Design Plans for Our Colorful Dining Room Makeover
Now back to the dining room.
What decorating tricks do I have up my sleeve, you ask?
Here's a sneak peek at the colors and patterns I'm going to incorporate into our "new" space: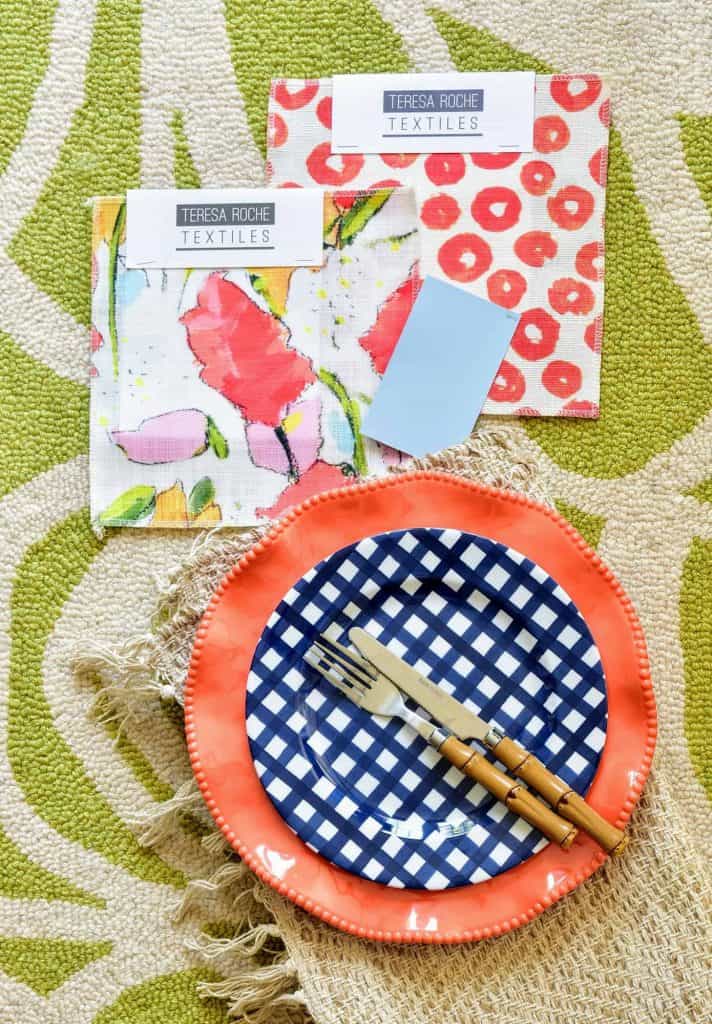 The pretty floral fabric you see in the photo above is being used to make custom covers for our IKEA Henriksdal dining chairs.
I discovered this IKEA "hack" a while ago and had custom covers made for the chairs.
We loved them so much that I'm having another set made as part of the room makeover.
I wrote all about my IKEA Henriksdal dining chair hack right here — if you like IKEA prices but love ideas on how to make their decor and furniture look more upscale, then you'll want to read it!
While I'm changing up the look and feel of our dining room, though, a lot of our current furniture is staying.
Whenever possible, I like to hold onto the big furniture pieces (provided that I still love them) and change up other elements of a room to achieve a new look.
It's budget-friendly, fun, and still allows me to give a space an entirely new look and feel without draining my savings.
I'll share more specifics on what's staying and what's going in next week's post.
Here's the official mood board I created for the room:
The Colorful Dining Room Makeover To Do List
What we've done so far:
We've already started working on the room refresh!
Here's what we've done so far:
Painted the room
Ordered the new chair covers for our IKEA chairs
Purchased a new piece of furniture that's blue (I'm not telling what it is — you'll have to wait and find out!)
Shopped my home for various decor we'll use in the new space, like table runners and melamine dishware
What's left on the to-do list
Okay, so there are quite a few things left on the to-do list, but thankfully most of the to-dos are small tasks.
Two of the biggest things I need to do are pull together the new gallery wall for the room and order the peel-and-stick wallpaper.
I'm sure you're wondering where the wallpaper is going. Any guesses?
Stay Tuned for More Colorful Dining Room Design Updates!
That's all I'm sharing for now!
In next week's post, I'll share some in-progress photos of what we've done to the room so far.
And maybe I'll even tell you where the wallpaper is going. 😉
I'd love for you to pin this post for later.
Thanks so much for your support!
Related: catch more colorful dining room updates in these posts: