This post was written in collaboration with Joss & Main. As always, all opinions shared below are … you guessed it … mine.
As busy moms, we all do it.
We put ourselves last on the priority list.
Even when it comes to decorating our homes.
We pour over Pinterest ideas for the family room, the kitchen, the dining room … we go to great lengths to make sure our kids have a great play area and adorable bedrooms.
But our master bedrooms? They're relegated to the "we'll get to it someday" list.
And I know that because I was once 100% guilty of doing this exact thing.
Recently, when I asked you what kind of decorating help you wanted most — you said you wanted advice on decorating a master bedroom on a "normal person" budget.
I hear you. Loud and clear. And I've been there … even though as a design blogger, it's a little bit embarrassing to admit.
Other related posts you'll love:
Creating a high style, "normal budget" master bedroom
When Brian and I moved into our home over five years ago, we did exactly what I described above.
We decorated every room in our home except the master bedroom.
After all, we were the only two who'd ever see it, so what was the point of pouring money into an "invisible" room in our home?
Here's what it looked like a few weeks after we moved in. The paint was ugly and the place was a total dumping ground.
The unpacked suitcases are a nice touch, don't you think?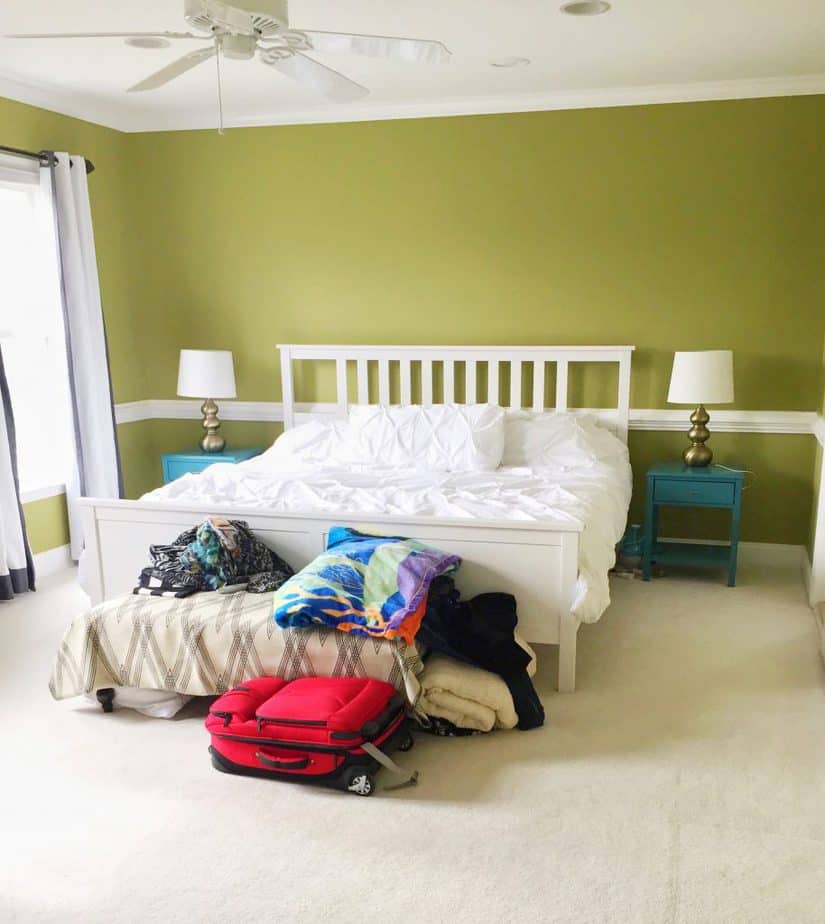 Well, turns out that as busy, overworked parents, it really stinks not having a haven in your home that you can retreat to at the end of a long day. A cozy spot to curl up and read a book. Or to catch up on conversation with your partner.
Walking into your bedroom and stepping over Legos and baskets of unfolded laundry in order to lay down isn't real fun.
But here's the good news: There's a pretty simple (and inexpensive) formula I used for refreshing our master bedroom. (By the way, you can see our whole master bedroom refresh right here.)
And I'm spilling all my secrets today.
My three secrets for creating a fabulous master bedroom on a tiny budget
When we set out to refresh our master bedroom, we wanted to spend as little money as possible while still creating a space that felt cozy and welcoming.
Here's the process I followed.
The nice thing about this approach is that it's sort of a timeless, foolproof method for creating a more serene space. And much of the decor can be used for years to come, even if you decide you want to test out another color palette or want to add a pop of pattern somewhere.
Rule #1: Start with white bedding.
I know what you're thinking.
"But I have kids! And kids are messy. Why the heck would you recommend white bedding?"
Hear me out.
I love white bedding for a few reasons:
It provides a neutral backdrop for whatever other color and pattern you want to add to your bedroom.
White is timeless and classic — buy bedding now and use it for years.
It's easy to bleach. (Yep, there it is! Don't you worry, I definitely thought about the cleaning aspect of this whole scenario.)
I recently spotted lots of great white bedding options — from comforters to quilts to duvet covers — at Joss & Main, which is one of my favorite shopping sources for finding stylish decor items at great prices.
Take a look at these beauties, all of which are from Joss & Main. Beautiful, right?! And the prices are REALLY good.
Rule #2: Pile on some pillows.
Throw pillows are the MVPs of the decorating world.
They're inexpensive, they add lots of personality, and they're easy to swap out when you get bored of a color palette and want to try something new.
In fact, I have an entire post on where to find great throw pillows. Check it out right here.
Just like you see below, throw pillows usually work best when they're grouped in odd numbers.
Choose one main pillow (usually the one with the most color and pattern) and then coordinate your other choices based off your "main" design.
Rule #2: Add some art.
Adding wall art is a simple, inexpensive way to inject more personality to a room.
When I decorated our master bedroom, I chose lots of low-cost artwork to create this gallery wall:
I've changed up the gallery wall design over the years, but many of the art pieces you see here — like our framed wedding photos and the blue and white abstract art on the right-hand side — are still part of the collection in our bedroom.
If you're not sure where to start with artwork for your master bedroom and want some tips on creating a Pinterest-worthy gallery wall, then check out these tricks I shared right here for rocking your gallery wall design.
I've also got a post dedicated to gallery wall sins to avoid.
Trust me, if you know the basic secrets that designers use to choose and arrange artwork, then you'll be able to create your own gallery wall — all while feeling awesome and confident about doing it.
Other related posts you'll love:
Add the extras … eventually.
If you're on a strict budget, then the three things I talked about — white bedding, pillows and artwork — will make the biggest difference in how your space looks and feels. All without draining your bank account.
Sure, there are plenty of other ways to spruce up your master bedroom — like buying new nightstands or new lighting — but those usually come with a heftier price tag.
Start with the stuff that gives you the biggest bang for your buck (literally) and then add those extras over time.
If you've recently redecorated your master bedroom, what was the biggest game changer for you when it comes to decor? Was there an "it" piece that totally changed your space?!
Like this post? Pin it for later!