This post was written in collaboration with Minted. I received free products from Minted in exchange for this post. As always, the opinions shared here are my own.
Of all the questions that readers send to me, the most popular one has to be this one …
"How do I make an art gallery wall?"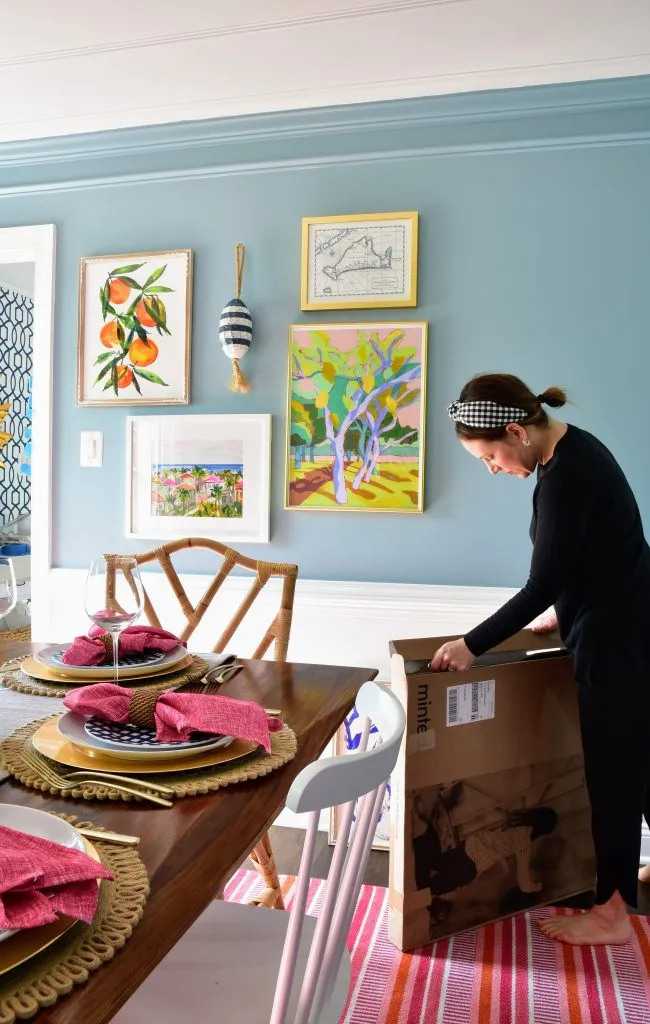 I'll tell you a secret: There's no single right way to create an art gallery wall.
If you're creating an art display and YOU love it … that's what matters most.
However, if you're looking for helpful tips as you get started, I do have a couple of tricks to share with you that'll take the stress out of curating the perfect art wall.
Psst: There's a bonus at the end of this post
I just hung up a brand new gallery wall in our home … and I'm sharing it with YOU at the end of this post.
So scroll through to get my tips and tricks on gallery walls, and then see our newly finished art display!
By the way, if you want to follow my progress on projects in the future, the best place to do that is on Instagram. 😉
This post contains affiliate links. If you make a purchase by clicking on a link in this post, I might make a small commission at no additional cost to you. Thanks for supporting my small business.
Tips and tricks for creating a perfect art display
If you're considering creating an art gallery wall, you're probably thinking, "Where do I start?"
Here are a couple practical steps I follow when I'm thinking of creating a gallery wall in my home.
Figure out a theme: Your art pieces in a gallery wall shouldn't totally match one another, but I personally find it's best to choose art pieces that feel like "cousins." One of the best ways to do that is to choose pieces that have certain colors in common. This keeps your gallery wall interesting without it looking haphazard.

Collect art you love: This is the best part! Once you have a theme or some colors in mind, start looking for art pieces you love that could potentially be part of your gallery wall. This includes looking at art you might have in storage, art your kids created, or maybe even pieces that are currently hanging in another spot in your home. I love mixing old and new pieces when I'm creating an art display. Not only does it give your art wall character, but it winds up telling a beautiful story about you and your home. If you're looking to buy new art, I love getting pieces from online art marketplaces like Minted, and of course I often purchase pieces directly from artists I like, too.

Buy great frames in various sizes: My preference when it comes to gallery walls is to vary the sizes and shapes of my frames as opposed to hanging my art in a symmetrical grid. And as for the frames themselves, I don't have a single go-to retailer where I like to buy them. For extra special art pieces, I'll sometimes splurge on custom framing, but otherwise I typically purchase less expensive frames at places like Target.

Start in the middle when you're hanging frames: When it comes to arranging my gallery wall, I first grab a piece of paper and draw rectangles to represent where I want the frames to go, and I often even lay out all my artwork on the floor before I start putting holes in the walls. When I'm hanging pieces, though, I find that it's easiest to start by hanging the piece in the middle of your wall, and then work outwards from there on both sides.
All right, now that we've got the quick list of tricks out of the way, I want to dig into some of your burning questions.
For this next section, I dug back through my Instagram DMs and my inbox to find all the things you've asked me about hanging art over the years.
And guess what? There are some themes, y'all!
Here are the most popular questions I've been asked by my readers (just like you!) about art gallery walls.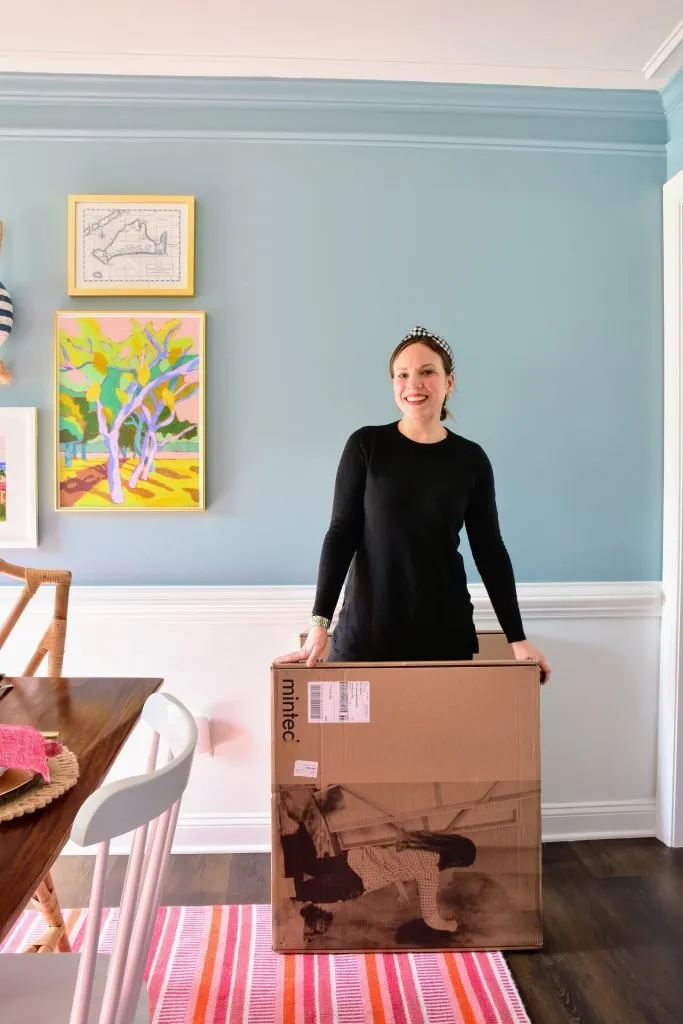 Where do people buy real art?
There are so many places to purchase "real" art! Although I'd argue that anything can be real art if you want it to be (like a framed concert ticket from the show you and your partner went to on your first date). But for now, let's focus on where to find and purchase non mass-produced art.
If you're just starting out with building an art collection, my favorite place to find art I love is … wait for it … on Instagram.
Hands down, this is THE place where I've discovered some of my favorite local artists. Start typing in searches for the type of art you like on IG, and you'll be amazed at what pops up.
And if you feel like artists' original pieces are out of reach from a budget standpoint, see if they offer prints for sale. I often find that buying artists' prints is a great way to get "real" art at a lower price point.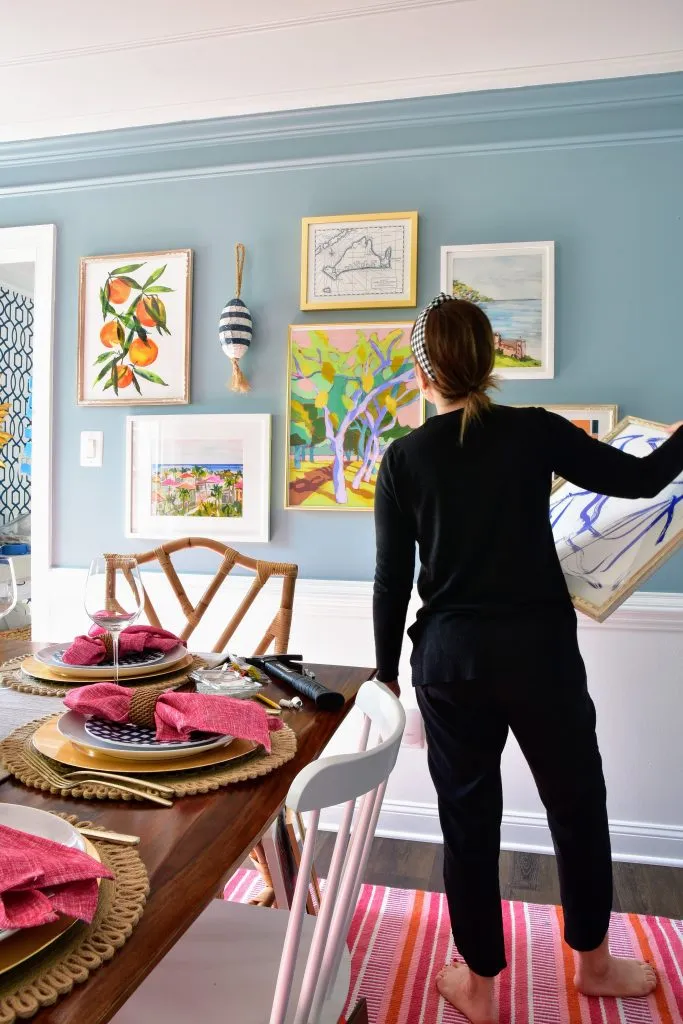 I also love art marketplaces like Minted, where you can find lots of great pieces from independent artists. Which leads us to the next commonly asked question …
Where do most people buy art online?
There are lots of great art marketplaces online, but the one I loved and have been using the longest is Minted.
If you aren't familiar with Minted, this website offers a huge selection of gorgeous art pieces, all from independent artists. I like that there are so many search options on the site, too. Filter by the type of art you're looking for, by size, by color … the options are really endless.
I've purchased so much of the art that's in our home from Minted.
This recent piece I bought for our dining room is from their marketplace.
It's called "Converge" and was designed by an artist named Melanie Mikecz.
You can shop the piece right here.
And several art pieces that are part of our latest gallery wall – the one I just created for our dining room – were also purchased from Minted.
More on our latest gallery wall project in a moment!
Can you mix photos and art in a gallery wall?
Absolutely!
My personal stance on mixing art and photos in a gallery wall is that it'll only make your space more interesting to look at, not to mention it'll be that much more meaningful to you.
I'm a big fan of incorporating photos into gallery walls. They can be black and white photos, or they can be colorful.
Here's a sneak peek at a recent photo I purchased from Minted for our dining room gallery wall.
Do I have to hang ONLY art or photos?
Nope!
The quirkier, the better when it comes to gallery walls. Want to hang a vintage tennis racket? Go for it. Thinking of framing a plane ticket from your favorite family vacation? Love that idea.
Anything goes when it comes to gallery walls, and frankly I think they're far more fun and interesting when you add something unexpected that's also meaningful to you.
For example, I purchased a vintage buoy that was originally salvaged in Martha's Vineyard – a vacation spot that is near and dear to our family's heart – to hang up in our dining room.
You can see it hanging on the wall right here: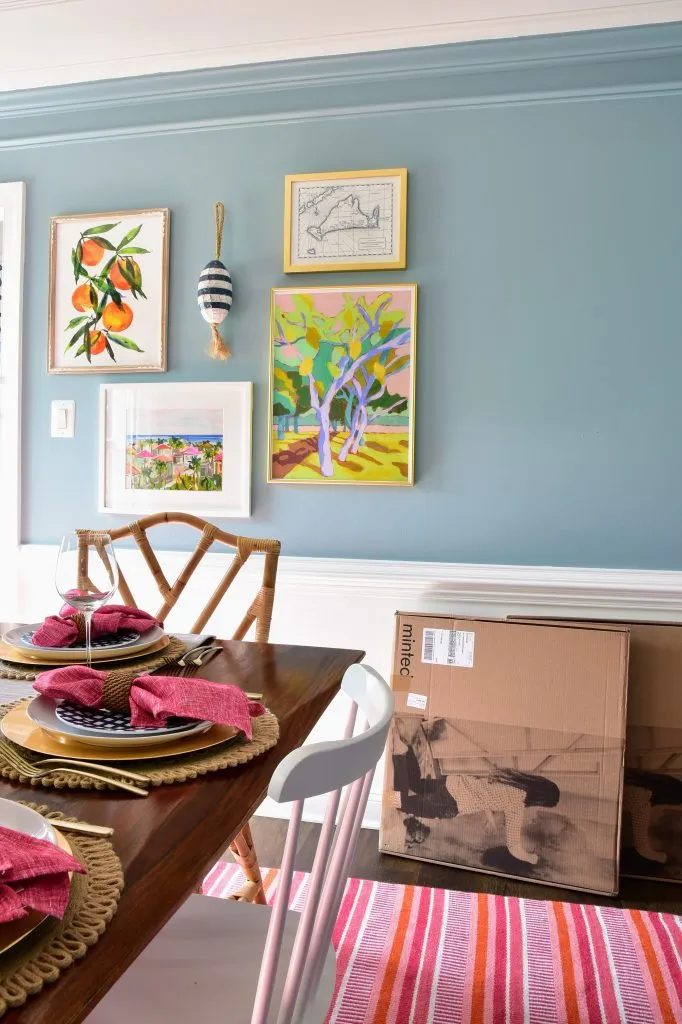 Not only does it look great on the wall, but it reminds me of one of my all-time favorite trips the four of us have taken together.
The big reveal: Our (new!) dining room gallery wall
Yes, we've had art on our dining room walls for years … but every so often I reconfigure all of it, and swap out different pieces.
And I just did this last week!
Ready to see our NEW gallery wall?
I have to say, it's my favorite one yet.
I've been giving you peeks of it all throughout this post, but here it is in its entirety!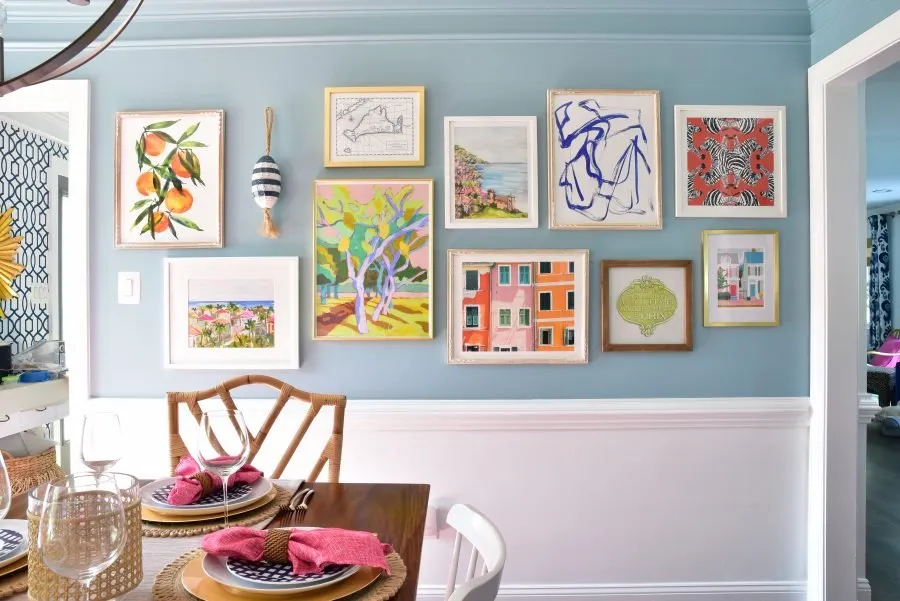 Most of the artwork you see here is art I've owned for years and have used in different rooms of my home.
But I did buy a few new pieces for this gallery wall, all of which came from Minted.
Here are the pieces shown above that came from Minted (click the links below to shop!):
What questions do you have about gallery walls that I didn't cover?
Leave them for me below!