Redecorating an entire room — especially when you're changing the paint color and purging nearly all the furniture — is so exciting, isn't it? There's nothing better than beginning with a clean slate and making a space in your home one that you absolutely love. It seriously makes me so giddy when I literally get to start fresh like that.
Until, of course, someone mentions the "B" word, as one of my friends likes to say.
Can you guess what "B" word I'm talking about?
Did you say "budget?" YES. Budget. My least favorite word.
Yet decorating on a budget is the reality for me with EVERY single room I decorate. And I bet that's the case for most of you. Sure, there are kitchen renovations or other projects that are an exception to this "always on a budget" rule, but usually when I'm furnishing and decorating a space I really need to be mindful of what I'm spending. My husband is also very budget-conscious — which isn't a bad thing — but if I'm proposing a big purchase, I'd better come to the table with ideas for how to offset that purchase (or a really sweet coupon code).
And let me just come out and say it: Sometimes that whole budget thing really sucks.
I had this whole mix of feelings when I started thinking about our master bedroom makeover a couple months ago — here's a glimpse of the finished product. (You can read all about our master bedroom makeover — and see some super ugly "before" photos with the worst wall color ever — right over here.)
I was SO excited to finally spruce up this room, seeing as how it's the one space that remained untouched in our home since we moved in over three years ago. But we had recently made some other big purchases — a new front door and a new car for my husband, to name a few — which meant that I had to be very mindful about my spending on this room makeover.
I know that you guys are struggling with the same thing: How do you decorate on a budget but still create a room that's sophisticated, comfortable and inviting? And you told me that one of the spaces you've neglected most in your home — just like me! — is your master bedroom.
So today I want to talk about how I mixed high and low items to achieve our new master bedroom look that I absolutely love. I also want to share my thinking about what's worth splurging on, and what isn't. When I'm deciding to splurge versus save, here are the questions I generally ask myself, and here's what I'm going to use as a guidepost for most of our conversation below:
Is this item something I'm going to like for a long time? Does it have staying power in my home, or is it on the trendier side?
Is the material and construction durable? Will it withstand everyday use?
Could this item easily become stained or ripped? Is it within reach of small hands? And if something happens to it, would I be really upset that this item now had to be relegated to the home decor graveyard?
I'm hoping these tips will help you plan out your own room refresh, and inspire you to create a beautiful space on a budget that makes you and your family happy.
By the way, if you're looking for more tips on decorating on a budget aside from just waiting for stuff you love to go on sale, then make sure you check out this post where I share a couple of my secrets for saving money on home decor!
This post contains affiliate links, which means I may make a small commission if you purchase a product I've linked to below at no extra cost to you. For my full disclosure policy, click here. Thank you for your support!
MATTRESS
Yes, mattresses are a big-ticket item, but this one's a no-brainer, guys: Splurge. The quality of your sleep is important and impacts you in many ways — from your health to your mood for the day, and much more — so don't skimp here and get the most comfortable, well-made mattress that you can afford.
One thing that's a must for any mattress, though — especially if you have young kids and pets — is a waterproof mattress pad. When we purchased our king-size mattress about a year ago, I had a waterproof mattress pad ready and waiting as soon as my mattress was delivered from Overstock. The mattress pad isn't a huge investment (I got ours from Amazon and I think it was $30), and has saved us more times than I care to mention. Totally worth it to protect one of our most important master bedroom investments!
BED FRAME
When it comes to your bed frame, this is an area where I'm a "save" kinda girl. Unless you've found THE bed frame of your dreams and your room just won't be complete without it, then I'd save that splurge for another element in your room. We have a basic white wooden IKEA bed frame that I scored on Craigslist, and while it's not high-end or gracing the pages of the latest issue of House Beautiful, it works for us in this season of our life, and that's good enough for me.
Here's my honest opinion about beds: Many of the bed frames I've come across generally look the same. And the ones that are really amazing? Their cost is usually equivalent to, like, a pretty nice family vacation. Personally, I have a hard time justifying spending a thousand dollars or more on a bed frame at this stage of my life. If you disagree and think this is an important element to splurge on, though, I would LOVE to hear your take — leave me a comment below!
BEDDING
Okay, so I didn't include "middle of the road" as a category here, but my advice when it comes to bedding is to find something that's good quality without going over the top. Like a West Elm or Pottery Barn duvet cover is totally okay in my book, but maybe skip out on the super luxurious sheets. It's all about balance, guys.
DRESSERS & NIGHTSTANDS
Splurge. But within reason.
Here's the thing: There's nothing worse than buying a cheap dresser that has drawers that frequently come off the tracks, or one that cracks almost as soon as you get it assembled. That just sucks. While you don't have to spend tons and tons of cash to get a good quality dresser or nightstand, I'm not a fan of the basement bargain variety, either. Our Target nightstands were a nice compromise (by the way, they're ON SALE right now AND come in a ton of colors!).
ACCENT SEATING
Definitely going with "save" on this one. Because I've gotta tell you, I don't know a single person who spends a ton of time sitting in a chair in their bedroom. Maaaaaybe for a bedtime story with the kiddo once in a while. But given that accent chairs in a bedroom usually aren't used frequently — plus let's not forget that your kids are going to be using them! — I'd scale back the spend here.
What's even better than getting a moderately-priced accent chair? Getting one that made of a material that wipes down easily (here's something similar to what we have in our master bedroom AND it's under $100). No juice stains here, people! #momwin
OVERHEAD LIGHTING
Ah, the beauty of overhead lighting is that it's — wait for it — overhead. Meaning your kids (hopefully) can't swing from it or bang on it with that toy hammer. In that case, buy something you love that'll wow you when you walk into the room. Revel in the fact that no one will ever touch it. (Cue angels singing.)
FLOOR & TABLE LAMPS
There are too many reasonably-priced, good-looking floor and table lamps out there today to justify spending a ton of money on lighting. And for this reason, I vote "save." (By the way, I'm totally obsessed with Target's Project62 line of lighting these days, which looks WAY more expensive than it really is. Have you seen it?! Go check it out!)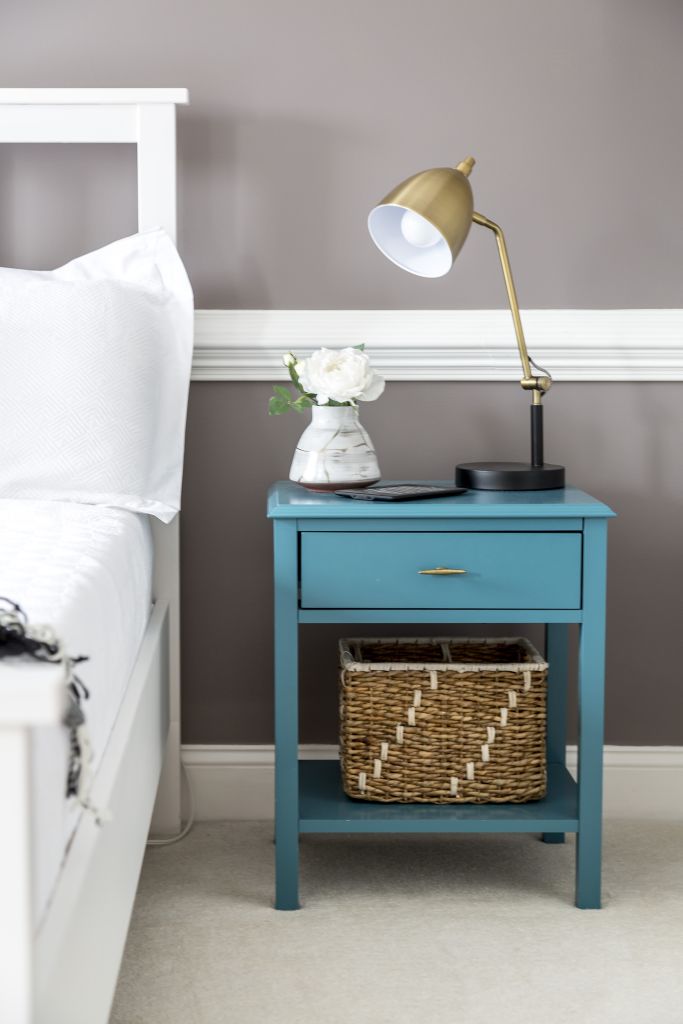 CURTAINS & WINDOW HARDWARE
I might surprise you with my thoughts on this one, but…..I think it's okay to splurge on beautiful window treatments and window hardware.
There have been countless times when I've been decorating a room when the space has felt good but not great. Add in some gorgeous drapery and — bam — suddenly the room comes alive.
This is exactly what happened with our master bedroom. I was obsessed with the West Elm curtains we eventually bought (sadly our exact curtains aren't available anymore, but here's a set that's pretty similar), but I had been eyeing them for months before I took the plunge. In fact, I bought two sets at Target because I tried to convince myself I didn't need to pay up for curtains, and the result was totally lackluster. So the Target set got returned and I went and bought the curtains I had my heart set on.
Same goes for our curtain rods. No, they're not the cheapest curtain rods out there, but I love them and have them in every room of my home. They're clean, modern and sophisticated. And will be hanging on our walls for years to come.
RUGS
I'm in the "save" camp when it comes to rugs for a bedroom. When the day comes that your children and pets are no longer occasionally bunking with you, then you have my permission to go get that gorgeous one-of-a-kind Persian rug.
WALL DECOR
There's room to both splurge and save when it comes to wall decor. Invest in a couple pieces you really love, but then fill in the rest of your gallery wall with reasonably-priced items.
That said, with so many beautiful and affordable options out there when it comes to wall art, there's simply no reason to drop lots of money on this part of your room. Not sure where to look for affordable art? Then make sure to bookmark this post with my four favorite online shops for beautiful yet budget-friendly wall art.
Once you've purchased your artwork, I've got ALL the secrets to make your gallery wall look awesome right here.
THROW PILLOWS
I'm pretty much going to repeat my thoughts on wall decor, because they're similar when it comes to throw pillows.
Head over heels for a throw pillow in a designer fabric? Buy one (and only one), and then try to save on the rest.
Oh, and because throw pillows are basically like a grown woman's stuffed animals, you know I put together a list of my favorite spots to find unique and affordable pillows. So check it out right here.
YOUR TURN!
Tell me — where have you splurged versus saved (and vice versa) in your home?
What items do you think were worth the heftier price tag, and which weren't?
Drop me a comment below and let's hear!
P.S. — Save this post for later by pinning it. Thanks, friend!