If you're ready to give your floors a face lift but aren't quite ready to rip the current ones to shreds, then peel and stick vinyl floor tile might be just the DIY solution you need.
A few years ago, I gave our boring and beige laundry room a makeover using peel-and-stick vinyl floor tile, and I'm still pleased with the results. I can't express just how happy I was to get rid of the outdated linoleum the previous owners installed. Ick.
You can check out my entire laundry room makeover right here, complete with lots of ugly "before" photos and some prettier "after" shots!
Check out the full post to see what the room looked like before the $200 makeover.
What is peel-and-stick vinyl floor tile?
There's lots to like about peel-and-stick vinyl floor tile: it's fairly inexpensive, can be placed directly over existing flooring, and is pretty simple to install without hiring a professional. It's basically vinyl flooring that comes in tiles. It makes it much easier to install than long sheets of vinyl flooring.
Is peel-and-stick vinyl floor tile any good?
There's no one-size-fits-all to this question — it really depends on the type of project you're tackling. Consider the shape of the room you want to tile, the material of the existing flooring, and how heavily trafficked the room is.
In a separate post, I laid out all the pros and cons to using peel-and-stick vinyl floor tile, along with a couple considerations you should weigh before you decide to take the plunge with this type of tile. You can read all my advice on peel-and-stick vinyl tile right here.
Seriously, if you've thought of using this type of tile but are on the fence, you need to read this post. It's full of good info, plus lots of considerations I didn't really think about before committing to peel-and-stick vinyl tile.
Which is fabulous news for you — meaning you get to kick off your flooring project being far more informed than I originally was. (Hooray for you!)
My favorite peel-and-stick vinyl floor tile projects on Pinterest
If you've decided you're all in on the peel-and-stick vinyl floor tile thing, then you'll want to peep the most amazing peel-and-stick tile projects for some inspiration.
Lots of my blogging buddies have tackled room renos using peel-and-stick vinyl tile, so I'm sharing some of my favorites with you today.
Check 'em out — which one is your fave?
This black and white tile that Ariel at PMQ for Two chose for her recent basement makeover is SO FUN. I'm obsessed with this cool pattern!
Psssst: You can shop this exact (very affordable!) tile plus lots of other great patterned tile right here.
Here's our new and improved laundry room, complete with peel and stick vinyl floor tile. We made over the laundry room for around $200. It was very beige and boring before, and some leftover supplies and new flooring made SUCH a difference!
See the whole laundry room makeover right here.
Julia from Tag and Tibby gave her drab laundry room flooring an upgrade with this faux marble peel-and-stick vinyl tile.
Isn't it pretty?! I love the hexagon shape she chose.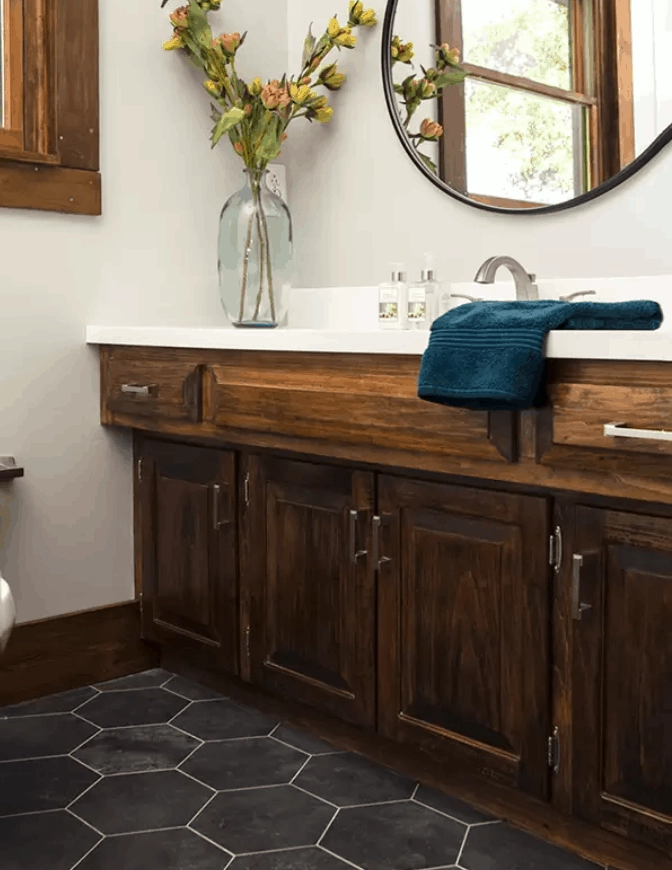 Source: Craving Some Creativity
This black hexagon-shaped peel-and-stick vinyl floor tile that Rachel chose for her bathroom is seriously stunning! She grouted her vinyl tile in this instance (which isn't required but certainly gives the tile a finished look), and I love that she chose contrasting white grout.
Liz gets the award for being totally ambitious with her peel-and-stick floor tile install — she created a herringbone pattern and it looks SO GOOD.
Aimee at The Crazy Craft Lady picked the prettiest peel-and-stick floor tile pattern for her kitchen! I love the mix of gray and white.
Source: Simply Beautiful by Angela
Angela chose a beautiful peel-and-stick floor tile for her bathroom that looks like wood. Isn't the end result so pretty?
If you don't use your fireplace but want to make it into a family room focal point, you could take a page from Corinna's book and use peel-and-stick tiles to add some pattern. I love what she did with her fireplace here. So creative.
Here's another creative use of peel-and-stick vinyl tile — it's a genius way to give an outdated kitchen back splash a face lift. I love the chic back splash that Lindi installed in her kitchen. That gray tile looks so much like real glass! It's so beautiful and sophisticated.
By the way, here are the gorgeous tiles she used. Bonus: You can buy the tiles right on Amazon!
Here's another great example of how vinyl peel-and-stick tiles can totally transform a back splash. Amber used tiles from Aspect Tile for this project, which are available on Amazon and at major home improvement stores like The Home Depot.
Have you used peel-and-stick vinyl tile before? Did you love it or hate it?
I want to hear about your experience! Leave me a note in the comments with your two cents on peel-and-stick tile.