Fall is one of my favorite seasons — helllllllllo, leather boots and chunky sweaters! —  but I have to admit: I'm not a huge fan of using traditional fall colors around my home.
Yes, I did recently sprinkle a few faux orange pumpkins in our dining room (you can read about some other easy fall decorating tips right over here), but for the most part I'm just not that into the usual fall palette.
If you've seen my house, you know we dig bright and bold over here. I'm talking blues and greens and pops of other happy hues. And if you've been following along with the blog for a while, then I'm gonna guess that you're a fan of a few splashes of color here and there, too.
So this weekend I decided to put my own spin on some fun fall decor with a bold and SUPER easy DIY project: some colorful patterned faux pumpkins.
These babies literally took me 10 minutes, not counting the time I spent waiting for the spray paint to dry. I only take on the quickest of the quick DIYs, and this one fit the bill.
And my six-year old daughter even helped with the final step in the project!
The best part? You can customize them SO easily to match any decor color or style.
Here are my new, super fun craft pumpkins: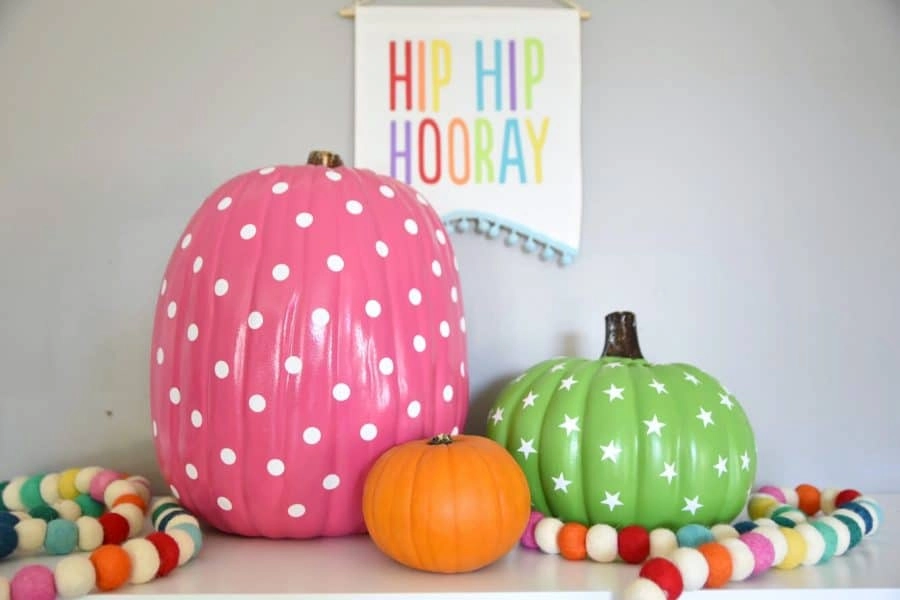 These fun, colorful, patterned pumpkins are right at home in our bright and bold playroom, and my kids are LOVING the fun designs we created on the pumpkins. We threw my daughter's recent pumpkin patch find in there for good measure, too. 😉
If you're up for a quick fall DIY, here's the supply list and the simple instructions for making your own colorful patterned pumpkins.
This post contains affiliate links, which means that if you purchase something by clicking on one of my links I'll make a small commission at no additional cost to you. Thanks for your support!
DIY COLORFUL, PATTERNED CRAFT PUMPKIN DECOR: WHAT YOU'LL NEED
Craft pumpkins (I purchased a few of these for a great deal)
Spray paint in the color(s) of your choice (pro tip: use spray paint that has a matte finish, not a glossy one)
Painter's tape (this is my go-to brand, which I buy on Amazon)
DIY COLORFUL, PATTERNED PUMPKIN DECOR: INSTRUCTIONS
I'm telling you guys — this really IS the easiest DIY, and you honestly cannot mess it up. Trust me. I mean, I wouldn't enlist my six-year old to help with too many DIY projects (not that she's not super artistic because she IS, but I am way too type-A to involve the kids in my own decorating projects most of the time), but this one was a no-brainer. She LOVED creating these fun fall decorations for her playroom!
Here are the simple instructions for making your own:
Place blue painter's tape around the stem of the craft pumpkin to protect it from the spray paint.
Spray paint your pumpkin. Use 2-3 light coats for best results. Let dry.
Remove the painter's tape from the pumpkin stem.
Add ChromaLabel stickers to your pumpkin.
Stand back and admire your work!
That's it!
Would you make these craft pumpkins for your home? How would you customize them to suit your own decorating style?
P.S. Like this post? I would so LOVE it if you'd pin it. Thanks a bunch!