It's week two out of eight for the One Room Challenge, and I need your help!
More on that in just a minute.
If you missed last week's post, I shared that I'm working on refreshing the shared home office that belongs to my husband and me.
You can read more about the room — and see all the ugly "before" photos — in this post.
Here's a peek at what our office looks like today. It's got so much potential, but we've got some work to do!
This space used to be a guest room, but ever since March 2020, we've both been working from home.
And as of recently, we determined that neither of us are going back to an office — so the home office is the only office we've got.
Which means it needs to be a whole lot more welcoming than it is right now … and fast.
This post contains affiliate links. That means that if you make a purchase after clicking on one of the links below, I may earn a small commission at no additional cost to you. Thanks for supporting my small business.
Shared home office design plans — I need your vote!
This week, I put together a design plan for our office.
But then I had another idea, so I put together a second design plan.
And now I need your help deciding which design direction I should choose!
Below, I'm going to share both design plans I created, and I'll tell you a little bit about why I like each one.
Then after you review both plans, I want you to leave a comment for me below telling me which plan you like and why.
Sound good?
Shared home office design, option #1
Here's the first design I put together:
What do you think?
As I mentioned in my previous post, the navy walls have to stay, as to our two white desks. The desks aren't anything special, but they're fairly new and functional, so we'll figure out a way to dress them up.
I won't be buying this particular leather office chair, as I have one that looks similar to it that's in great shape.
Things that I like in this design
I love all the happy colors, and especially adore the artwork! I think all the bold colors will pop nicely against the blue walls.
I'm also such a fan of the jade green accents. The throw pillow you see on the accent chair — I'd use the chair for editing when I don't feel like sitting at my desk, because sometimes I like to put my feet up and perch my laptop on my lap, with a cup of coffee in hand — is one that I already own, which is good (one less thing to buy!).
Things that I'm unsure of
While I love all the vibrant colors, I don't know if the pink rug is too much for my husband.
Granted, he rarely vetoes my decorating choices, but I also want to respect that this is his space too, and we both have to spend 8+ hours each day in here.
The other downside about the rug is that it's expensive.
The other pricey item in this plan is the curtain trim, which you can see in the design directly under the art piece.
I'd envisioned adding the curtain trim to crisp white curtains … but multiple yards of fancy trim adds up quickly.
Shared home office design, option #2
Ready to see the second option?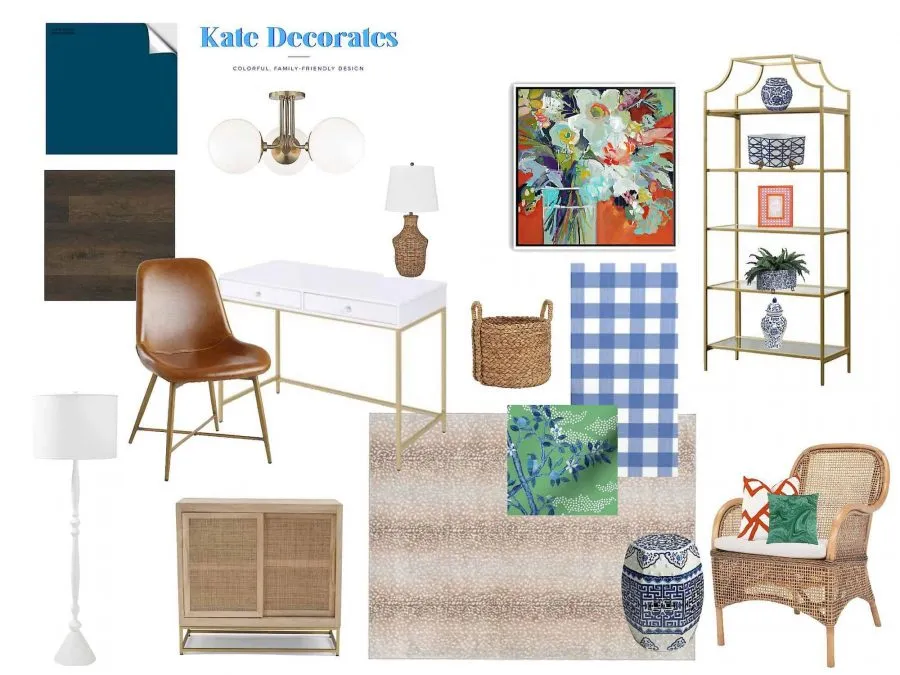 Again, our favorite blue walls are staying, as are our desks … and my office chair is of course similar to the one you see here, but not this exact model.
Things that I like in this design
There are a lot of things I love about this design.
First, I already own that incredible piece of floral artwork — it used to be on our mantel in our family room. I'm pretty obsessed with the colors in it, and lo and behold, it looks incredible against our dark walls.
I also really like the textiles here: I'd use the buffalo check pattern for curtains, and the jade green Chinoiserie-style fabric would be used to make a skirt for my desk (we have to hide those computer wires or I'll lose my mind).
Both fabrics are by this designer (she's one of my favorites!) — you can find her work on Spoonflower.
Last but not least, I've always wanted to use an antelope-printed rug and never found quite the right spot in our home to use it.
But I think our office might be the perfect place for this one. Besides, it's much more neutral than the bright pink option, and seems like it would be husband approved.
Things that I'm unsure of
I never thought I'd say this about any of my designs … but is this one too neutral?
Maybe toning down the color scheme in this small space is the way to go. On the bright side (no pun intended), a more simplistic color scheme would really allow my artwork to shine.
Your turn — which home office design plan should I choose?
Now is your moment, y'all.
Tell me in the comments below which plan you prefer and why.
Thanks for helping me decide on the design direction for the space!