If you're are dying to decorate for Halloween but you're just not into carving pumpkins quite yet, then these adorable no carve pumpkin ideas will be right up your alley.
Because we literally celebrate most holidays ALL month long — that's the way it should be, right?! — I wouldn't stand a chance of carving a pumpkin and having it last until Halloween. I mean, there is no way.
Thankfully, these 17 ideas are PERFECT for making your abode festive, and avoiding having a rotting pumpkin sitting around your house (so gross), and in many cases entertaining the kids. (Most of these projects are totally kid-friendly, but you may want to save a few of 'em for a Netflix and wine night with the girls.)
What's even more fun? You can use either real pumpkins or the faux variety (I purchased a ton of these faux ones this year for a total steal, and they have been so perfect for alllllllllll the crafting).
Take a look at these awesome no carve pumpkin ideas. Which one's your favorite?
Confetti Pumpkins via Cloudy Day Gray
If these colorful, cheery pumpkins don't make you smile, I don't know what will. Bonus: This is such an easy project to do with the kids!
Watercolor Pumpkins via Lines Across
This is such a fun and pretty project….and of course I'm loving the use of non-traditional fall colors. #colorloversunite
Blue Porcelain Craft Pumpkins via Craftberry Bush
Well, these are nothing short of AMAZING. Chinoiserie-inspired fall decor for the win!
Gingham Painted Pumpkins via Dimples & Tangles
Opt for a gingham print in a fun color with this painted pumpkin tutorial. Jennifer gives step-by-step instructions for how to achieve this happy, bold pattern that'll totally make your Halloween decor pop.
Superhero Pumpkins via Parents
This is such a fun project that your littlest superheros are sure to love.
Doughnut Pumpkins via Studio DIY
Don't they look good enough to eat? I love this cute idea!
Colorful, Patterned Pumpkins via Kate Decorates
These bright, bold pumpkins are SO easy — all you'll need is some spray paint and white stickers. A simple project that can easily be turned into  a fun and crafty afternoon for the whole family!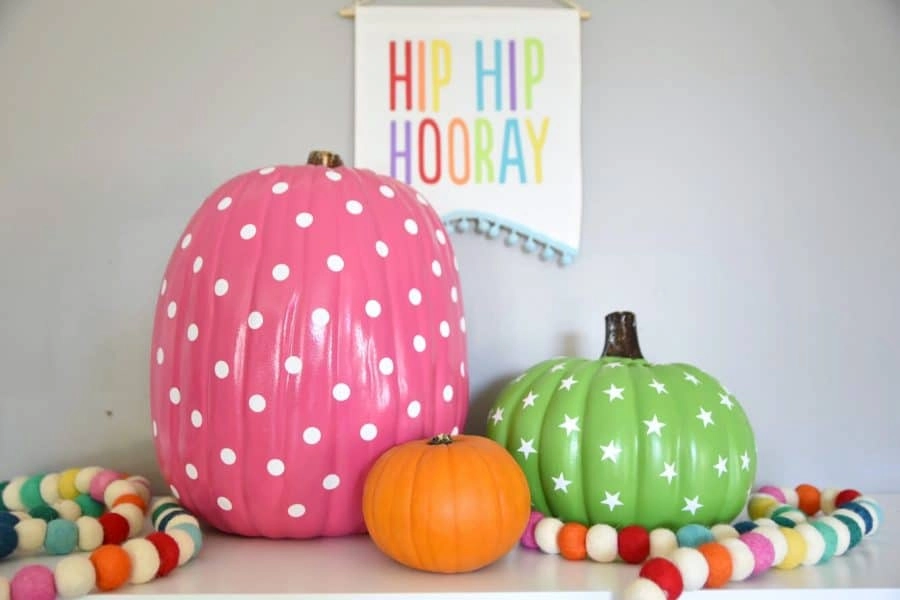 Glitter Pumpkins via I Heart Naptime
Holiday decor AND a splash of sparkle? I'm ALL in.
I prety much LOL-ed when I saw these. And so will your 10-year old. That's reason enough to make one of these cuties, right?!
Thumb Print Monster Pumpkins via Real Simple
How stinking cute is this idea?! My kids would be over the moon to make a pumpkin like this. Such a clever craft, and a great way to involve the whole family.
Marbled Indigo Pumpkins via Alice and Lois
I mean, how cute would these look in every room of your home?! I love how the end result is still sophisticated enough to use in any space.
Ice Cream Cone Pumpkins via Aww Sam
These might just take the cake (no pun intended) for the most adorable no-carve pumpkin idea. Each of the kids could customize his or her own ice cream cone of pumpkins. I love it!
Gold Confetti Pumpkins via Homey Oh My
Fun AND sophisticated Halloween decor? Yes, please.
Snow Cone Pumpkins via Country Living
How clever are these fun snow cone pumpkins? Too sweet!
Melted Crayon Pumpkins via Heathered Nest
If you've got kids, then you've already got ALL the supplies you'll need for this fun project. Crayons? Check. A blow dryer? Check. An afternoon activity that'll keep 'em away from the iPad for a while? Checkkkkkkkkkk.
P.S. – Did you like this post? If so, I'd love it if you'd pin it — thanks!