This post contains affiliate links, which means I may make a small commission if you purchase a product I've linked to below at no extra cost to you. For my full disclosure policy, click here. Thank you for your support! I also received several free products for this room refresh, which I've noted below.
If you've ever read my blog before, or if you follow me over on Instagram, then you know by now that bright, fun colors basically make my decorating world go 'round. Well, I'm pretty pumped to tell you that the love of color runs in the family, because my daughter juuuuuuust might like bold hues even more than I do. (Is that even possible?!? I knew I loved that kid.)
For her sixth birthday, I agreed to give H's room a refresh. She had been asking me about this for a while, and wanted a more grown-up room that was a better reflection of her personality and interests. It's not like her room wasn't nice to begin with, but as someone who likes to switch around decor, like, every couple of weeks, I totally get it. And besides, she's now at the age where she has an opinion about everything (and sometimes that's suuuuuuper fun, let me tell ya), and while I don't love giving up design control, I also think it's important for kids to be able to flex their creative muscles and have a say in their own room designs.
Similar to most projects we take on here at our house, I told her we weren't changing any major elements, but would give her space a face lift with accessories and textiles.
Here are the things we kept the same:
The wall color
Most major furniture pieces, including her IKEA dresser, bed frame, and her aqua Jenny Lind-style bookcase and nightstand
The layout
And here's what she told me she wanted to add to her room:
Lots of rainbows and bold colors
Her favorite animals, like owls, dogs and butterflies
Superheroes (this was a must-have, you guys — no room for negotiation here)
A way to display her medals and the cool art projects she makes at school
Ready to see what we did with her new room? I am so flipping excited to share it with you, and even MORE excited that my very favorite client is ecstatic with the results. If you want to see a glimpse of the "before," you can check it out here.
Here's the new room: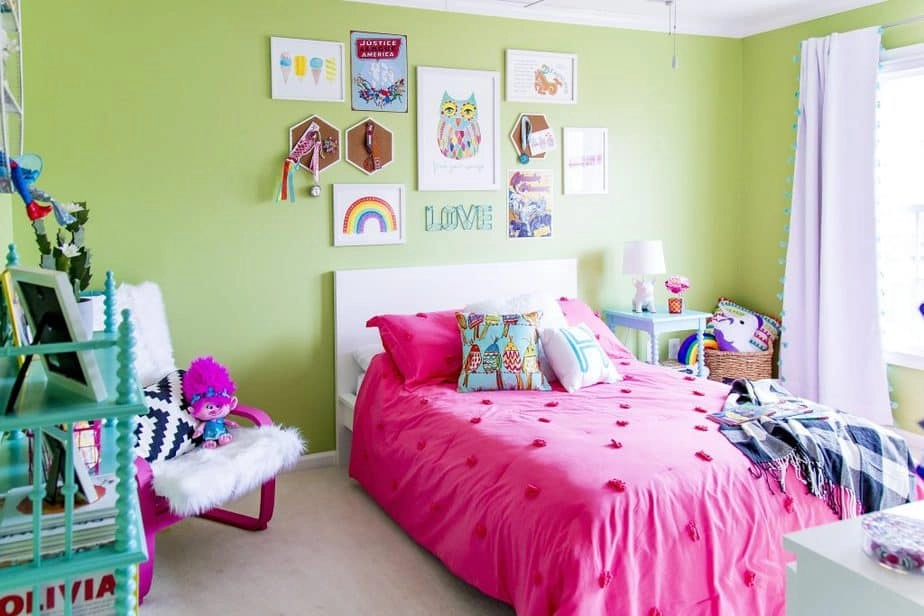 Okay, there are SO many things I want to tell you about. Where to begin?! Let's start with the new chair in H's room: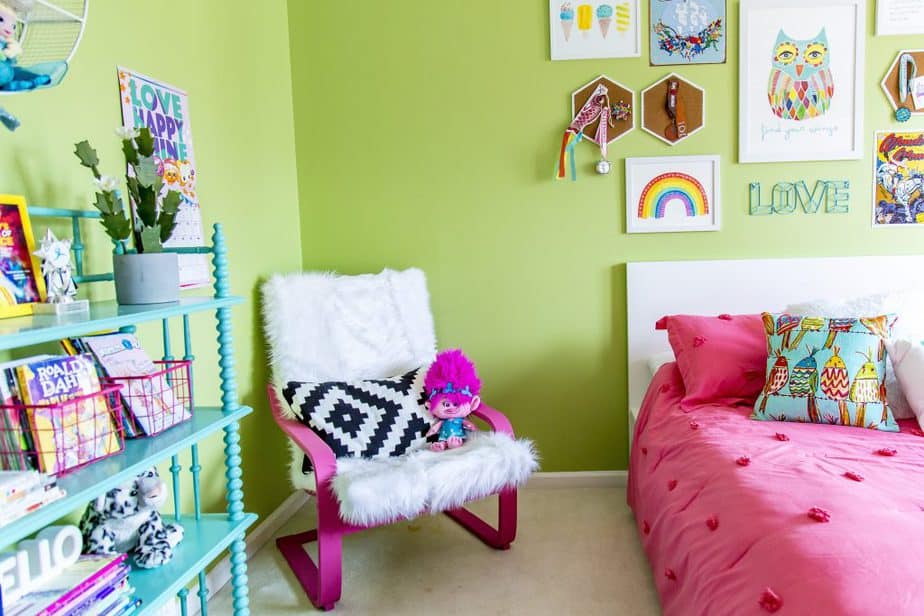 So this used to be an ugly IKEA Poang chair. I bought it from someone in my neighborhood, and it originally had a natural wood frame and a red cushion. Not exactly my style.
I decided to paint the chair frame using Amy Howard at Home's one-step paint in Drama Queen (which is AMAZING for furniture painting, by the way — more on that later), and then my sweet and superbly talented friend Michelle of Rockin' Cushions offered me a cushion cover of my choice at no cost, and naturally I jumped at the chance.
In case you haven't heard of Rockin' Cushions, let me fill you in on the best-kept secret on Etsy. If you own IKEA seating and want to give it a punch of personality, then Michelle should probably be your new best friend.
For reference, this is the same shop I bought my IKEA Henriksdal chair covers from that we have in our dining room (you can check out our dining room right over here), and I am still completely obsessed with them. So when Michelle offered me a cushion cover and I spotted this faux fur one, I knew it would be perfect for H's room.
I think it's safe to say she likes it….
The next thing we tackled was her bedding and a gallery wall refresh:
The bedding was a total steal at Target — it comes in four colors and I snagged it on sale for a whopping $30 — and then I layered in two throw pillows we already owned.
The newest addition to our throw pillow collection came from this great Etsy shop that is chock full of colorful pillow covers! Katie was kind enough to gift me a pillow cover for H's room. I had a hard time deciding on one (let's be real, I wanted them ALL), but finally settled on this one. It totally pops against the pink, and the cover itself is very well made. Not to mention it totally coordinates with one of my favorite pieces of artwork!
GUYS, HERE'S A BONUS FOR YOU! Purchase any pillow cover from Katie's awesome Etsy shop and snag an exclusive 15% off discount using the code KATEDECORATES at checkout. Yaaaaay for new decor and sweet deals!
All right, onto the gallery wall….
This is the spot in the room where I really wanted to highlight my girl and her personality. From her love of superheroes to the fun art projects she makes at school, the gallery wall is all about her.
Here are the sources for almost everything on the gallery wall:
One cool addition that my daughter loves — which I have to admit was a total afterthought on my part — is the addition of cork boards to her gallery wall. What's nice about these is that she now has dedicated space in her gallery wall to display whatever suits her fancy, and she can swap it out at any time. She recently pinned a few medals up, along with a glittery birthday card, a school art project, and a shape she made from Perler beads at a recent play date.
Her bookshelf has some new additions, too, and is organized completely differently than it was before (thank God, because truth be told it was a hot mess previously):
The biggest and most functional change?
This is going to sound weird, but placing books in baskets has made SUCH a difference.
Meaning we can actually locate a book we're looking for, and then entire shelf doesn't get trashed when searing for a story to read before bedtime.
I know, I know….isn't the point of a bookshelf to store books?! It is, but when you're six and you often have your heart set on a specific title as you're getting ready for bed, it's a total pain to try to find "the" book when all you have to go on is the thin line of text on the book's spine.
These pink wire baskets have seriously worked wonders (these were a HomeGoods score, but I found some similar ones at Target and also at Wayfair.
And guess what? It's been a week since I styled H's bookshelf like this and NO ONE HAS TOUCHED IT. (Who are these kids?! And what have you done with my real ones?! Definitely still trying to figure that one out…..)
There are still a couple more things I promised H I'd add to her space, like a DIY headband holder (coming soon….or whenever I get 30 minutes to myself). I also promised I'd organize her closet. We currently have a Closetmaid set of cubes in their and a double hanging bar so that she has extra space for her clothes, but we could probably be using the space much more efficiently.
Here's one last peek at my big girl's new rainbow-filled bedroom:
Are you gearing up to refresh your son or daughter's room? What's on their "must have" list for their space?