If you saw my last post, you already know I'm giving my toddler son's bedroom a makeover as part of the One Room Challenge (ORC).
What's the ORC, you ask?
The ORC is an eight-week long challenge where lots of designers come together and refresh spaces in their respective homes, cheering each other on along the way.
I've been planning this room makeover for months, you guys! Literally months.
If you didn't catch the last post, you can read all about my plans and see the "before" photos right here.
One Room Challenge: toddler's room update!
In the past few weeks, we've made a little bit of progress on Marshall's big kid room.
Well, I should probably give myself more credit.
The big stuff is mostly done! And that's a huge accomplishment.
So far, my husband and I have:
Aside from finding a new area rug for his room — the one I initially earmarked for the project is sold out, which stinks — now it's time to focus on the details!
That includes finding some fun and affordable wall art.
I usually like to use one or two prints in my kids' spaces that are available in my FREE printable library on my site.
(Pssst: I have 30+ free kids' printables in my library, ranging from wall art prints to printable activities to cure the kid boredom. Go here to grab some!)
But if I'm creating a gallery wall or need larger prints, then I combine my own artwork with prints I can purchase.
Where to find kid's wall art: major retailers I love
There's an endless number of stores you could turn to for fun kids' wall art prints.
However, there are a couple "big" places I typically turn to when I'm looking for stuff for my kids' rooms or client spaces.
When I say "big," I really mean "mainstream." Meaning not Etsy or another small shop.
Here are the bigger stores I usually prefer when I'm on the hunt for wall art for kids' rooms and playrooms:
Minted: This probably isn't a new name to you, but Minted is hands down one of my favorite resources for finding gorgeous, unique kids' art prints. The variety of prints is fantastic, and the quality is fabulous. The only downside is that the prints — especially if you decide to get them framed by Minted — are expensive.
Fy!: This is a newer name to me, but Fy! has quickly become one of my go-to shops for wall art. They've got a solid collection of kids' prints, mostly in fun, bright colors. The shop offers standalone prints, or you can opt to get them framed.
Society6: Society6 has a great selection of kids' prints, plus lots of artwork in happy colors. And they've got something for every style. The downside of Society6? There are SO many options for everything — wall art, home decor, you name it — that it's easy to get overwhelmed.
Urban Outfitters: When I was in my 20s, I used to think of Urban Outfitters as a go-to for funny graphic tees and retro sneakers. However, Urban Outfitters has some great wall art options. While there's not a kids' section per se, plenty of their prints would be so cute in a kids' space.
My favorite Esty shops for kid's wall art:
All right, now onto what I really want to share with you today: My go-to Etsy shops for cute kids' wall art prints!
There are so so many amazing shops on the Etsy marketplace.
But it's really easy to start searching for things on Etsy and then become paralyzed by all the options.
To make your next Etsy shopping experience a little easier, here's a list of my absolute favorite Etsy shops for kids' wall art prints.
The best part?
Not only are the print shops I'm going to share with you totally adorable, but most of them offer digital downloads and very affordable wall art.
To browse the prints available from each shop, just click on the shop name below and you'll be directed right to that Etsy storefront.
Bright colors and fun typography?
Say no more, because I am here for this beautiful, simple and sweet artwork from Urban Type Collective!
What's even better? Each digital download starts at just $5.
Shop wall art prints from Urban Type Collective right here.
If you're into Scandanavian-style wall art, then you're going to love Print Punk Studio.
Most digital downloads are well below $10, and this shop has some super cute and colorful choices for nurseries and kids' bedrooms!
Shop wall art prints from Print Punk Studio right here.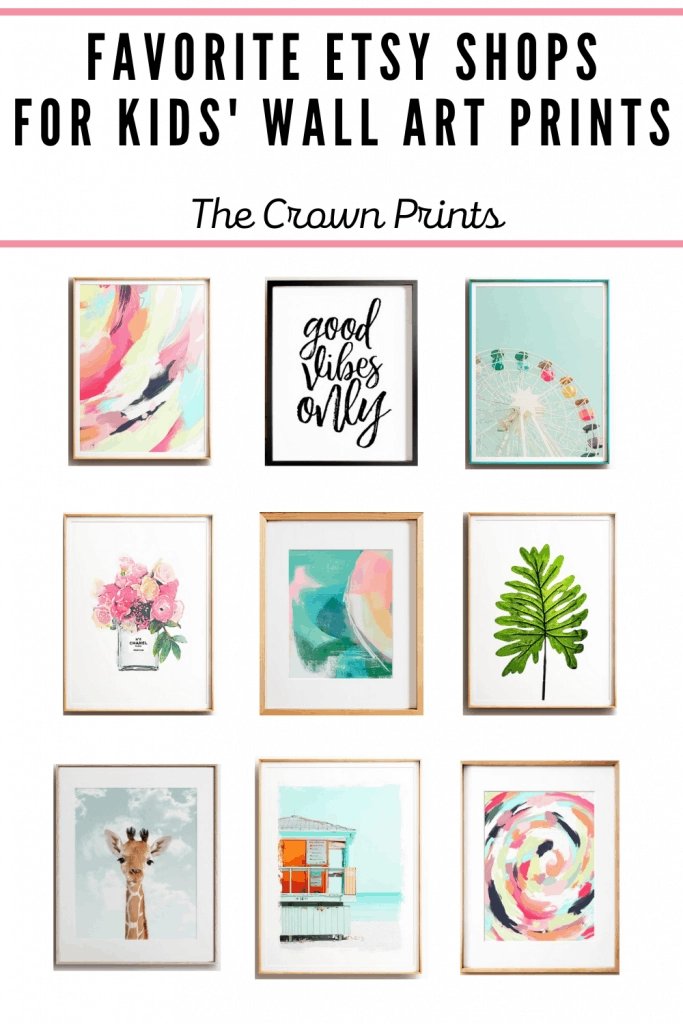 The Crown Prints is one of my favorite print shops on Etsy … it's great for art for any room of your home.
I've got a few of Jenny's prints in our home. They're fun, bright, and super affordable.
Shop wall art prints from The Crown Prints right here.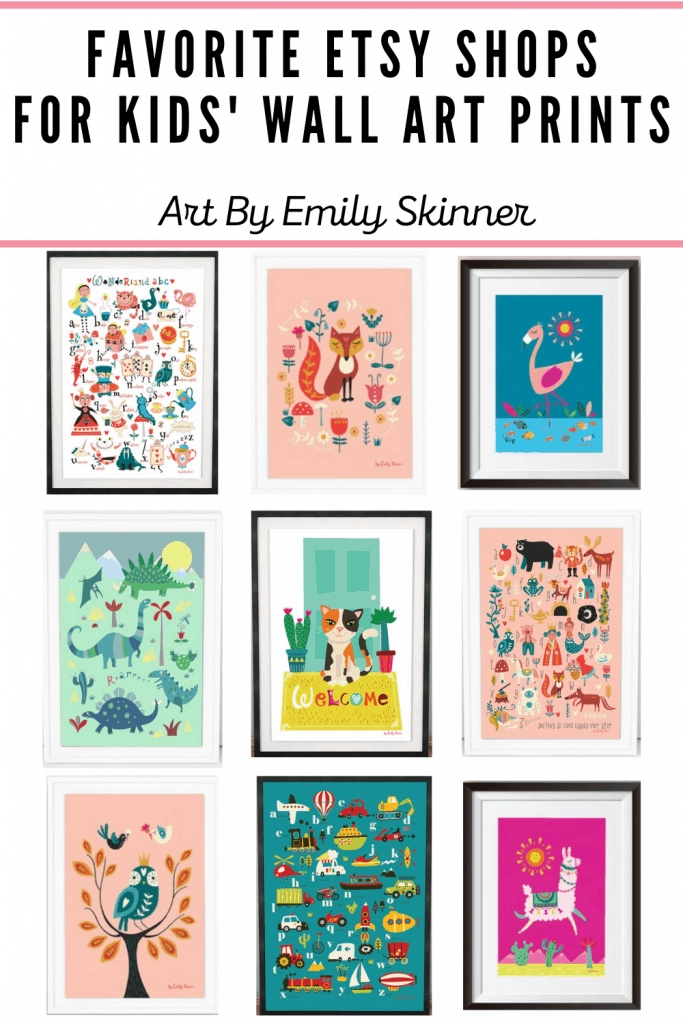 How adorable are these fun, whimsical prints from Art by Emily Skinner?!
Her shop's got coloring pages and other printable activities for kids too.
A win-win, for sure.
Shop wall art prints from Art by Emily Skinner right here.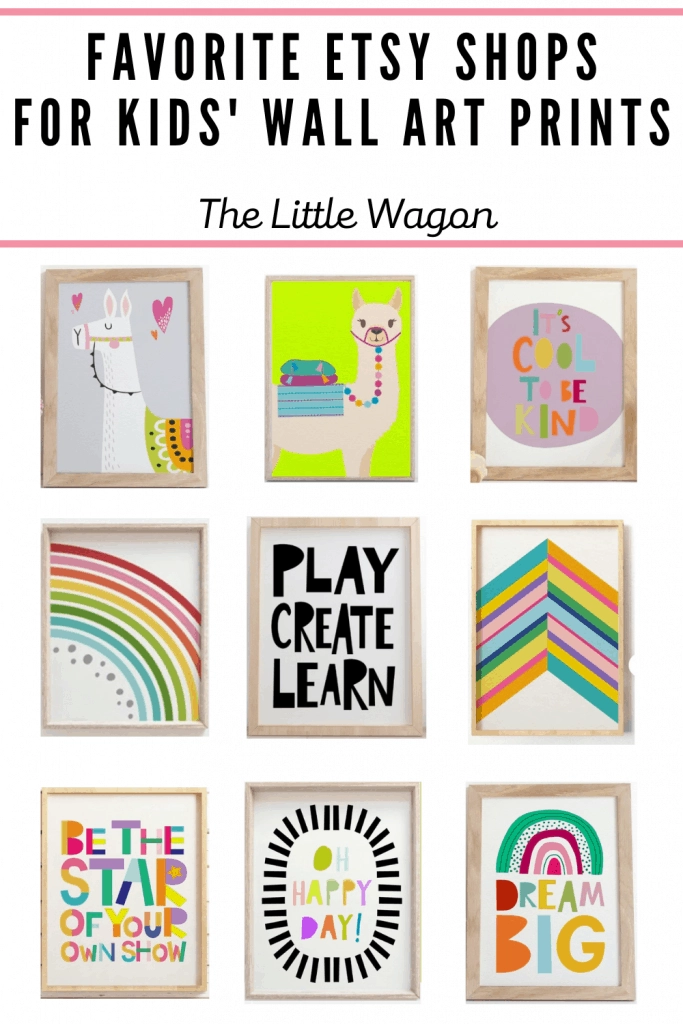 More colorful and fun prints for ya, this time from The Little Wagon.
I love some of the fun and bright animals, like that cute llama with the lime green background.
Shop wall art prints from The Little Wagon right here.
One of my favorite prints in our playroom is from Beguima Studio — it's this one right here.
These digital download printables are fun and colorful and so perfect for kids' spaces.
Shop wall art from Beguima Studio right here.
Picalilli Prints is full of fun, colorful, and intricate prints — personally, I think they're dirt cheap given how gorgeous they are.
I especially love all the cute map prints the shop offers!
Shop wall art from Picalilli Prints right here.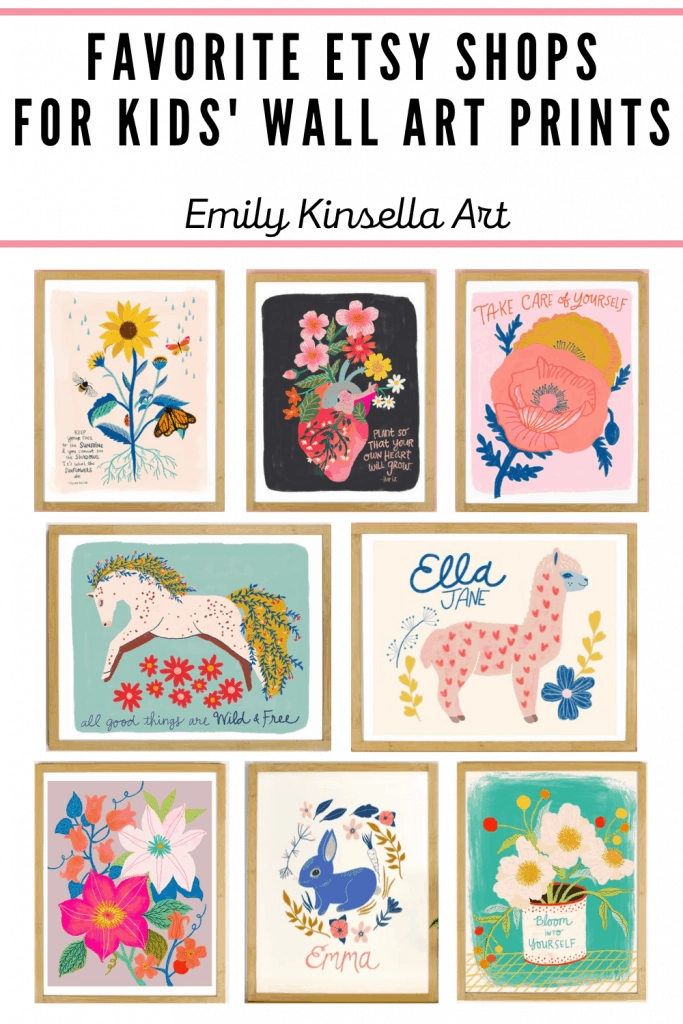 Emily Kinsella's Etsy shop is filled with fun, folk art-style prints.
They'd add a little bit of whimsy to any room in your home, but the sweet floral designs and encouraging sayings are great for a little girl's room.
Shop wall art from Emily Kinsella Art right here.
Which Etsy shop above is your favorite?
Tell me in the comments!
Psst: If you're looking for more wall art inspiration, be sure to check out these posts!