If I had to list out the top three things I get questions about from readers, family members and friends, advice on how to create a gallery wall would definitely be at the top.
You probably know this already, but I'm a huuuuuuge fan of gallery walls. In fact, I already wrote a post sharing my tips on how to create a gallery wall so that it looks like a designer did it for you, which you should totally read right here!
We have gallery walls in many places throughout our house — ranging from our master bedroom that recently got a facelift (probably my favorite art display!) to our dining room to my daughter's bright, happy bedroom — and they're usually a great way to make a big impact design-wise without going broke.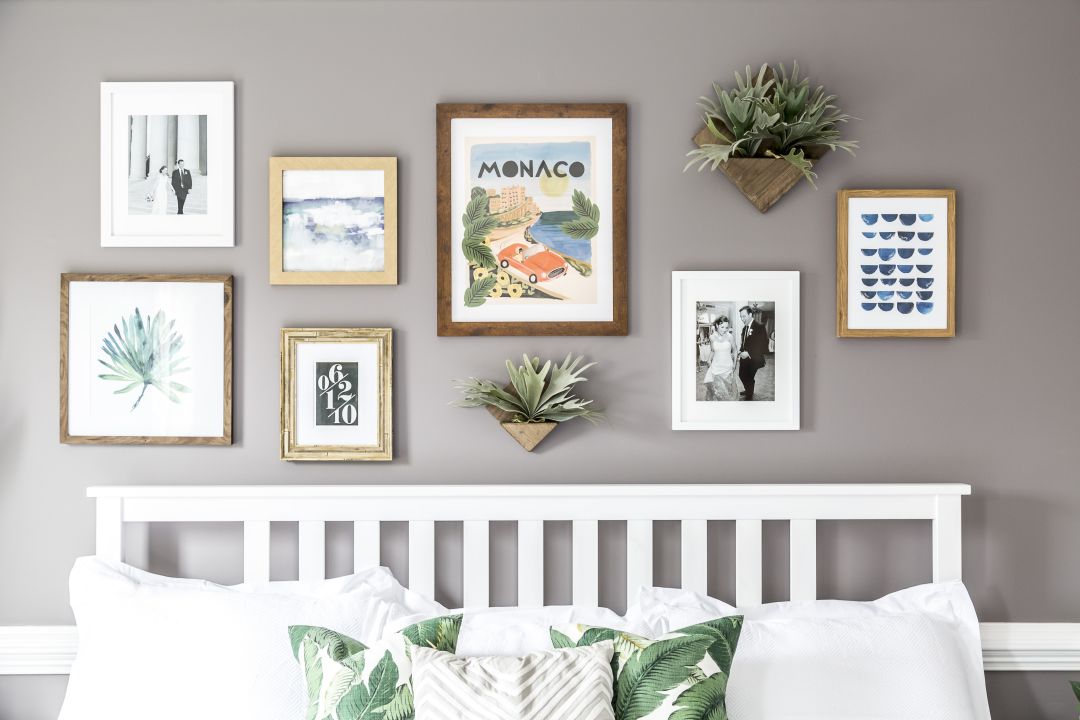 Our master bedroom gallery wall
However, I can't tell you how many friends have texted me photos of their gallery walls, and they're totally frustrated about the finished product.
They're annoyed. They put so much effort into curating different pieces, only to have something feel "off" — but they're not sure what.
They tell me that they wanted it to look like the gallery walls you see in home decorating magazines, yet they feel that what they're created isn't exactly HGTV-worthy.
Many times they have a lot of GOOD THINGS working well for them, but there are one or two gallery wall sins that are plaguing their finished product.
And when they are just SO close to achieving the "wow!" that they wanted — not to mention I want everyone to have a home they LOVE — sometimes we've gotta drop a couple truth bombs in order to fix the situation.
That's exactly what we're going to do today. If you've ever created a gallery wall only to feel as though it didn't quite turn out how you'd hoped, then keep reading. Here are the secrets to getting your gallery walls right EVERY time.
Problem #1: Your artwork is hung too close together.
The first mistake I see people making with gallery walls is that they're placing the elements of their display too close together. I'm talking about leaving only a few inches in between everything you're hanging — which often means that you're leaving far too much of the wall still empty. And isn't that why you're creating a gallery wall in the first place? To create a focal point and fill a large space?
Don't skimp on the artwork, guys. If you have too few pieces, your art collection is going to look like a small blip on a giant wall, and it's not going to be the focal point that you'd hoped.
I know what you're thinking, though…..but Kate, it takes time to collect the perfect pieces. Am I supposed to just deal with this huge blank space for even LONGER even though I already have some of the artwork I'll be using already?
I totally get it, not to mention I am horribly impatient. When I decorate, I want all the perfect pieces right now, and I hate thinking about leaving a decorating project in view that feels even the slightest bit undone. Or worse yet, putting off hanging up my artwork when I already have 90% of what I need.
So one trick I use when I am just dying to hang up art but don't have all the perfect pieces yet is to buy a blank frame in the desired size that will help round out my gallery wall, and hang it up. And yes….I leave it blank. I've learned to live with this compromise. Better to have that placeholder there and add THE print when the mood strikes than to try making do with an incomplete collection.
As for finding the correct layout and spacing, the best way to make sure you're filling the wall adequately is to lay all your artwork on the floor before hanging it, and move the pieces around until you're happy with the result. Measure twice, cut once, friends.
Problem #2: You have too many elements that are the same exact size.
Unless you are aiming for clean and crisp uniformity — which can be absolutely beautiful, just like this gallery wall from Chelsea at Making Home Base — you need to vary the sizes of the elements you're including in your gallery wall. A bunch of prints in the same size is, well, boring.
When you vary the sizes of the prints you're using, your eye more easily shifts from one print to the next, allowing you to take in the entire gallery wall. When you use several prints that are all the same size, your eyes don't know where to look first.
And don't forget to use prints in both vertical and horizontal orientations. When it comes to artwork collections, variety really is the spice of life — embrace it!
Gallery wall design and image via Jenny's Print Shop
And can we talk real quick about hanging 4×6 and 5×7 prints on the wall? Don't go there. Just. Don't. Art prints or photos that are too small get lost in a wall display. Save them for your nightstand or your family room console table.
Problem #3: Something in your gallery wall was purchased at Bed, Bath & Beyond.
No disrespect to Bed, Bath & Beyond — I happen to have purchased many a fabulous pair of sheets there and some nice cookware over the years — but no respectable gallery wall should include artwork from here.
Sorry, guys, but friends don't let friends have generic artwork on their walls! And because we're friends, we need to talk about this. Let me elaborate:
Keep quotes to a minimum (Use words on walls sparingly!)
No reprints of famous art pieces
Steer clear of anything that looks overly mass produced (generic florals in burgundy and tan, I'm looking at you.)
Thanks to retailers like Etsy and Minted, it's 100% possible to get plenty of beautiful, unique artwork at affordable prices. If you need a solid list of shops to peruse, then check out this post about my favorite online shops for wall art.
I'll leave you with one more example of a fun gallery wall — this one's the latest addition to our home, and is in our dining room.
Have you experienced any other challenges when creating a gallery wall? What other parts of the process do you find most difficult? Tell me below!
P.S. – Did you find this post helpful? If so, I'd love it if you'd pin it! Thanks!