This post contains affiliate links, which means I may make a small commission if you purchase a product I've linked to below at no extra cost to you. For my full disclosure policy, click here. Thank you for your support!
A few months ago, I finally finished our laundry room makeover. (If you haven't seen that post and the full reveal — plus lots of before and after photos — you can check it out here!)
I love a good paint project that I pretty much can't mess up, but I am just not into demoing an entire room and taking my walls back to the studs. Trust me, I wish I was into it, because I could save myself a ton of money. But when it comes to major projects, that's what professionals are for, and I simply don't trust myself enough to do intricate work like that and have it look amazing when all is said and done. Sure, I could pick out a killer backsplash and counter top combo, but the install process? No, thanks.
Anyway, when I was redoing our laundry room on a budget because, well, I don't exactly have thousands of dollars to invest in a laundry room overhaul right now, I had to do something about our ugly laminate counters. Please take a look.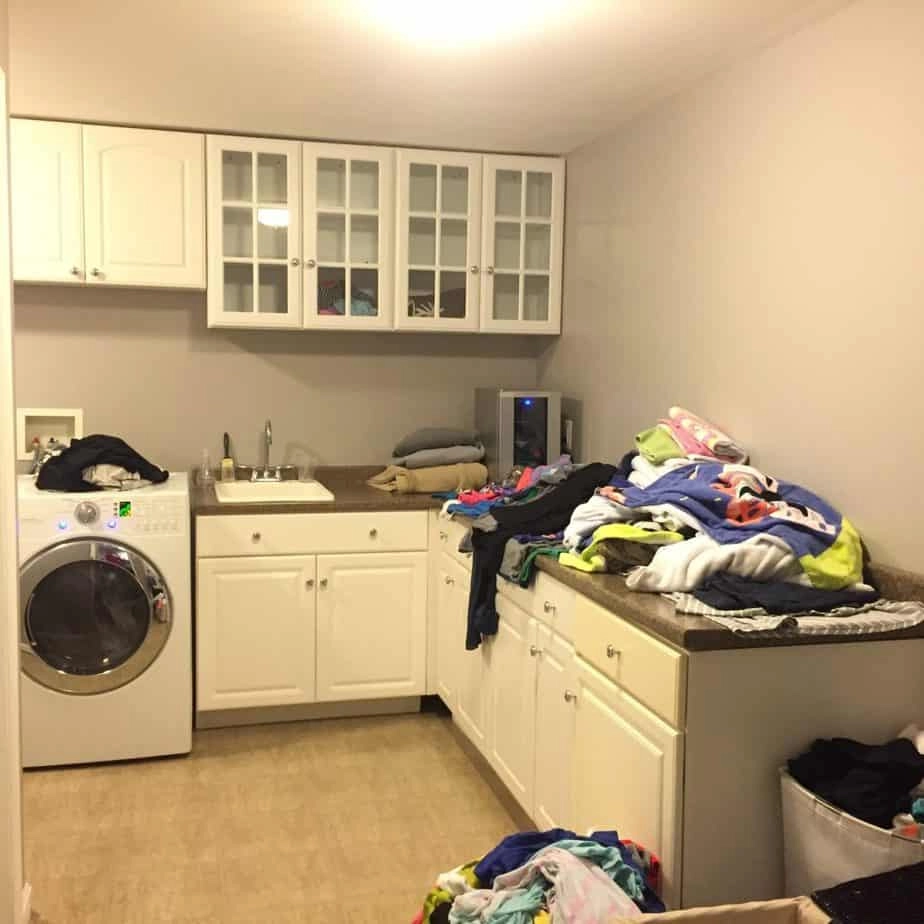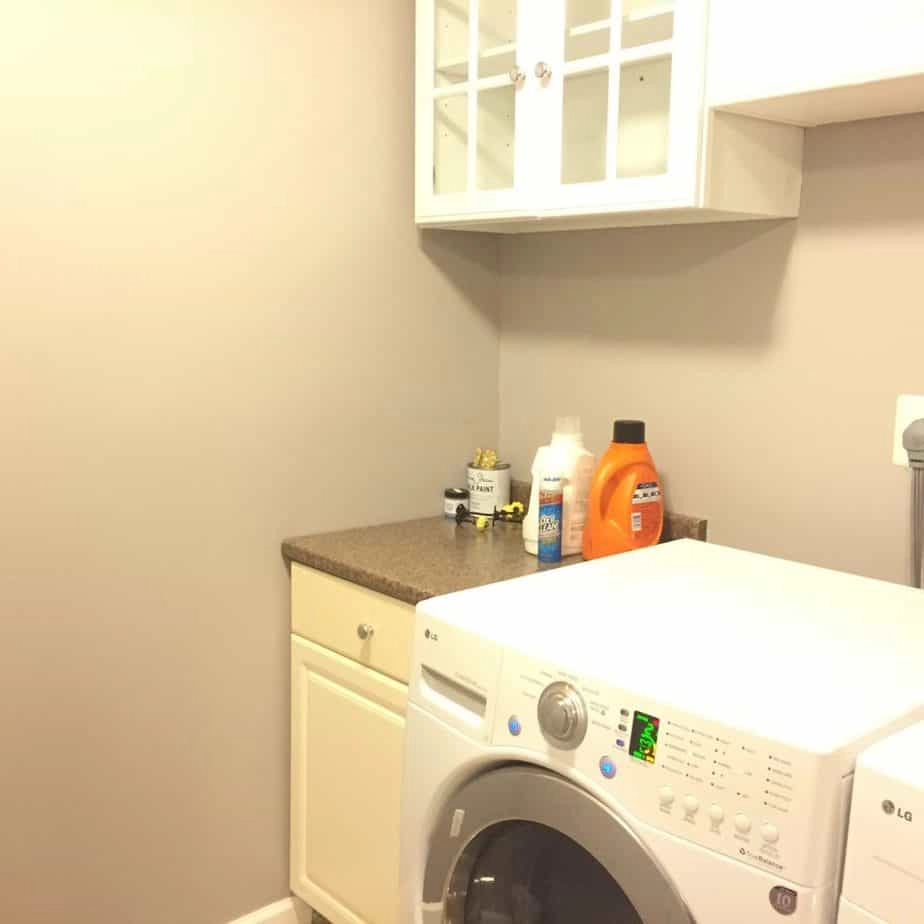 It was all very……brown. Not to mention that pile of clothes on the counters. Totally on trend in terms of decor, you guys! [Insert eye roll here.]
I considered a couple different options:
Covering them with contact paper that had a faux marble look, which seemed easy enough
Spray painting them for a faux stone look (which, for the record, I did try but the smell was so awful that I literally couldn't continue, and ended up throwing the can of spray paint in the garbage)
Painting them with chalk paint and then using a stencil to paint a pattern on top
Well, I wound up doing none of the above. In fact, I went for an option that was easier than anything I had planned.
I painted the laminate counters with chalkboard paint for a faux slate look.
Yes, chalkboard paint — NOT to be confused with chalk paint. I've used chalk paint for other projects like painting laminate cabinets.
If you have laminate countertops that get light use (like in a laundry room) and are in need of some love and like the look of slate, then keep reading!
All it requires is some paint and a brush. No sanding or anything else fancy is needed.
What is Chalkboard Paint?
This is actual paint you can use the create surfaces to write on with chalk.
Some people will create small space or DIY chalkboards, but we painted an entire wall in our basement with it as well. It's a great addition to any kids space.
What are some brands of chalkboard paint?
What color does chalkboard paint come in?
Chalkboard paint is mostly found in black, but some brands do make different colors (e.g. green, dark gray). Mostly you'll find it in black, though.
How to Create DIY Faux Slate Countertops: What You'll Need
Remember: This project is designed for countertops that aren't used heavily, and don't have food placed on them. This project is NOT food safe. So please keep that in mind as you're planning!
I say this because I have received lots of questions about whether someone should try this DIY in their kitchen. My answer is "no." I don't recommend this project for countertops that are used heavily, or countertops that are used for food preparation.
That's exactly why it's perfect for a place like a laundry room, where the only purpose my countertops serve is for folding clothes.
Here's what I used to transform our ugly laminate countertops:
Painter's tape (here's the kind I typically use)
Two quarts of Valspar Devine Color Chalkboard Paint, which I bought at Target
A paint brush (you could also use a foam brush, which I tried when I was doing some touch-ups and it worked great)
One important note: I can only recommend that you use the brand of chalkboard paint that I've shared above, which I purchased at Target (it's also usually available via the Target website) — I did not try this project with other brands of chalkboard paint. Not all chalkboard paint is created equal, so to achieve this look and for your project to be successful, I encourage you to use this particular brand. If you would like to use a different brand of chalkboard paint, that's fine, but please make sure to first test the paint on a small section of your counters before tackling the whole project.
How to Create DIY Faux Slate Countertops
Remember: This project is designed for countertops that aren't used heavily, and don't have food placed on them. This project is NOT food safe. So please keep that in mind as you're planning!
Here are the steps to create DIY faux slate countertops in our laundry room:
Tape the edges of your laminate countertops so that you don't get any paint on your walls or cabinets.
Clean the countertops using some kind of a household cleaner. I used a few Lysol wipes. Let it air dry, or wipe it down with some paper towels to make sure the surface is completely dry.
Paint one THIN coat of chalkboard paint on your countertops. If you're using a bristled paint brush, you'll find that one coat doesn't cover your old counters completely. Let the first coat dry fully, and then repeat. It took me three coats to achieve full coverage, so do expect the paint to look streaky at first.
Let your chalkboard paint cure for at least 24 hours. I let mine go for longer — but that wasn't a strategic move, it was a product of me getting sidetracked by another project. Whoops!
Paint a thin coat of water-based polycrylic protective finish over your countertops. Let it dry. (Note that this is optional. If you're repainting laminate countertop in an area like your laundry room that is only used for folding clothes, you can probably get away with skipping this part.)
That's it! See, I told you it was easy.
As long as you add the final top coat of polycrylic finish, then you shouldn't have issues with the countertops getting chipped or scratched.
The Results: Our New (And Much Prettier) Countertops
What a difference!
Honestly, this was SUCH an easy project and the faux slate finish looks quite realistic, if I do say so myself. I'm so thrilled with the way this project turned out.
If you have some countertops that aren't heavily used but are in need of some TLC and want to go for a faux slate look, just grab some chalkboard paint and a few other items and you'll have new, pretty counters in no time.