Here we are, still practicing our social distancing. So what could be better to pass the time than an indoor scavenger hunt for kids?
This past week's been a bit of a rollercoaster ride in our house. Some moments have been really great, while others have made me want to — ahem — socially distance from my family.
Can you relate?
I know there are going to be both good moments and bad, so I'm constantly reminding myself to give my entire family (including me!) some grace during this strange time.
I'm also challenging myself creatively to come up with some interesting things for the kids to do while we're at home.
These activities are especially important for my toddler.
While my oldest does have some assigned schoolwork and daily Zoom lessons with her teachers to keep herself busy, there's no great way for me to really bring all my son's preschool lessons home and replicate that environment here … especially as my husband and I both juggle working full time with all our other responsibilities here at home.
One activity that both my kids love — which happens to be educational while also being really fun — is going on scavenger hunts.
We've walked around our neighborhood looking for shamrocks in windows for Saint Patrick's Day, we've counted Easter eggs in windows this past week, and have tried our skills at finding birds, mailboxes, strollers, cyclists, and everything in between.
But for the rainy days, we needed to switch things up — which is why I created our very own indoor scavenger hunt.
And guess what? I'm giving you a copy for free!
Indoor scavenger hunt for kids: A perfect rainy day activity
Whether you have one child or several, the beauty of this scavenger hunt is that kids of any age can play.
Just give each child a copy of the scavenger hunt printable and something to write with, along with a reusable shopping bag.
Because each item to "hunt" is accompanied by a picture, children who haven't yet learned to read can still play along.
Here's my daughter marking off some of her finds: a fork, a puzzle piece, and a book.
Ask each child to search around the house for the items on the list, marking off each item they find with a pencil and placing that item in the bag.
When each child is done, have him or her come back to you and present each item they found.
You can turn this into a scavenger hunt and a mini show and tell exercise if you want!
Get your FREE copy of the printable indoor scavenger hunt for kids
Grab your copy now and keep the kids busy (and learning!) on a rainy day.
Just click the image below and download your FREE copy of the indoor scavenger hunt!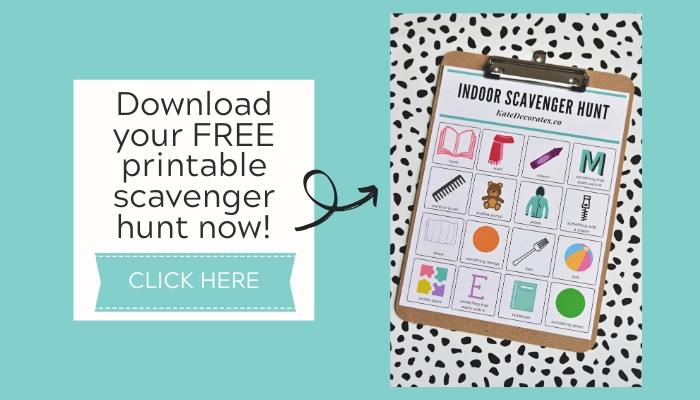 More ways to keep the kids busy:
Looking for more ideas on how to keep the kids busy?
I've got a couple of great ones for you — make sure to check out these posts: