You guys. I am really excited to write this post.
If you're like me and love finding ways to make IKEA stuff look more expensive …
Then I think you're going to be pretty psyched, too.
I love IKEA furniture, but …
I love IKEA.
You love IKEA.
Their furniture is well made, the prices are incredible, and their designs are pretty versatile.
Their items also withstand the wear and tear that inevitably occurs when you have small children running around your home (super important!).
And as my husband always reminds me, their assembly instructions are clear and easy to follow, which is the biggest upside to shopping at IKEA in his book.
We have tons of IKEA items in our home, from a Kallax shelf that I hacked and turned into a bench to a Micke desk that I turned into an organized arts and crafts station for my five-year old.
One of my few complaints about IKEA, though, is their lack of fabric options for their upholstered furniture.
For example, the shape of the IKEA Henriksdal Dining Chair gives it so much potential, but a solid-colored slipcover? Bor-ing.
Anyway, the same goes for the IKEA Poang chair, the IKEA Tullsta chair, and even the outdoor IKEA Arholma sofa/loveseat.
I almost love IKEA's upholstered items but the lack of good fabric choices always leaves me feeling a little less excited about my purchase.
My favorite IKEA hack (AKA make your IKEA chairs look custom)
But what if I told you that you could customize all of this IKEA furniture with affordable, gorgeous slipcovers made from designer fabrics?!
Yep. Easiest IKEA hack ever.
I came across an amazing shop that sells a ton of slipcovers for IKEA chairs and IKEA furniture.
I have been pondering the purchase of new dining chairs for what feels like forever, and even though I've found some nice options that won't break the bank, I am secretly pining for custom chairs.
But honestly, I simply can't justify spending $300+ on a single dining chair, especially when there's a chance that the chairs are going to have to endure some spills along the way.
I feel like that's just asking for trouble.
Here's how to hack your IKEA Henriksdal chairs
If you've ever been faced with the same dilemma, then please, please, please go check out this shop.
It's called Rockin' Cushions.
I ordered four chair covers from Michelle, the shop owner, and THEY ARE AMAZING.
Seriously, I have been doing cartwheels around my house ever since they arrived.
Here's a peek at one of the gorgeous chair covers I purchased: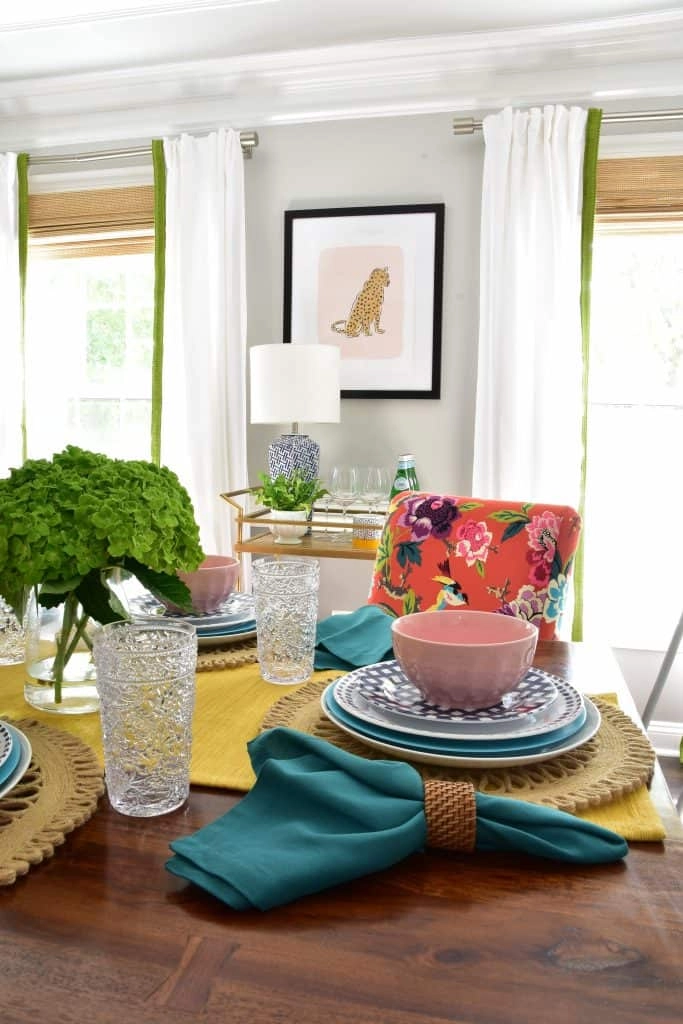 Don't the colors just pop and bring the room to life?
Here's another shot.
I love how the colors in the chair fabric play off the colors that are incorporated into our dining room gallery wall:
Okay, and who can resist?
Here's one more look at our custom IKEA Henriksdal chair covers: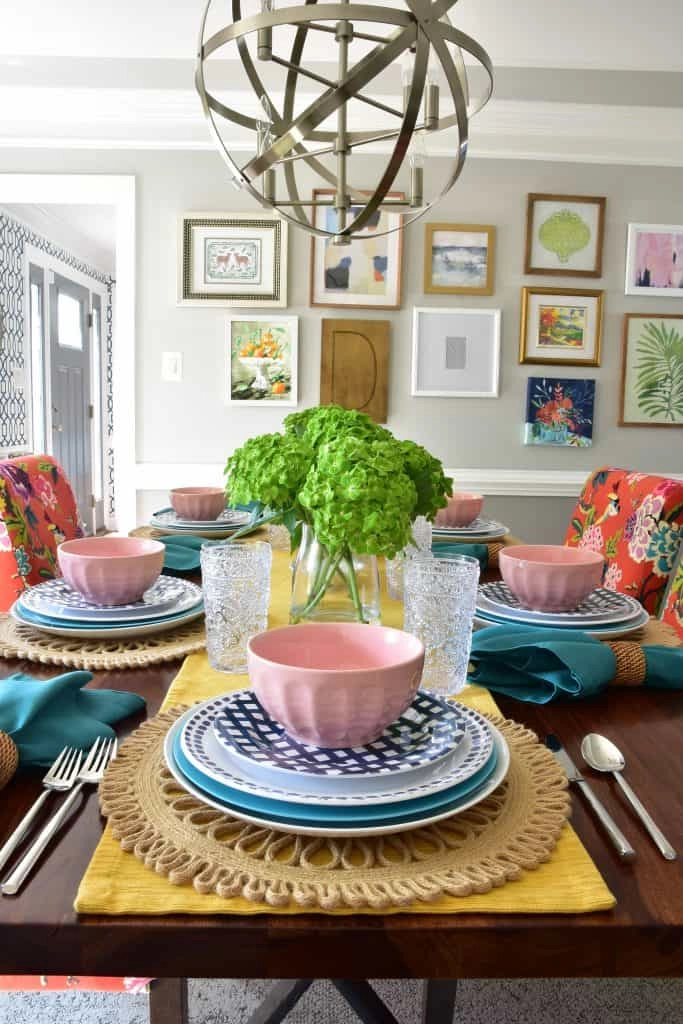 Michelle offers budget-friendly slipcovers for all different styles of IKEA furniture.
Take a look at her selection of IKEA Henriksdal chair covers right here.
I'm always a fan of a good classic pattern like this black and white buffalo check chair cover: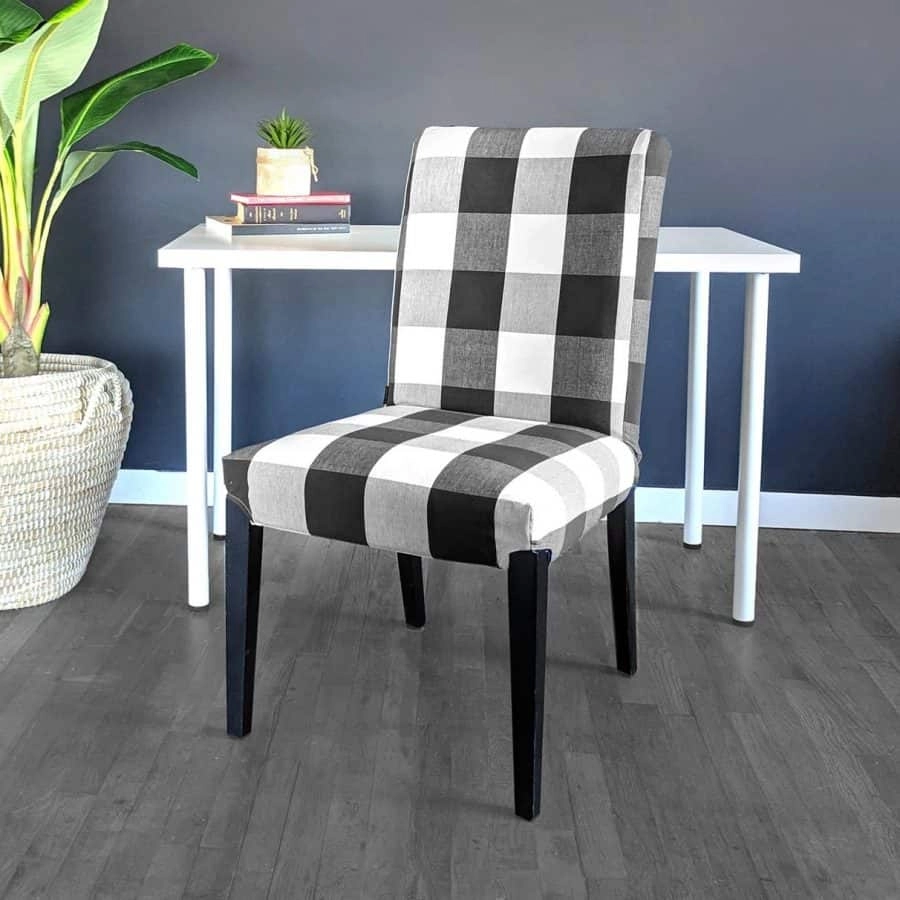 Click here to shop IKEA Henriksdal chair covers from Rockin' Cushions
I also think this skirted IKEA Henriksdal chair cover is gorgeous. It makes the chairs feel that much more elegant.
What do you think of that cover style in this blue and white pattern?
Click here to shop IKEA Henriksdal chair covers from Rockin' Cushions
And if you don't see a fabric you love, she also accepts custom orders.
Best IKEA Henriksdal hack ever, if you ask me.
Where to buy IKEA Henriksdal chairs (Hint: You can get these babies second-hand)
So, what are your thoughts on this IKEA "hack?"
Is this something you would try in order to achieve a custom look for a fraction of the cost?
If you don't already own IKEA chairs, I've seen many of these IKEA chair styles on Craigslist and Facebook Marketplace for a great price.
In fact, that's where I bought our IKEA Henriksdal dining chairs — on Craigslist!
Sure, you could certainly get them from IKEA directly.
But if you're replacing the covers, the condition of the fabric on the chairs becomes a tad less important.
Worth a look, right?
If you love DIY IKEA hacks, then don't miss these other posts!