Kids' decor is so tricky, isn't it? We all know how tough it can be to steer clear of the clunky, plastic, primary-colored storage bins, or the Dora the Explorer "lounge chair" your daughter spotted as you were trying to high tail it out of Target last weekend. That's why IKEA hacks are a favorite of mine for kids' rooms. More on that in a minute.
Anyway, it's almost like as soon as we become parents, the toy and toy storage people think that we left our sense of style in the delivery room and suddenly are hoping to have a bunch of tacky plastic crap all over our house. Uhhhh, not so much.
Enter IKEA. The Swedish retailer is a godsend for many reasons, and one of those is because the store sells so many neutral, minimalist items for children. And beyond the kids' section, there are plenty of products that can easily be used for alternative purposes, like the Bekvam spice racks-turned-kids'-bookshelves (a favorite hack of mine, as my son has two of these in his nursery — you can see how I decorated my son's bedroom).
Thanks to their minimalist aesthetic, the possibilities for IKEA hacks and kids playroom makeovers are endless.
Check out these related posts that I think you'll enjoy:
To get your wheels turning, I've rounded up a few of my favorite stylish (and easy!) IKEA hacks for kids from some awesome bloggers, ranging from an organized homework station to a super chic play kitchen.
Don't worry: These are quick and easy hacks. No creating built-ins from bookcases, no power tools required, and most of these you can probably tackle after the kids go to bed while you're watching Netflix. And drinking a glass of wine, of course.
If you don't live near an IKEA, that's cool — some of these items are even available through Amazon, like the Bekvam spice racks, Bekvam stool and the table and chairs set.
This post contains affiliate links for your convenience. Thanks for your support! If you like reading fine print, feel free to check out my disclosure policy.
Latt Table and Chairs Hack from Felt and Honey
Grab some Modge Podge and some Cavallini gift wrap, and you're ready to tackle this project. Personally, I wouldn't even worry about the chairs. Painting could also be optional. I'd Modge Podge that map onto the table and call it a day. Boom.
Raskog Homework Station from Smashed Peas and Carrots
There is (almost) nothing that annoys me more than having my kitchen table or my daughter's desk look like a craft store exploded all over it. I love this idea for corralling items that get plenty of everyday use like pencils, markers, scissors and glue sticks.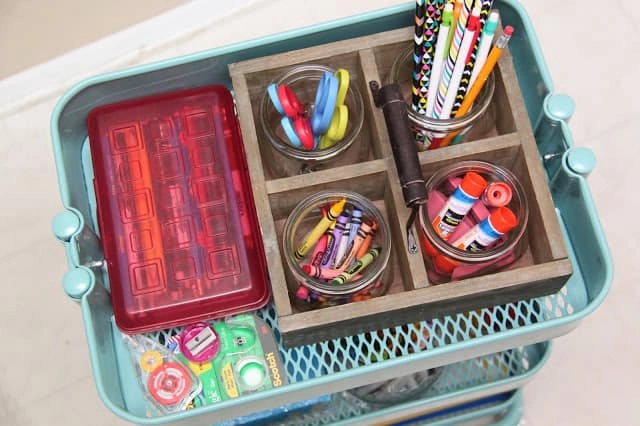 Play Kitchen Hack from A Life in Detail
Can I please have this kitchen in adult size?! This makeover is super impressive but also pretty easy to copy — you'll just need spray paint, some wood stain, and sandpaper. Oh, and a cute little potted succulent for the countertop because…..#playkitchengoals.
Trofast Storage Unit Lego Table from Designer Trapped
I love that my pal Tasha turned a Trofast storage unit into a Lego table for her girls. Legos typically have the same fate as pens and socks in our house: We think we have plenty, but then they keep disappearing one by one, and then six months later we find them in some room where they totally don't belong and wonder how they landed there in the first place. So this is a genius way to keep all those Legos together in one spot, while also giving your kids a dedicated place to build.
Bekvam Stepstool (Made Much Cooler) by Copy Cat Chic
When shopping for a step stool for my daughter a few years ago, I discovered there were two options: Something plastic that I wasn't crazy about, or a wooden and personalized stool that costs like $8,000. This IKEA hack is so much better — not to mention affordable and durable. This hack makes for a beautiful step stool that you can later use in another room once your child is tall enough to reach the bathroom sink.
Spice Racks as Bookshelves by The Sweetest Digs
Easiest project ever! All you need are some Bekvam spice racks and your choice of paint or stain.
My son has two of these bookshelves in his nursery that I painted with Annie Sloan Antibes Green.
Sure, you could just go buy some wall-mounted bookshelves, but I like the fact that these spice racks are durable, affordable and totally customizable. And when I painted my son's shelves, I did it in about 30 minutes total while talking on the phone with my mom. Hooray for multi-tasking and quick DIYs!
Kids Art Cart by Making Lemonade
The amazing Raskog cart is back again! This time Carrie transformed the adorable blue cart into an art station for her kids. If you have younger kids who aren't in school yet, the art station is a great precursor to the homework station I shared above.
Any other simple IKEA DIYs for kids that you love? Tell me about them in the comments!
WAS THIS POST HELPFUL? PIN IT FOR LATER!