Ever have one of those moments when something that was probably kinda obvious to others finally dawned on you? And then you sat there wondering why you didn't figure it out sooner?!
Well, that was me the other day. You see, I get questions from you guys all the time — in my email, here on the blog, on Facebook and on Instagram — and until now, I've been responding directly to whoever asked the question.
"So what's wrong with that?" you're probably thinking.
Technically…nothing's wrong with that approach. But I realized I was missing the opportunity to share these responses with the rest of you in case someone else out there has the same question.
And that's exactly why I started this blog in the first place: To answer YOUR questions and to help you create a beautiful, kid-friendly home that everyone in your family can enjoy. So this felt like another chance for me to deliver on that promise.
Which is why I'm so excited to kick off my new "Decorating Dilemmas" series! Each month, I'll choose a question from a reader and share my advice on the blog with all of you. These will be real questions from real people, with no-BS responses (No "designer speak" or unrealistic recommendations from me. Promise.).
If you have a question you want me to consider answering in this new series, send me an email at hi [at] katedecorates.co.
First up: Some tips on making a small home look larger. Here's a recent question I got from reader Lindsay:
My husband and I just purchased our first home and it's smaller than we'd like (booooo, budgets!). We're also expecting our first child this November. I need help finding smaller-scale, nice-looking furniture that's suitable for our growing family. What stores should we look at?
How do you make a small room look bigger?
I love Lindsay's question because let's face it — most of us wish we had more space. Maybe it's that our kitchen feels so cramped in comparison to the rest of our house, maybe we wish we had an open-concept floor plan, or maybe we're stuck in a rental that doesn't quite have the amount of square footage we want … on some level, we ALL struggle with this decorating challenge.
But before I dive into answering Lindsay's question about stores that specialize in small-space furniture, I want to share a couple general decorating tricks that'll make any home look larger than it really is.
And to show you that these tricks really DO work, I'm going to share some photos of a recent home I staged in partnership with Dutko Ragen Homes and Investments, a real estate firm located in the suburbs of Washington, DC. Their team recently gutted and remodeled the most adorable duplex in Old Town Alexandria … with two bedrooms, a den, and 1.5 baths. After you see how we maximized the space in this cute home, I guarantee you'll feel confident putting these same tricks into practice in your own abode.
Trick #1: Paint your whole house the same color.
Resist the urge to go wild in the paint aisles of The Home Depot and choose a single color to use on all the walls of your home. Why? Using one color throughout your place visually tricks your mind into seeing one larger, cohesive space.
And in small spaces, lighter, neutral colors are better: think white (well, OF COURSE), light grays and light taupes. So while those dark, moody blue walls might look cool on Pinterest, save the darker shades and use those as accent colors in items like furniture, throw pillows, and wall art.
Trick #2: Decide on a whole-house color scheme for your furniture and decor.
When you move into a new home it can be tempting to rainbow-ify (yeah, totally just made up a word) everything and use ALL the colors when you're decorating. And I'm not saying you can't embrace color on some level, but you should decide on a mostly neutral color palette for your larger items — like your walls and your big furniture pieces — and then add decor in just a handful of accent colors.
Wanna toss in a crazy colorful piece of wall art? Fine. But in general, try to keep most of your decor within the same color family to make your space look bigger.
Take a look at how I used shades of blues and grays in the main living area of the cute duplex I recently staged:
Image credit: Rui Barros Photography
Image credit: Rui Barros Photography
Image credit: Rui Barros Photography
Trick #3: Invest in smaller-scale furniture.
This sounds like a no-brainer, but if you've ever looked for, say, a sofa that isn't ginormous, you know that this task sounds much easier than it actually is.
However, allow me to be the bearer of good news: You can find great, smaller-scale furniture but you have to know where to look. More on that in a minute.
And don't be afraid to use various pieces of furniture in slightly different ways. For example, maybe a 65″ loveseat is just the size "sofa" you're looking for. Or perhaps there are a couple good-looking outdoor chairs you snagged at Target that would work beautifully as extra seating in your family room. Or two small-ish end tables that together make up the perfect (and easily movable!) coffee table. You get the idea.
Trick #4: Peek-a-boo! Add some acrylic or glass furniture that takes up less visual space.
This might be one of my favorite tricks in the book. Furniture and decor that's made of transparent materials — like acrylic or glass — take up less visual space and therefore make your room look larger.
For example, take another look at the VERY affordable acrylic ghost chairs I used to stage this living room:
Image credit: Rui Barros Photography
Now, for those of us with small kids running around, glass isn't practical — but acrylic is and it's also very on trend. In fact, big house or small, I've loved decorating with it for years. I've actually been crushing on this acrylic console table for what feels like forever. And I seriously love this acrylic side table — it's even got a cute and functional shelf. (Yes, I'm a total acrylic fan girl.)
Anyway, remember that transparent furniture is your friend when you're looking to maximize the visual space in any room.
Trick #5: Choose sofas, chairs and tables that sit up off the ground.
When shopping for a sofa, accent chairs or tables, try and find ones that sit up off the ground. Meaning if you're looking at the chair or table, you can "see through" said chair or table to whatever is behind it. This kind of furniture is less bulky to the eye, and gives the illusion that you've got more space to work with.
My own master bedroom is a good example of choosing furniture that feels less bulky. Our bedroom isn't small but it definitely isn't huge, so I deliberately chose smaller-scale pieces for this room — notice how the bed, ottoman and nightstands all sit up off the floor. You can see all the furniture I chose and even more photos of our budget-friendly (under $500!) master bedroom makeover in this post.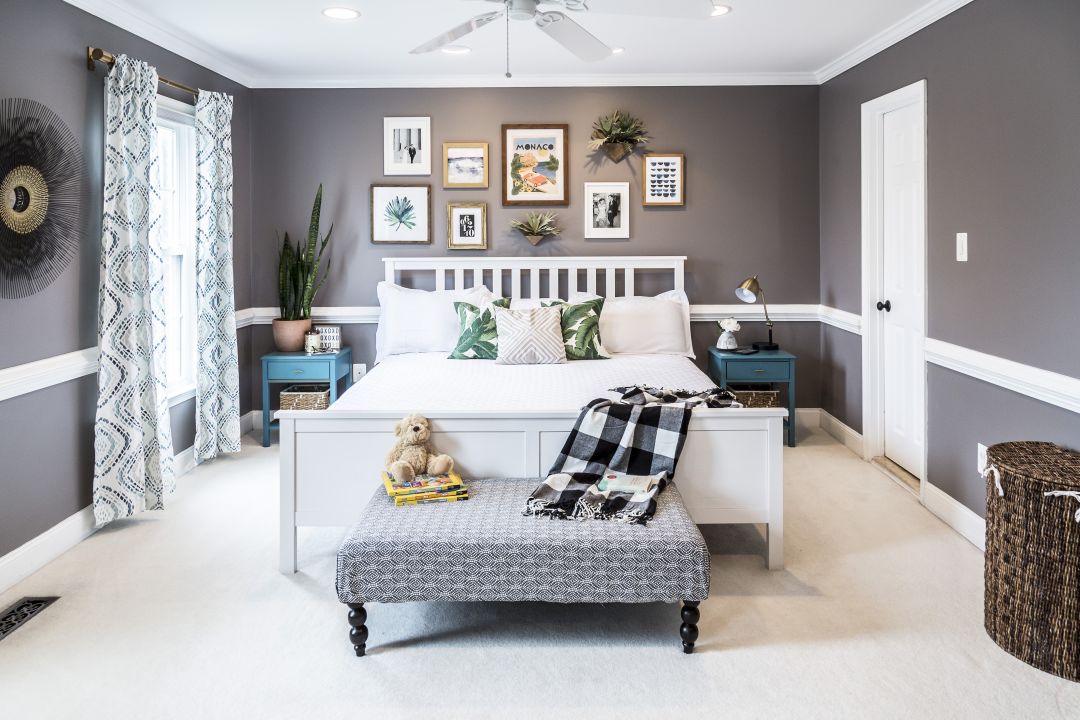 Here's one more look at our budget-friendly master bedroom:
Great stores for finding small-space furniture
Where can you find small-space furniture?
If you're ready to go out and shop, here are a few of my favorite stores that carry a great selection of small-space furniture.
Sure, you can find smaller furniture pieces just about anywhere if you look hard enough, but here are a few of my go-to places for finding furniture and decor that'll work well when square footage is at a premium:
Do you have other favorite retailers that cater to those of us in search of small-space furniture? Tell me below!
Got a decorating dilemma?
Want some help solving a decorating challenge? I've got ya!
If you have a question you'd like me to consider answering as part of this series, shoot me a note: hi [at] katedecorates.co or send me a message on Instagram or Facebook. Then keep your eyes on the blog to see if your question is selected to be featured!
Was this post helpful? Pin it!