Let's face it: some people love working from home and others despise it. Home office decorating is not something we all had to think about when we started this year, but let's face it, our home office decor is now more important than ever.
And if you're not in the "I love it" category, do you know what makes working from home even worse?
When you're surrounded by home office decor (or a lack thereof) that doesn't inspire you to get an ounce of work done.
Yeah, I know … some of you are probably rolling your eyes and thinking how superficial that statement sounds.
"Who cares?! I can just work from my couch."
But stop a think about it for a moment.
When you're working in a space that's got the equipment you need, is comfortable, and includes stuff that just freaking makes you happy, it's so much easier to accomplish your work goals, isn't it?
Our surroundings do impact us, whether we want to admit it or not.
So whether you work from home all the time or will just be working remotely for a short while, here's my best advice on building a great home office regardless of the size of your space or the cash money in your bank account.
This post contains affiliate links. Thanks for supporting the brands that make Kate Decorates possible!
Find Your Home Office Decor on a Budget
If working from home is a temporary thing for you, then you probably don't want to spend oodles of money on a home office work space that'll be demolished in a few weeks or months.
But there are plenty of creative ways to accomplish your home office decorating on a budget:
Carve out a corner.
Nope, you don't need to dedicate an entire room to your office. Carving out a corner of an existing space will work just fine for a home office. And chances are that if you only need a temporary work space, then this is the ideal setup for you.
That's exactly what my friend Brittany did over at by Brittany Goldwyn — she has a small desk in the corner of her living area. I love how she kept this nook airy with a white/light wood desk and lots of pretty plants!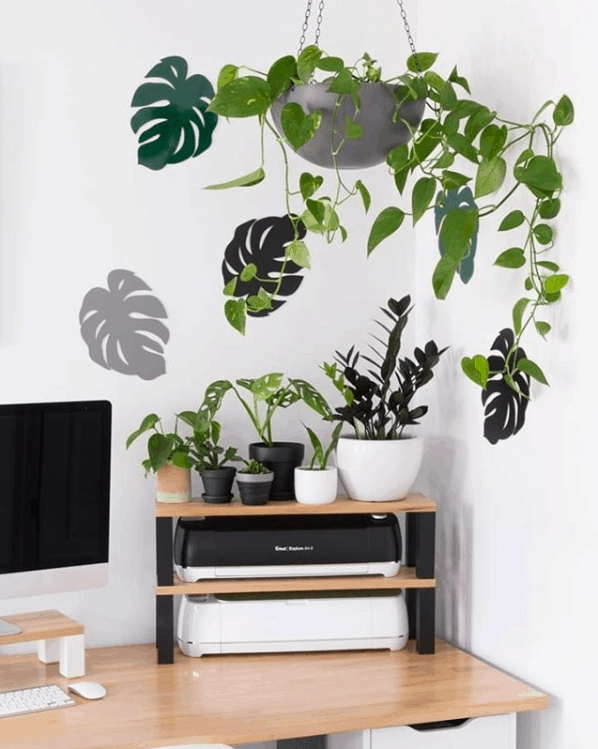 Find "big" items that you can one day use in another room of your home.
I don't mean physically "big" items — I mean the big ticket ones. For example, is there a small table you could use as a desk now that could someday be moved to your kids craft room? Or eventually placed in your basement for future game nights? If you're eyeing a piece of furniture, think of at least one more place in your house where you'd be able to use it.
Choose a multipurpose "office" spot to build out your work space.
Can your new office space double as a homework station for the kids? Or can you add a small desk to your guest room, giving your visitors one more surface to store their belongings when they come over? Pick a space in your home where that desk could be used for another purpose if needed, and build out your home office space there.
My friend Tasha at Kaleidoscope Living (fun fact: she inspired me to start blogging years ago) has a great craft room and office combo that features a tall table that could be used for SO many activities, whether she's using her Cricut or her kids are doing schoolwork and art projects.
Look for second-hand items to keep costs in check.
Okay, this might not be totally possible or smart while we're practicing good social distancing, but in normal times I suggest checking places like Facebook Marketplace and Craigslist for deals on gently used desks, bookshelves, and chairs.
My friend, Hilary, for example, is insanely good at thrifting. Here's a view of Hilary's home office — several things in here are thrifted (but you'd never know it).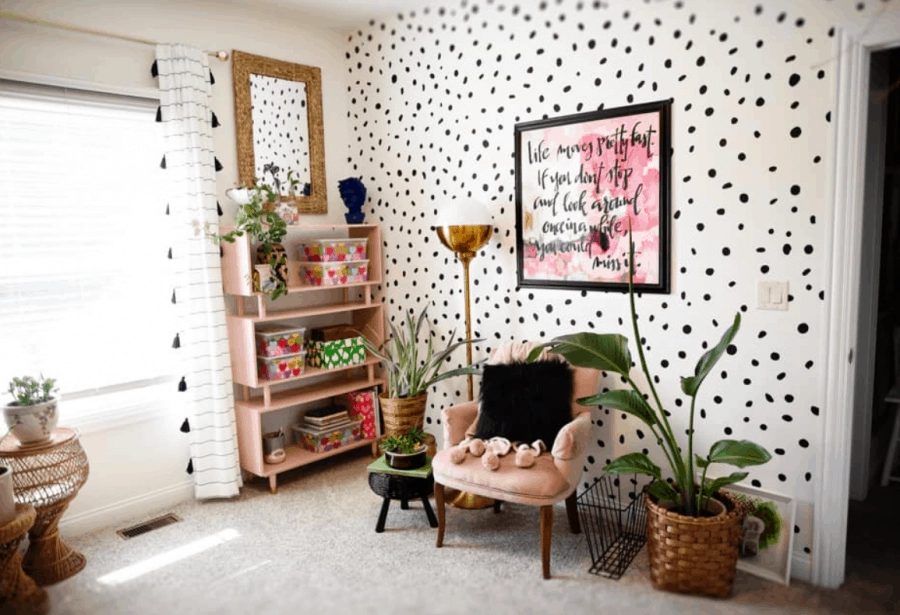 Embrace IKEA.
Not into purchasing second-hand stuff? No problem. Then head to IKEA (or order from IKEA.com) instead. IKEA has lots of great pieces appropriate for a home office that will fit with any style. For example, here's one of my favorite desks that IKEA sells — it's $25! I actually have this desk in my daughter's bedroom. We paired it with this fun (also budget-friendly) desk chair.
My friend Lindsay over at Shrimp Salad Circus used lots of IKEA items in her home office makeover … and it's fabulous! She even added a standing desk (which I had no idea IKEA sold until I saw her blog post).
Easy Home Office Decorating Ideas
There are lots of easy ways to decorate your new office space — many of which require next to no effort. (That's my kind of decorating!)
Here are my best ideas for decorating your office space that are quick, cheap, and rely on a lot of stuff you probably already have:
Get a real desk.
Real talk: Your card table isn't going to cut it. Go buy a real desk, even if it's a dirt cheap model. Trust me, you'll be happy that you did.
By the way, Amazon has tons of home office desks under $100.
Click here to go check out some budget-friendly home office desks on Amazon.
Keep things light and bright, especially when looking for small home office ideas.
If your "office" is in a small space — or even a room with no windows, like your basement — keep the furnishings and decor light and bright. Try a white desk and airy curtains in light colors (if you've got windows, that is), along with accents in lighter hues.
Take a look at my friend Monica's beautiful home office. Even with her dark accent wall, the white desk and her beautiful floral curtains keep the space feeling fresh and bright.
Try an accent wall.
If you've never used temporary wallpaper, here's your chance! I promise you that it's actually VERY easy to install … and if you make a mistake, just re-position it and try again. Yeah, it takes some patience, but hey, most of us have a little time these days, so why not take the plunge? Here's one of my favorite affordable brands of peel-and-stick wallpaper.
Not convinced? Then maybe this gorgeous home office space from my friend Kathy at Up to Date Interiors will do the trick.
I mean … WOW. How gorgeous is this home office decor?!
My friend Angela of Mid Modern Mama added wallpaper to her home office desk space. How fun and fresh are those colorful cacti?
There's so much to love about peel-and-stick wallpaper — there are a million different color and pattern options AND it's easy to remove.
Add some art into your home office ideas.
My sweet friend (and fellow Washingtonian!) Sara's home office definitely ranks as one of my favorites.
Nope, she doesn't have custom built-ins or super expensive furnishings. Her space is collected, lively and most of all … FUN! I especially love her creative take on artwork. Here she framed some magazine pages, book pages, and kid art to make a fabulous statement on her wall.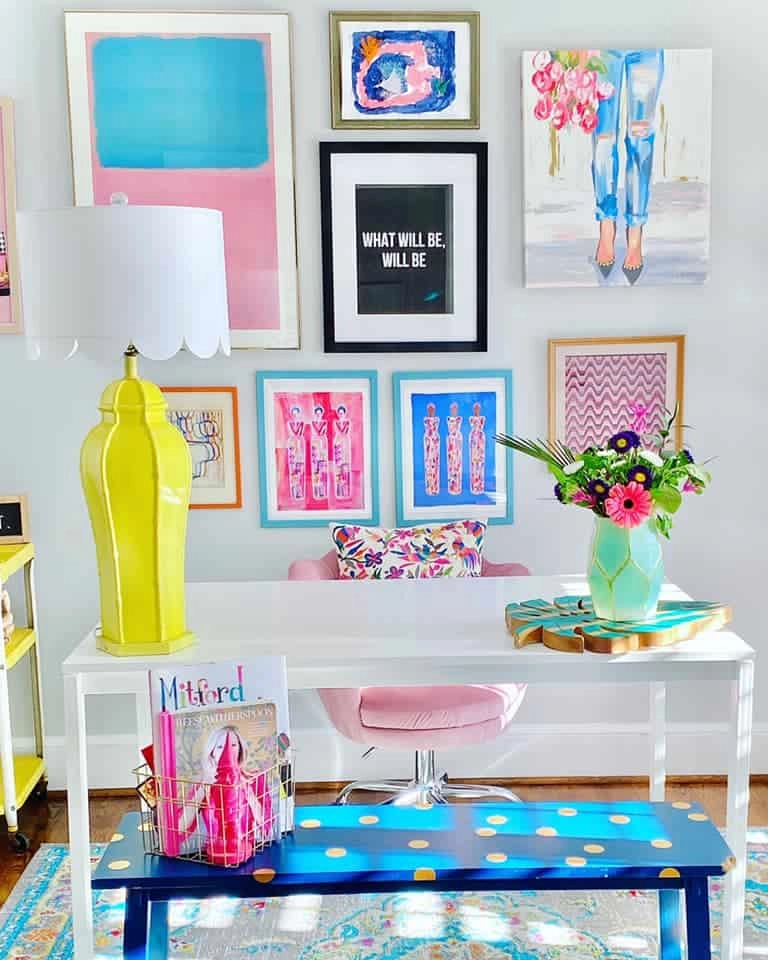 P.S. Please do me a favor and go follow her on Instagram if you're not already. You're welcome.
Add a few fun accessories to your home office decor.
No need to go overboard here unless you really want to do so — but a few pretty decor pieces go a long way. For example, Toni at Girl, Just DIY used these cute metal buckets from Target's Dollar Spot to store her paint brushes and paint pens.
A pretty coffee mug that's hanging out in your kitchen cabinet works perfectly as a pen and pencil holder, too (for years, I've used this amazing mug from Anthropologie as a pen holder at my office).
Home office decor inspiration you'll love
So many of my blogging friends have amazing home offices of all shapes, sizes, and styles.
There's no "one size fits all" here. You've got to decide on which setup works best for you and your household.
But it's always nice to have some gorgeous inspiration when you're in the brainstorming phase, right?
Here are a few more home office decorating ideas I think you'll find super inspiring.
Short on space? Sarah at Dreaming of Homemaking proves that you don't have to have much room at all to create a work space. Take a look at her tiny home office nook!
I love how my friends Morgan and Sean at Charleston Crafted turned a formerly awkward space into an adorable office nook with a U-shaped desk! The floating wall shelves are a great touch too.
Really short on space? Then steal this genius idea from Kate Collins Interiors and make your nightstand into a desk.
Kristy at Robb ReStyle snuck her desk into a family room — and it blends in so seamlessly!
My friend Stephanie at Casa Watkins blog turned her basement into a home office … and the result is so colorful and gorgeous! She's a great example of how to add pops of color to an office to make your work digs feel bright and happy.
This walnut and white wood combo — along with the pops of pretty pastels — have me drooling over this office makeover from Ashley at Sugar & Cloth.
Sara's small office makeover proves once again that "small" doesn't have to mean "boring!" Take a look at this fun, colorful nook from Sara at Tell Love Party.
Which idea inspired you the most?
And what did I miss? Any other questions about home office decor that you want to chat about? Leave me a comment below and let's talk!