Who else gets totally annoyed and stressed out by a messy, cluttered play space?
Tell me I'm not alone. Because seeing toys everywhere seriously makes my blood pressure rise.
Well, today's the day we're going to tackle the craziness. Together.
Almost every time I walk into my kids' playroom, it sorta looks like a Toys R Us recently exploded.
Yes, I know kids make messes. And kids playrooms are meant to be, well, played in. But seriously, why is it that there can't be just five minutes when everything is in its proper place?! Gah.
Here's a photo of our playroom right after doing some cleaning…and toys are already back out again.
Here's the thing: We do clean up and put toys away almost every evening. I do donate and throw things away periodically. I know you do, too.
But it's like every time I turn my back, the toys all start multiplying. Cue that scene from one of the Toy Story movies when all the mean, weird toys come to life and take over the place.
So a few weeks ago, after seeing our entire 8×10 playroom rug completely covered in toys just one day after I had painstakingly organized everything, I decided it was time to tackle the clutter once and for all. I was going to win the battle against blocks and Barbies and basketballs and baby dolls. Since that day, I've committed to doing a sweep of our playroom once a month and throwing away or donating any items we're no longer using.
To make the most of Operation: Declutter the Playroom — or Operation: Get Rid of All the Crap We Don't Need That No One Ever Plays With — I made myself a handy list of all the things to look for as I scoured our playroom, large trash bag in hand.
Why did I make a list, you ask, instead of just running around the playroom tossing things in my bag as I please?
Well, just like any project, I often find that it's helpful to have a guide to follow, plus I wanted to make sure I was as thorough as possible so that I wasn't finding items in our playroom later on that should have been placed in the Goodwill pile.
So here we go!
39 Things in Your Playroom or Kids' Rooms To Get Rid of Right Now (+ A FREE Printable Checklist!)
Check out my list of nearly 40 things to either throw away or donate right now that you can use as a guide as you kick off your cleaning spree. The list includes things like:
Broken crayons
Coloring books or sketch pads where 50% or more of the pages have already been used
Sticker sheets with 50% or more of the stickers are missing
Puzzles that are missing pieces
Decks of cards that are incomplete
Books that have ripped pages and covers
Stuffed animals that are stained or ripped (unless they're your child's absolute favorite)
Small, cheap plastic toys that your child brought home in a birthday party goody bag
Inexpensive, seasonal toys (e.g. a plastic, wind-up pumpkin toy)
Toys that are now too "young" for your children
I made you a FREE printable checklist so you can carry the list through your playroom and kids' rooms as you're searching for items to purge!
Here's a sneak peek: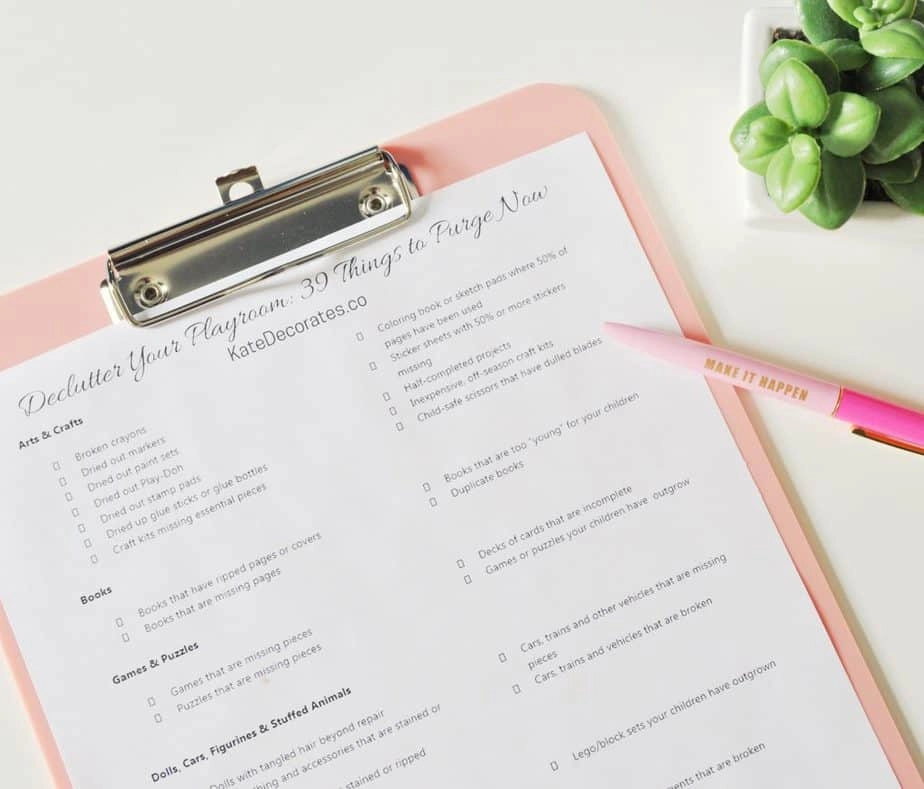 I print a bunch of these at a time so that I have them handy when I get overwhelmed by the clutter in our playroom and feel like it's time to purge some items.
All the items are broken down by category on the checklist, too, making your decluttering process that much more efficient.
Want your FREE printable checklist? Just fill out this form and I'll send it right over to your inbox so that you can print it and get to your decluttering. So easy!
Get your FREE printable checklist now!
Don't miss more decluttering tips and tricks: