It's finally warming up here in Washington, DC (hooray!) which means it's time to refresh our patio furniture so that we can start enjoying our deck again. And per usual, I'm on the hunt for affordable and stylish outdoor furniture and decor ideas to create an outdoor space we love that doesn't cost a fortune.
So if you're like me and want to upgrade your deck or patio but want outdoor furniture and decor that's reasonably priced, here are four spots where you can get a luxe look for a whole lot less.
At Home 
I. Can't. Even. And I mean that in the very best way possible. An At Home opened a few months ago right around the corner from my house, and it's basically my home away from home (no pun intended).
At Home has SO MANY outdoor seating options that look amazing and won't drain your bank account. The place is literally mix-and-match heaven, and most of the items look more expensive than they actually are. (Always a good thing!)
I'm obsessed with their Porto patio furniture collection this season — it reminds me of something you'd find at Crate & Barrel. The Cardiff dining collection is gorgeous, especially if you add the Isabella Queen Wicker Chairs as your end chairs. And don't get me started on the crazy selection of outdoor throw pillows, rugs and decorative accents. Just take my money right now, why don't ya?
The only downside about At Home is that you can't order anything online, BUT the website is a great place to get some inspiration and plan ahead for your next At Home shopping trip.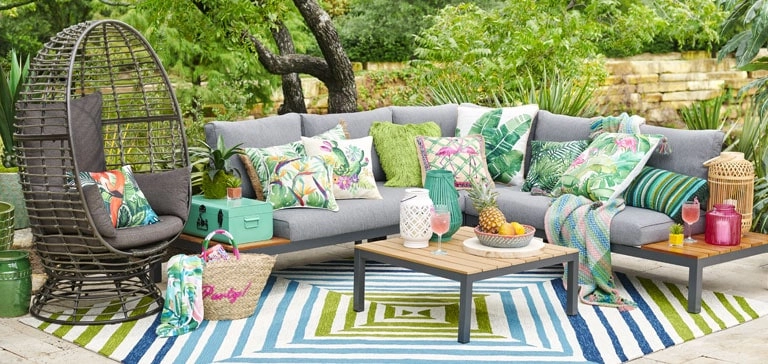 Target
Target's home decor game is seriously strong, and the outdoor seating collections are no exception. Target now carries so many options that look fairly high end, and according to many of the product reviews I've seen, the quality is good as well.
Like At Home, Target also has an amazing selection of outdoor decor that extends far beyond its collection of tables and chairs — from planters to outdoor pillows to garden stools. I seriously feel like a kid in a candy store whenever I'm at a Target strolling through the patio and garden section.
This Belvedere dining set is SO fun (hooray for mix-and-match chairs!), and the Latigo rattan conversation set could easily pass for a CB2 buy. The Mayhew set is so classic with its clean lines and navy cushions. And how good does the white and orange look against that blue?
Threshold Belvedere 7-Piece Dining Set, Target
Threshold Mayhew 4-Piece Wicker Conversation Set, Target
Threshold Latigo 3-Piece Rattan Patio Chat Set, Target
The Home Depot
I know that when most people think of big-box home improvement stores and outdoor furniture, they probably think of run-of-the-mill, super generic-looking tables and chairs. And yes, there's certainly some of that, but there are also the hidden gems that you'd never guess were available at a spot like The Home Depot.
Each year, The Home Depot enlists a number of bloggers to give their patios a refresh using furniture and decor from The Home Depot, and they're always pretty darn awesome. It's so helpful to see how real people style their spaces using items from a particular store, especially for those who have trouble envisioning what the finished product might look like. This is actually one of the most common complaints I receive from clients — they often hesitate to buy certain decorative items because they have a hard time picturing what their space is going to look like once it's pulled together. And I totally get it!
So here are a couple of my favorite makeovers from bloggers who participated in last year's challenge (the good news is that many of these outdoor items are still available for sale):
A Colorful Small Patio Update for Spring, The Home Depot Blog
Trendy Blue Patio Makeover, The Home Depot Blog
A Backyard Entertaining Space in Blue, The Home Depot Blog
Walmart
In case you hadn't noticed, Walmart has seriously stepped up its game in the last couple of years from a home decor perspective. I'm particularly a fan of the Better Homes & Gardens line, and lately I have been crushing on the mix-and-match Camrose Farmhouse outdoor collection.
The traditional dining table that's part of the line can be paired with three different types of chairs  (these industrial farmhouse chairs in four colors are my favorite) — all for waaaaay under $1,000! I recently priced out a new dining table and six chairs, and the cost was $700. Just add some outdoor throw pillows and an outdoor rug, plus some bright and bold melamine dinnerware (check out the amazing red and aqua set below for just $12!), and you're set for summer gatherings. The line also includes conversation-style seating options if you don't want or need an outdoor dining space.
Here are a couple of my favorite picks, which I pulled together in a quick design board for you:
Are you refreshing your patio this season? If so, what stores are your go-to for outdoor furniture and decor?
If you're still contemplating some outdoor updates and haven't yet gone shopping, make sure to pin this for future reference!