Thank you to Serena & Lily for gifting me the mirror I'm sharing with you in this post. As always, all opinions are my own. This post also contains affiliate links, meaning that if you click on a link to make a purchase, I'll receive a small commission at no additional cost to you. Thanks so much for supporting my small business.
Our family room is the heart of our home, and I'm constantly making little tweaks here and there to the design.
These little tweaks, in large part, sum up my approach to decorating in general: Your home should evolve — slowly — as you and your family change and grow.
I've always loved the large furniture pieces in our family room: Our comfy sofa, the cozy cobalt blue accent chair, our media cabinets, and our unique coffee table. So those aren't going anywhere anytime soon.
I love swapping out some of the decorative pieces occasionally, though, like our throw pillows, coffee table trays, artwork and other smaller items.
Making those little updates here and there give our home a fresh look, but don't require me to spend hundreds or thousands of dollars on redoing every single thing.
For our latest round of updates, I decided to change the focal point of our mantel. Any guesses as to what I changed?
Our family room: The "before"
Here's what our family room looked like a few years ago:
And then I updated our mantel again, thanks to a fun Facebook Marketplace find:
While I've loved the thrifted mirror that I refreshed with a lacquered paint in a fun shade of green, it's always felt a little too heavy for the space, especially since I tend to decorate with lighter — almost pastel — colors.
And since I'm a firm believer that you can never go wrong with anything blue, I recently ordered this stunning cornflower-colored Mosaic Mirror from Serena & Lily.
One of the many things I loved about ordering this mirror was the fact that, when shopping on the Serena & Lily website, I had the option to only view and buy in-stock items that would ship in a week or two.
Take a peek at the left-hand menu on the site. If you're shopping Serena & Lily and only want to see in-stock items, click "availability" and then choose the timeframe you want.
So easy.
Given all the shipping delays happening these days, it was so nice to have peace of mind that my mirror was going to show up in a timely fashion, and that I wouldn't get an email promptly after ordering telling me I'd receive my item in spring 2022. (That happened to me recently with a purchase I made from another retailer. Insane!)
Our family room: The "after"
Here's what it looks like in our family room!
So pretty, right?
I also swapped out some of our throw pillows on the sofa and chairs.
Those little changes always feel like they make a big difference.
I'd eventually like to make a few more changes to this space — namely, I'd like to get rid of the media cabinets on either side of the fireplace and add built-in shelving — but for now, these small updates like my new mirror make a really lovely difference in the room.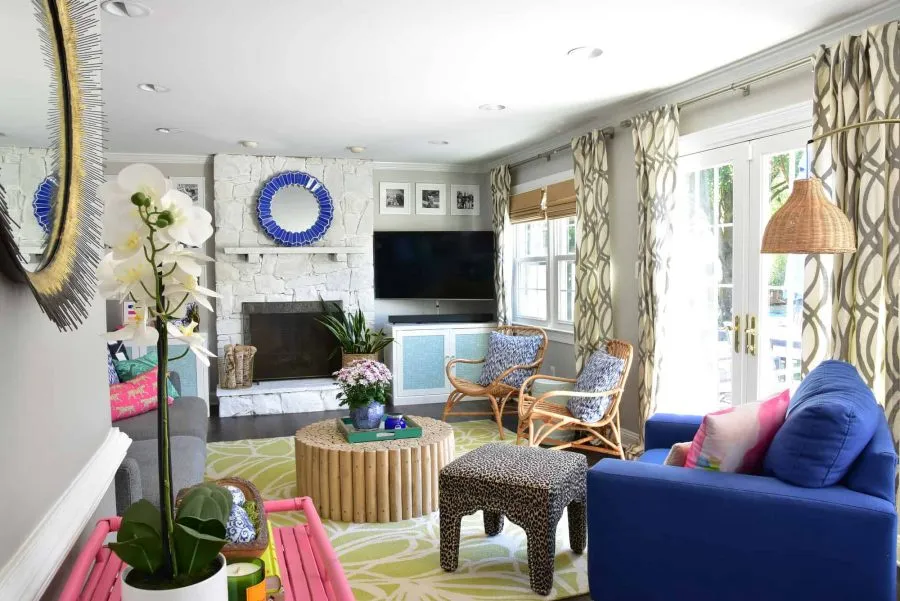 I just love it! The Mosaic Mirror is even more gorgeous in person that it appears here.
The colors and textures of it make it well worth the money. It's a really special statement piece.
More Serena & Lily favorites
There are so many things I love from Serena & Lily.
That said, some of their items are definitely out of my budget — or more specifically, I wouldn't feel good about spending up on certain items while my children are very young — so I've compiled this list of what I consider to be affordable-ish finds from S&L.
Many of these things I own already, and others are on my "to buy eventually" list.

What do you think? What are your must haves from Serena & Lily?