I've gotten so many questions about our family room couch over the years — a full Crate and Barrel Lounge II sofa review feels long overdue.
It can feel so daunting to find a sofa that's right for your family. I felt the same way as we searched for our perfect sofa before settling on the Crate and Barrel Lounge II.
I wanted to find a sofa that looked great, had a timeless design, wasn't crazy expensive and — mostly important — would hold up well for years to come.
As a mom of two active kids, I'm sharing my Crate and Barrel Lounge II sofa review with you in hopes that it'll help you find the next right sofa for your own family.
A Review of the Crate and Barrel Lounge II Sofas quality
First things first: Let's talk about quality.
I've owned countless pieces of furniture and decor purchased at Crate and Barrel.
As for their lounge II deep sofas, we actually own not one but two Crate and Barrel Lounge II sofas.
One is in our family room and the other Crate and Barrel lounge II sofa is in our basement.
Here's a look at our family room sofa, which we bought in 2015 and still own today:
We have the Crate and Barrel Lounge II sofa in their Taft fabric — the color we selected is Steel.
This particular fabric is extremely durable and is considered to be part of their performance fabric line.
The basement sofa was purchased back in 2010 when my husband and I bought our first home together — we chose a performance velvet fabric in an espresso shade, back when brown sofas were a thing.
It's moved with us three different times.
Here's a look at the Crate and Barrel Lounge II sofa that's in our basement (man, my photography skills have come a long way, thankfully):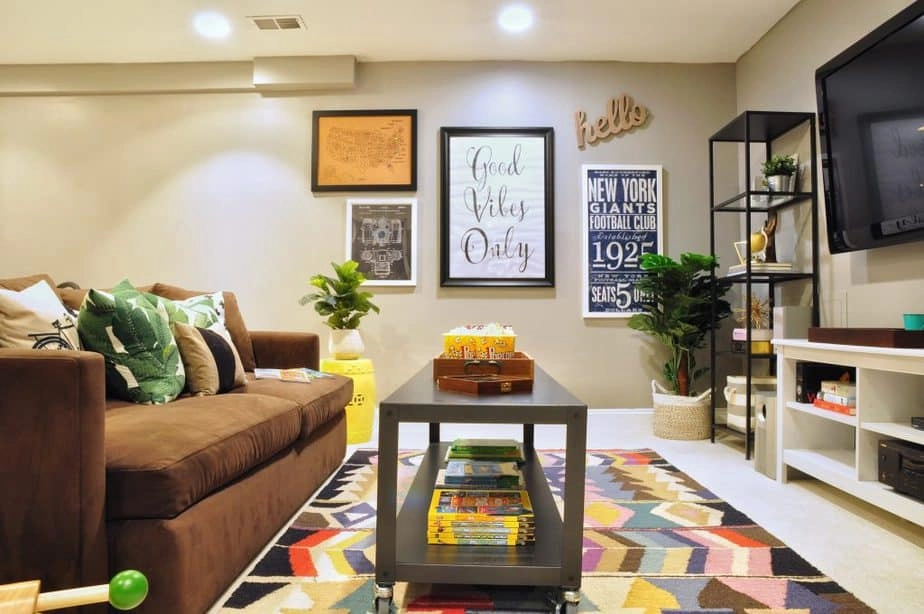 Crate and Barrel Lounge II sofa review: What I love about it
There's a lot to love about this Crate and Barrel lounge II deep sofa.
I bet you can guess a few of the "pros" I'm going to share with you based on this photo:
Benefits of the Crate and Barrel Lounge II Sofa
Crate and Barrel Lounge II Sofa is durable.
This sofa can withstand just about anything. I have two kids, ages 8 and 4, and they jump on our sofa daily. They also use the cushions during pillow fights, sit on the tops of the back cushions … basically they do everything to our furniture that makes parents around the world cringe.
However, this sofa — at least in our house — seems pretty much indestructible. Which is so important for families with young children.
Crate and Barrel Lounge II Sofa is the most comfortable thing ever.
No, really … this sofa is the equivalent of a warm, cozy hug.
I absolutely love curling up on the sofa to read with the kids or watch Netflix.
The cushions are deeper than many other sofas we looked at when we were in the market for a new couch, which makes it easy to relax and curl up. And all four of us fit pretty comfortably on it.
Crate and Barrel Lounge II Sofa holds its shape over time.
I'll give this sofa yet another thumbs up for its durability, because my kids have mashed these poor couch cushions daily and the sofa still looks like new.
The Crate and Barrel Lounge II Sofa performance fabric is amazing.
Kids will be kids, so it's inevitable that upholstered items in any family home will see their fair share of bodily fluids, not to mention juice spills and so much more. I've even spilled coffee and wine on it. Thankfully, both sofas are still in amazing shape despite some, ahem, accidents from time to time. I talk more about my specific recommendations for cleaning the sofa later in this post.
Crate and Barrel Lounge II sofa review: What I don't love about it
I personally don't have any beef with the sofa, but my husband feels it's too deep for his liking.
In all the reviews I've read about this sofa, that's the only negative I've ever seen thrown around.
It really comes down to your personal preference, but for some the sofa might feel too deep — I will say that you do sink into it when you sit down (in the best way possible). I happen to really like that aspect of it.
Before you purchase the Crate and Barrel Lounge II Sofa — or any sofa, for that matter — I recommend that you visit a Crate and Barrel store if possible and sit on the sofa yourself to determine if it is truly a great fit for your family.
How to clean a Crate and Barrel Lounge sofa?
The sofa cushion covers are removable, so it's entirely possible to toss them in the washing machine if there's an incident that can't be mopped up with a paper towel.
Wash removable cushion covers
I can't personally vouch for how the cushion covers launder because I haven't ever had to wash them, but this is an option they advertise. (Lucky us!)
Clean sofa covers with baby wipes
We have had plenty of spills of all kinds on both Crate and Barrel Lounge II Sofas, and I typically use either baby wipes or a gentle spray cleaner and paper towels.
Cleaning wipes
I've also been known to take a Clorox wipe (without bleach) to the cushion surfaces, too.
And I'm pretty pleased to say that the cleaning methods I described above worked beautifully for us.
What other questions do you have about the Crate and Barrel Lounge II sofa that I didn't answer?
Leave your question below and I'll respond!