We recently made over our powder room on a pretty tight budget, and I'm so excited to share the powder room reveal with you!
We've put a lot of effort into many rooms in our home over the years.
But for some reason we largely ignored the powder room.
Until recently, it had gray walls and … not much else.
Just wait until you see the "before" photos.
Today I'll share with you how we decorated our powder room on a budget, and will give you a couple ideas for how you can breathe some personality into your own powder room without spending lots of money.
Powder room makeover: The "before"
When we moved into our home in 2014, the powder room was beige, had a pedestal sink, and a builder-basic mirror.
Upon moving in, we painted the walls gray to match the paint we chose for the rest of the main level.
And we eventually swapped out the pedestal sink for a larger vanity thanks to a Home Depot sale, and I found a cute mirror at Target to replace the ugly mirror.
Even though it's the bathroom that everyone uses the most — both my own family and any guests that come to visit — we didn't pay much attention to it.
At one point, I apparently thought it would be a good idea to wallpaper just two accent walls in the bathroom.
Well, I did it, and let's just say it did absolutely nothing for the room. (Although I do like the wallpaper itself, but for a different space.)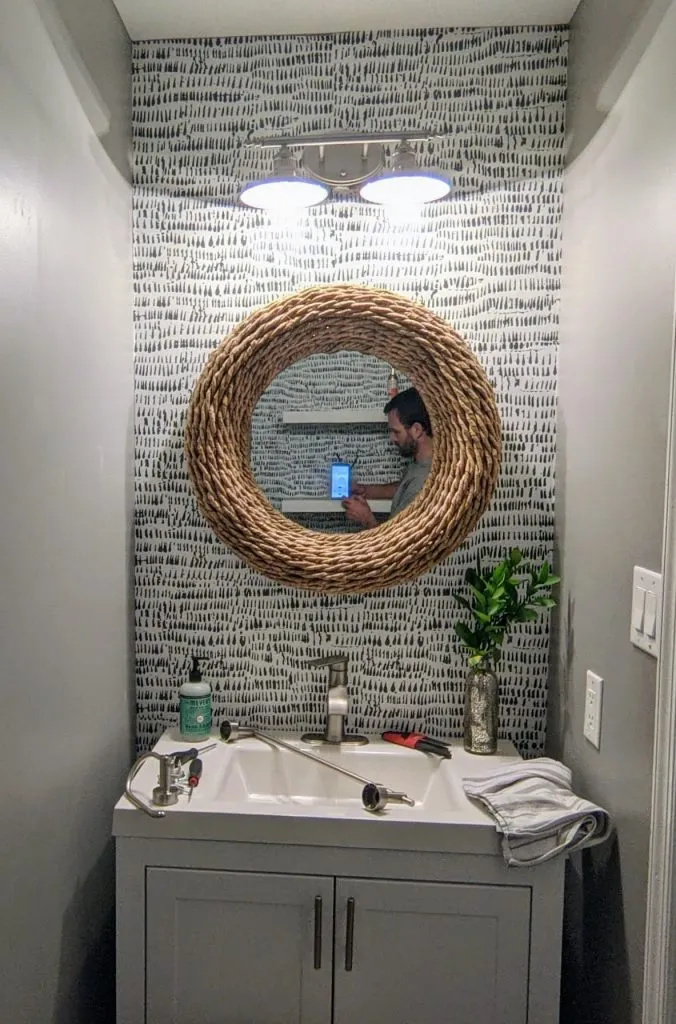 Then I added a few floating shelves above the toilet, and that was an even worse idea.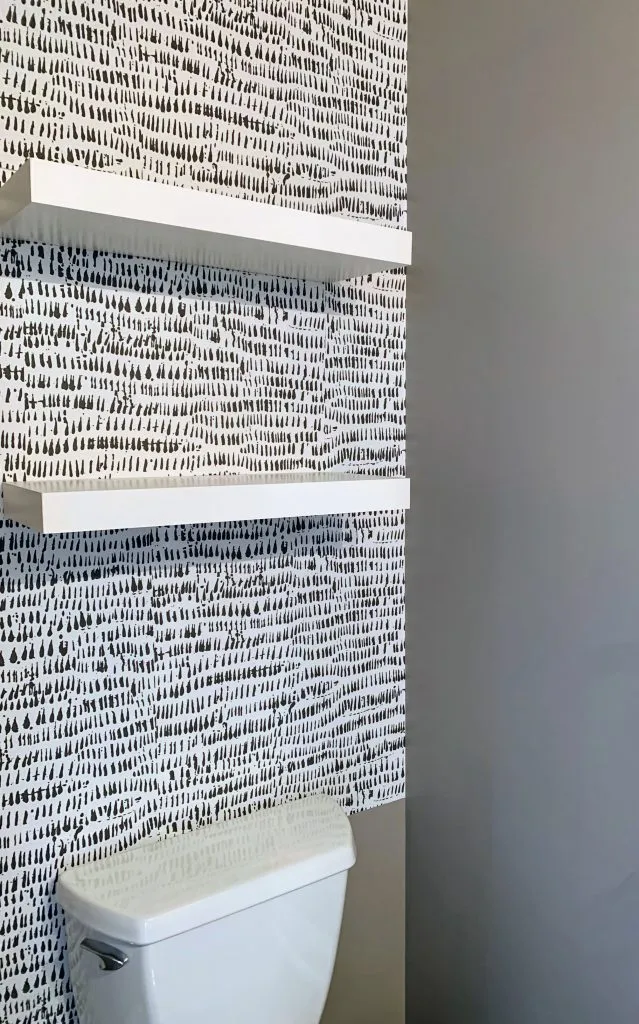 But we left the space alone for a while, even though those weren't some of my finest decorating decisions.
Powder room decorating ideas on a budget
We finally got sick of looking at the powder room in its strange, mismatched state … and decided it was time for a refresh.
Like most of the room makeovers we do around here, we wanted to keep the project budget friendly.
Here is a look at what we changed in the space, and how we were able to update the powder room on a small budget, all while packing a big punch of personality:
Change out the vanity: We technically did this before this most recent makeover, and we gained so much storage by adding a vanity with cabinets. Here's a similar vanity model to the one we purchased.

Change out the mirror: This was an easy one! I found that cute rattan mirror at Target a few years ago. Sadly Target doesn't sell that exact mirror anymore, but here's a similar rattan mirror at a good price point.

Paint the existing light fixture: This was an easy upgrade, too. Our old light fixture was in good shape, so I purchased a can of Rustoleum spray paint and painted the existing fixture.

Add wainscoting: My husband — who took up woodworking when the pandemic initially hit — installed this for us using mostly scrap wood from past projects. I think it looks great and adds some architectural interest to the space.

Add peel and stick wallpaper: The addition of new wallpaper packed the biggest punch in this room — I love it! Here's the peel and stick wallpaper we bought.

Update the faucet and pulls: Again, a pretty easy switch — we purchased both the faucet and pulls from Amazon.
Here's a quick photo of the the space mid-makeover:
How do you add drama to a powder room?
There are plenty of ways to add drama to a powder room, but my favorite way to add drama in most spaces, big or small, is to add wallpaper.
For this project, I chose a bright, colorful wallpaper.
Powder rooms are traditionally fairly dark spaces since most do not have windows, and I wanted to add wallpaper that helped brighten up this small space.
Here is the wallpaper we ended up using.
The pattern is called Amalfi and I just LOVE it.
Here's a sneak peek for you, along with a look at the spray paint I used to update the light fixture:
It's not only fun and happy, but it's also meaningful because my husband and I honeymooned in Italy — and visited the Amalfi Coast.
So it seemed fitting that this aptly named wallpaper was hanging somewhere in our home.
And my husband, being the lovely guy that he is, graciously offered to install it.
Does peel and stick wallpaper work in a bathroom?
If you're wondering, "Does peel and stick wallpaper work in a bathroom?" the answer is … yes. For the most part. But there are some caveats.
In the case of our powder room, peel and stick wallpaper was a great choice because this bathroom never gets humid.
I personally would not use peel and stick wallpaper in a full bathroom where there's a shower, as the moisture would likely cause the paper to come off the walls eventually.
However, I've never tried to use peel and stick wallpaper in a full bathroom, so can't say for sure whether it would work and hold up over time.
Powder room makeover reveal
Ready to see our powder room makeover reveal that we tackled on a modest budget?
Here it is!
And another look, this time with the lights on:
It's a much more welcoming room now, and the style fits more seamlessly into the rest of our home.
Small powder room makeover: Budget breakdown
Here's a breakdown of the approximate costs of the makeover, just so you can see what's possible on a relatively small budget.
I did not include the cost of the new vanity here since we purchased that several years ago. But everything else we used for this refresh is noted below:
Wainscoting (using mostly scrap wood and paint): $100
Peel and stick wallpaper (we used three rolls, $65 each): $195
New faucet: $60
New cabinet pulls: $12
Spray paint for light fixture: $5

Total cost for the makeover: $372
Can you believe it? We spent less than $400 on this makeover. Not bad!
Like this post? Pin it!
If you liked this post, I'd love it if you'd pin it and share it.
Thanks so much!