Every year, I write a post about the Christmas tree that the kids and I design together … and honestly, it's one of my favorite annual posts to write.
I'm super excited to be sharing it with you today as part of a blog hop full of amazing Christmas tree inspiration!
If you're wondering what in the world a "blog hop" is, it's simple: it's where lots of bloggers come together and write about a similar topic. In this case, I'm teaming up with nearly 30 fellow home decor bloggers and we're each sharing how we're decorating our Christmas tree this year.
Thanks so much to Stephanie of Casa Watkins Living for hosting the hop! I participated last year as well, and shared our colorful, glittery family room Christmas tree.
This post contains affiliate links. If you click on a link and make a purchase, I'll earn a small commission at no additional cost to you. Thanks for your support!
A Candy-Inspired Christmas Tree for the Kids
For the past three years, my kids and I have decorated a candy-themed Christmas tree in their playroom.
However, every year that we recreate the candy-inspired Christmas tree, we make a few changes.
So each year, our tree looks a little different than the last!
Here's what our candy-inspired Christmas tree looked like two years ago.
Candyland Christmas Decorations
Before we get to the reveal, let's talk about how we updated our infamous candy tree this year.
First, we upgraded the tree itself and bought this fun white tree from Home Depot.
Our old one was pretty plastic-y, and it didn't have lights on it. So this new one was a fantastic step up!
Next, we bought quite a few new ornaments, most of which were from At Home's Mrs. Claus' Bakery decor line.
We added those new ornaments — shaped like gummy bears, lollipops, cinnamon buns and more — to all the other candy-themed ornaments we've collected over the years. (Bonus: Most of the new ones we got were both adorable and affordable.) I snagged some new garland plus a few fun tree picks, and then we were ready to start decorating!
I put together a quick little inspiration board to show you the decorating plan I had in mind for the kids' tree:
DIY Candy-Themed Christmas Ornaments: A Fun Craft for Kids!
Of course, our tree wouldn't be complete without a few themed DIYs!
My favorite Christmas ornament DIY project to date is still our DIY gumball machine ornaments.
Here they are!
The kiddos and I made these fun ornaments a couple of years back, and they were super easy and mess-free.
Well, they're mess-free provided that you opt to have an adult spray paint the miniature clay pots that we used as the gumball machine base … which I highly recommend, ha! But the kids can easily do every other step.
Get the full tutorial for our gumball machine ornaments right here!
Here's a closer look at those ornaments hanging on one of our past candy-inspired trees:
The Reveal: Our 2021 Candyland Christmas Tree
Ready to see how the inspiration board came to life?
Here's our candy-themed tree in our playroom.
Do you see the fun felt garland I draped over our curtain rods, too? I bought that last year and love it!
Here's one more look at the tree in our playroom — I took this photo while standing in our foyer and looking into this room:
And now a close-up of the ornaments:
I think the green walls make it extra festive, don't you?
Here's another view — I snapped this photo standing in our family room. I'm right in the doorway that leads to our playroom:
I found that cute "Oh what fun!" pillow at Target last year:
It might just be our best candy tree yet!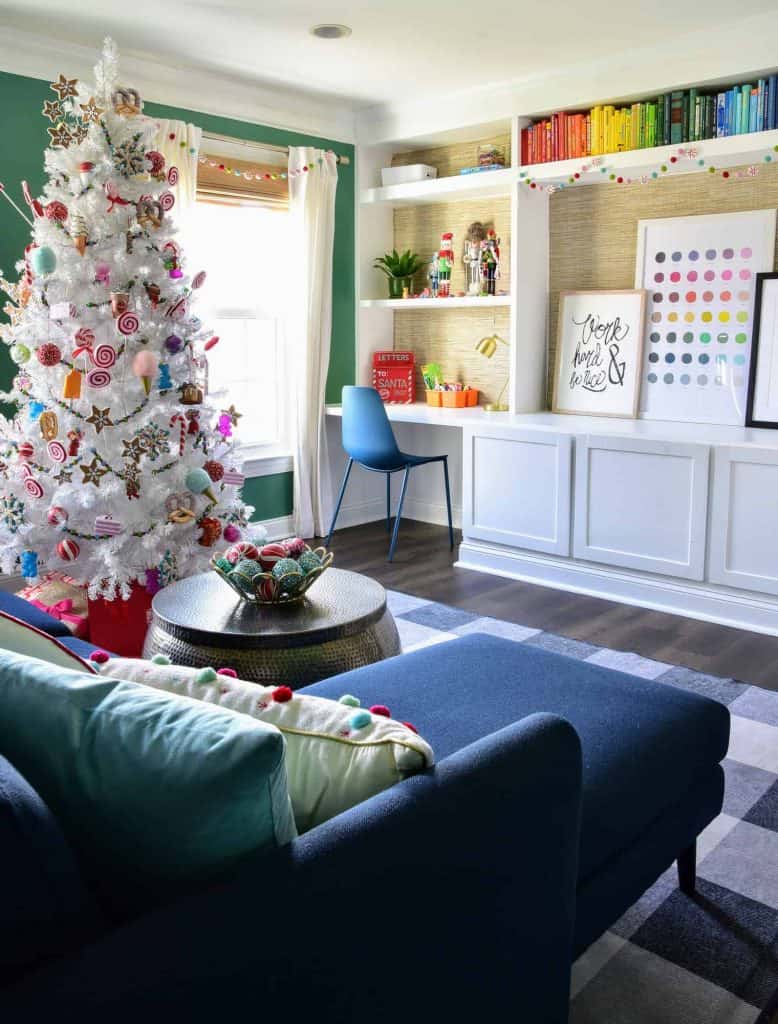 More Amazing Christmas Tree Inspiration
Ready to see more Christmas tree decorating ideas of every style?
Then check out the rest of the bloggers who are participating in this hop.
There's so much inspiration here — I always love seeing everyone's unique take on Christmas tree decor!
Click on the links below to see nearly 30 (yes, 30!) different Christmas tree decorating ideas.

Monday
Casa Watkins Living // Up To Date Interiors // Mocha Girl Place // Kate Decorates // House of Hipsters // Monica Wants It
Tuesday
The Happy Housie // SKG Designs // Delineate Your Dwelling // Cuckoo 4 Design // Room Bloom Design // My Sweet Savannah
Wednesday
Iris Nacole // PMQ For Two // Stacies Spaces // Rebecca Propes // Liz Morrow Studios
Thursday
Au Petite Salon // Taryn Whiteaker Designs // The Honeycomb Home // Daly Digs // T Moore Home // Love Your Abode
Friday