Thank you so much to Urbanwalls for gifting me the wall decals that I used as part of this makeover! As always, all opinions shared in this post are my own.
Our small mud room — the "before"
I know I said this post is about our small mud room makeover … but would you believe me if I told you that two years ago, we didn't have a mud room?
We created a mud room during our kitchen renovation, which was a last-minute addition to the project.
For years after we moved into our home, our mud room was actually a pantry.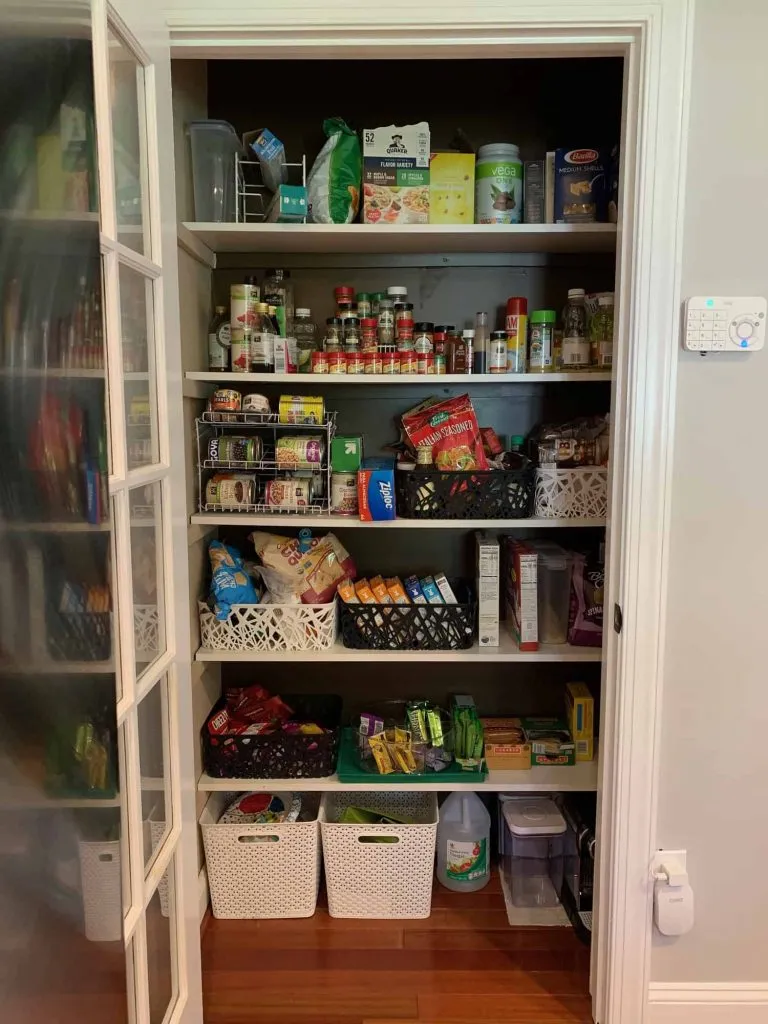 And it looked like this when we decided to rip it all out.
The alcove with the dark brown paint? That was indeed our old pantry. And a very cute little kid holding his tablet.
Because our 1980s colonial didn't have a mud room to begin with, we'd always struggled with finding a drop zone to store our shoes, coats and bags.
For a while we stored everything in a coat closet near our foyer, and then we tried dropping everything right outside the door to the kitchen in our garage.
Neither solution worked, so when we realized we no longer needed a standalone pantry, our mud room plans — or "mud nook" plans, as I like to say — were born.
The old pantry was very close to the door that leads to the garage, which you can see in the photo below, so we decided that it just might be the perfect spot for our "mud room."
DIY mud room ideas for small spaces
The biggest challenge for us in creating a mud room is that we didn't want to expand the footprint of our home … which meant we had to somehow create a mud room by using our existing space.
And the pantry location was THE perfect (and only) contender.
When we planned it out with our contractor, we had three must-haves:
Closed storage (for things like hats and gloves, and even dog leashes)
Multiple hooks for hanging coats and backpacks
A charging station (or multiple charging stations) to help corral our family's many electronics
Lucky for us, this wish list added just $1,200 to our existing renovation project, which we felt was a pretty fair price for the job (especially since we were already spending quite a bit to renovate the kitchen).
Here's a teeny "in progress" peek at the mud room, which you can see in the corner of the photo.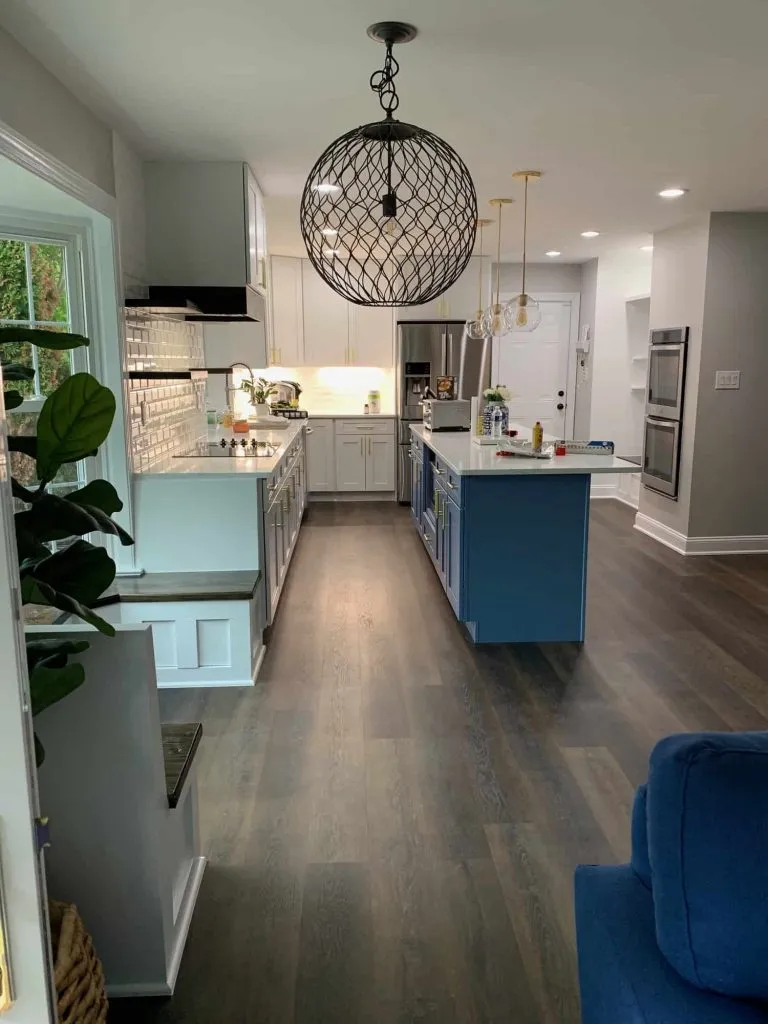 Small mud room storage
When all was said and done, we wound up with great storage space — not just the several types on the wish list, but we even got some bonus space on a shelf that is about 15 inches away from the ceiling.
We use that spot to house several woven baskets, which are full of pantry extras (or "overflow" items from Costco), like coffee pods and boxes of macaroni and cheese.
I'll show you that in just a minute.
Small mud room decor
My favorite part of our new mud room, of course, was decorating it!
It's a small space so it didn't need much, but I wanted it to be welcoming and colorful — just like the rest of our home.
I spotted the cutest tangerine wall decals at Urbanwalls, and fell in love. These became the centerpiece of my design for the space.
So building a plan around the fun wall decals, here's what I came up with:
Pretty fun, right?!
The wall decals were a perfect choice because it would've been nearly impossible to wallpaper this space, particularly because we added several charging shelves in the corners.
And I didn't want to paint it — the thought of adding a dark color of paint felt like it might overwhelm the small space.
Which is why these decals — along with a fun striped rug, some throw pillows and a few woven baskets — ended up being a great way to spruce up this little corner.
Also, can we talk about how the buffalo check pillows and the periwinkle stripe in the area rug coordinate SO well with our kitchen island color?!
I love it when a plan comes together!
Our small mud room — the much more colorful "after"
Want to see what the mud room — or our "mud nook" as I like to say — looks like now?
Here's the fun "after:"
We love this space. It's SO functional for our little family.
Who knew that ditching a pantry could be so rewarding?!
Do you have a mud room or a drop zone in your home? Is it a lifesaver for corralling all the kids' things?
Was this post helpful?
I'd love it if you'd pin it for later!