What better way to wrap up 2018 than by looking back on some of the posts you guys liked the most this year?! Well, December 31st is also a great day for eating holiday leftovers, binge watching your favorite Netflix show, or wearing your kids out at the local trampoline park….but hey, reading blog posts is pretty awesome, too.
So what are the posts you loved the most this year?
Looking back at the top five, I'm seeing a couple themes here: kids' room inspiration, affordable dining chair options, and tips for making easy DIY upgrades around your home.
Without further adieu, here are the top five, starting with #5 and ending with THE most popular post of 2018. (Pssst: Don't forget to scroll ALL the way to the end to see the most-loved post of the year!)
It's a great time to read a post you may have missed, and to get some ideas for decorating projects for the New Year.
And speaking of things you loved — what else do you want to see here on Kate Decorates? Drop me a suggestion in the comments section at the end of the post!
Post #5: 40+ Affordable Dining Chairs Under $100
Let's face it: Dining chairs are expensive. And when you have to multiply that cost by 6 or 8, it can be a real heart palpitation-inducing experience.
In this post, I've rounded up over 40 affordable (and great looking!) dining chair options for you, in a boatload of different colors and styles. You can read it right here. And get ready to say hello to your stylish breakfast nook that didn't cost a bajillion dollars.
Post #4: This IKEA Henriksdal Hack
Will Make Your Dining Chairs Look Custom
Speaking of affordable dining chairs, this simple IKEA hack is one of the best-kept secrets when it comes to getting custom-looking chairs at the fraction of the price.
This post will explain exactly how I — along with an incredible Etsy shop — created the custom-looking dining chairs that you see above for about $100 each for our dining room. Read it here.
By the way, this post contains a single affiliate link, which means if you purchase something via that link I'll make a tiny commission at no extra cost to you. Thanks for your support!
Spoiler alert: Wanna go straight to the amazing Etsy shop that made this hack possible? Check out the shop right here.
Post #3: IKEA Kallax Bench Hack:
Turn Your Shelf into a Bench with This Easy, No-Sew Cushion
Another IKEA hack for the win!
In this post, I'll show you an easy way to turn your IKEA Kallax shelving unit into a bench by creating a custom cushion — and the best part is that it requires ZERO sewing.
We use ours in our basement playroom and have been LOVING it. Read the post and get the simple instructions right here.
Post #2: 3 Things You Need to Know
Before Using Peel-and-Stick Tile Flooring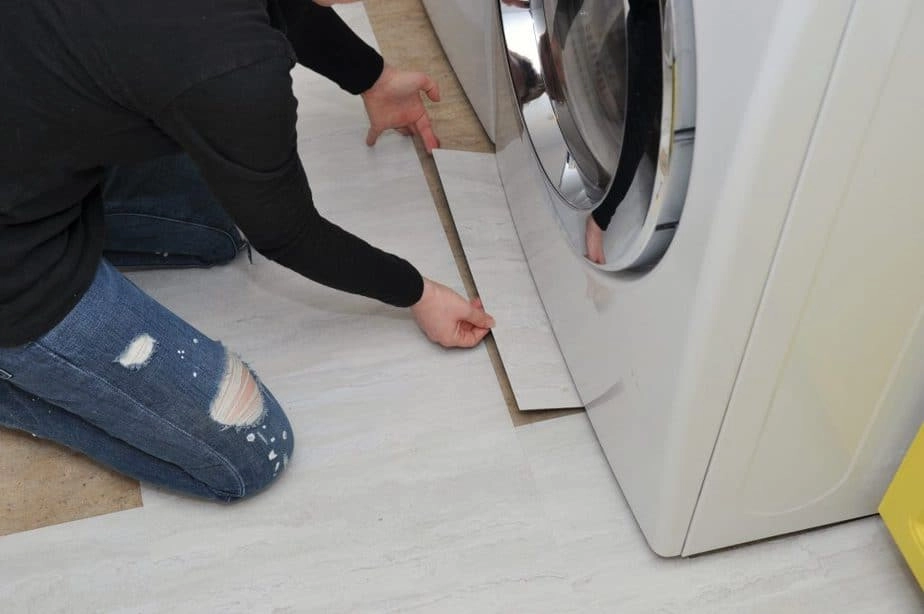 Clocking in at spot number 2 is this post all about the things the home improvement stores don't tell you about using peel-and-stick flooring. I used peel-and-stick vinyl tile for our $200 laundry room makeover, and while I'm pleased with the results, there are a few things I wish I'd known before I started the project.
Want to read about everything I wish I'd known about using peel-and-stick tile? You can get all my tips and tricks right here.
And the top post from 2018 was……..
Post #1: 10 Colorful Playroom Ideas That You'll Love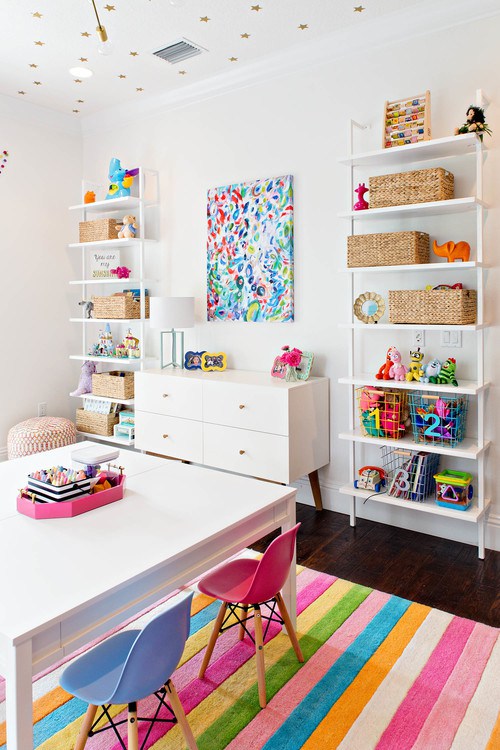 The most popular post on Kate Decorates this year was all about — I bet you'd never guess — colorful playroom ideas.
Can I just say how happy it makes me that you guys love colorful kid spaces as much as I do?! That seriously makes my heart smile.
This post is chock full of some of THE coolest, most colorful play spaces on the interwebs….and you are going to LOVE them.
By the way, if you're looking for more colorful decor inspiration for the kiddos, be sure to check out 7 Colorful Boys' Room Ideas You'll Love and 9 Colorful Girls' Rooms You'll Want to Copy.
So there you have it! The top posts for 2018.
Thank you all so much for reading, and for being part of the tribe. I am oh-so grateful for your support and friendship here on this little corner of the internet! You guys are just the best.
And as we kick off 2019, I want to keep writing posts that YOU want to read.
So leave me a comment below, and tell me what you want to see on the blog this year!
Liked This Post? Pin It!