We're coming up on our three-year house-versary. As I look back on all the old MRIS photos, we've sure come a long way in making our house feel like a home.
While I'm happy with all the progress we've made on our family room, the kids' rooms, and even our $200 DIY laundry room makeover and the recent kids' bathroom makeover, there's one space that we've largely ignored until, well, a couple months ago.
I present to you…
The grainy "before" photo of our mismatched, boring pea green-colored master bedroom, compliments of my iPhone.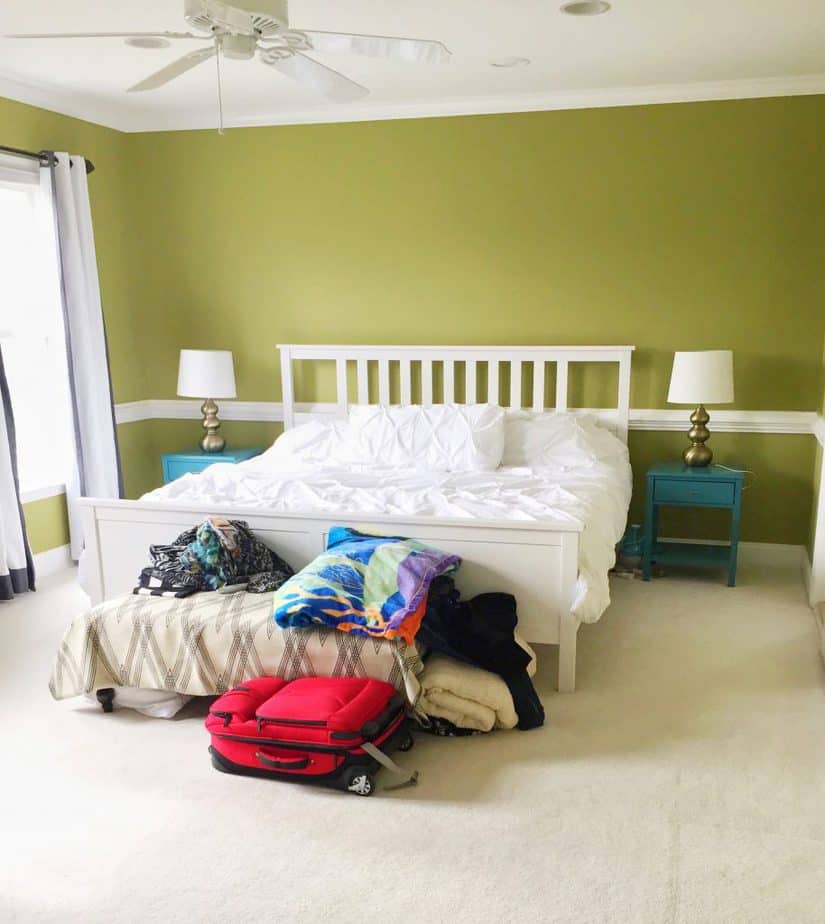 In case you didn't know, decorating with suitcases is the new thing. As is storing scarves in a pile on your upholstered bench.
Isn't in funny how many of us move into a new home and go crazy with decorating, yet leave our own bedroom for last?
The master bedroom should be a sanctuary for us – a place to escape the madness of everyday life — yet it typically gets shoved to the bottom of the priority list while we pick out new kitchen cabinets or put finishing touches on the baby's room.
Sound familiar?
I'm all "Me, me, me! Guilty!" over here, which you probably already guessed based on the photo above.
My husband and I finally decided that we'd had enough of Split Pea Paradise (Has a nice ring to it, doesn't it?), so our first mission was to paint the space. I already had some décor ideas swirling around in my head, but I actually – gasp – let my husband choose the paint color.
Yes, I know – I broke design rule #1 because we chose our paint before planning the décor. (Psst: Check out my handy tips for never again having a "But I swear it looked gray on the paint swatch!" moment right over here.)
Although if we're being completely honest, I kindly steered my hubby toward the right family of paint colors to make sure his color of choice would blend nicely with the other items I'd already added to my mental "new bedroom" shopping list. (Love ya, honey.)
Here's where we landed:
We're huge fans of gray paint – heck, the entire first floor of our home is gray – but this particular shade is deeper than the paint on the main level. And we wanted our master bedroom to feel a little different, and not just like an extension of the rest of the house.
So we went for it, and chose Valspar's Olive Gray.
I then got to work creating a mood board to inspire the rest of the room makeover.
With two young kids, my husband and I rarely go on vacation, and I have to admit that we've never gone on a vacation just the two of us since my daughter was born almost six years ago. (Yes, I know – some of you probably want to leap through your screen, pack a bag for me, and shove me out the door. I promise that he and I are working on that whole vacation thing, and soon!)
So why not turn our bedroom into a vacation of sorts for us, where only one flight of steps is required to reach our getaway?
Like most of our refreshes around here, we didn't plan on changing any major elements. The carpet needs to stay even though I prefer hardwoods, and we're keeping the ceiling fan. (For the record, I feel that ceiling fans are a necessary evil.) We also have a king-sized bed and two nightstands that needed to be incorporated into the new design.
And nobody's knocking down walls or removing the chair rail that you see in the "before" picture I shared above. We simply don't have the time or the budget required to take on those larger projects right now.
The goal is to keep the makeover as simple and straightforward as possible while still turning our bedroom into a welcoming retreat (no plane ticket required!).
Well, a retreat where there's usually a small person sleeping in between us clutching a stuffed animal.
Anyway….
Ready to see our modern boho master bedroom plans? Our "vacation" spot on the third floor of our abode?
This post contains affiliate links. For my full disclosure policy, click here.
Curtains // Nightstands // Wall sconces // Bed // Black + white pillows // White lumbar pillow // Potted faux succulent // Woven basket // Serif date wall art // Wooden wall planter // Metal orb wall decor // Blue and white abstract wall art // Monaco travel poster // Brass knobs // Blue + white trellis fabric // Gray + white striped fabric
In keeping with the tropical vacay theme, I decided to include furniture, curtains, and artwork in some calm shades of blue to remind us of the beach, along with some lush greenery and colorful wall art, including a vintage-style travel poster from one of my favorite brands, Rifle Paper Co.
And I was fortunate enough to receive a gorgeous piece of abstract art from Stephie Jones Art that was inspired by the Outer Banks of North Carolina, which happens to be one of my husband's and my go-to beaches. How fitting is that?!
We're almost done with the refresh, but I have to confess to you that we started this project back in April.
Just like the rest of you, I have to spread out my purchases over weeks and months, and also set aside blocks of times on the weeknights or weekends to tackle different parts of a decorating project.
I also changed my mind about a few elements – like curtains I ordered back in May, which I promptly returned once they finally arrived after a 2-month shipping delay – and had to go back to the drawing board. And while you know that I love decorating, I also have far more ideas than I do time or money, so our room makeovers can't happen overnight.
But….we're so close! Stay tuned for the full reveal, which I'll be sharing in September.
In the meantime, is the master bedroom in your home a neglected space, or do you get a gold star for turning it into a serene sanctuary?