I've always had a love/hate relationship with gift tags, especially around Christmastime. So this year, I was determined to come up with some creative gift tag ideas that are MUCH cooler than a cheap-o adhesive label. (Admit it….they're not cool and we all know it.)
Here's the thing: Gift tags generally fall into one of two categories. They're either inexpensive and cheesy looking, or they're totally stunning but cost the equivalent of one week's daycare payment. Um, no thanks….on both accounts.
So instead of opting for traditional gift tags this year, I found a few personalized, meaningful gift ideas that can double as gift tags. And they are SO STINKING CUTE.
It's a win win: You'll get a giant gold star from all the grandparents because your gifts are so thoughtful, and you'll also avoid wasting money on something that usually goes straight into the garbage once the post-dinner present-opening frenzy is over.
This post contains affiliate links, which means that if you purchase something by clicking on one of my links I'll make a small commission at no additional cost to you. Thanks for your support!
And special thanks to Kodak Moments for providing me with free products for this post. As always, all opinions shared here are mine.
Wanna see what I found? Take a look at my three favorite alternative gift tag ideas:
PHOTO ORNAMENTS
Here's an easy win for the grandparents: Create a photo ornament using a picture of each grandparent with your kids, and use that as your gift tag.
I got mine from Kodak Moments this year, and they turned out SO WELL. I can't wait for Brian's and my parents to see them! Take a peek:
I loved the unique look of these metal ornaments that I chose. The Kodak Moments ornaments come in lots of different styles — from more traditional, silver-plated styles to some that are even made from bamboo — so there's bound to be a style that you (and your in-laws) will love. Bonus: They're also 40% off right now using the code STOCKUP. Yessssss.
INITIAL KEYCHAINS
How cute are these personalized tassel keychains?
Provided that your family and friends have names that begin with different letters of the alphabet, a keychain with the recipient's first initial is a great way to add a little something extra and forego the usual paper gift tags. And at less than $10 each, this sweet Etsy find is pretty affordable.
MONOGRAMMED ORNAMENTS
Etsy is THE source for tons of inexpensive, monogrammed Christmas ornaments. From buffalo check to rustic wood to mercury glass varieties, there are SO many options, so there's a price and style for everybody.
These wooden initial ornaments are $4 each (!!!) and come in plenty of styles, and I'm also obsessing over this cute buffalo plaid number, which is just $8.
And last but definitely not least, I am freaking out over these cute and colorful monogrammed ornaments — they're a steal at $10 each. (No, really….I am dying over the last ones. I need, like, 25 of them for my own tree.)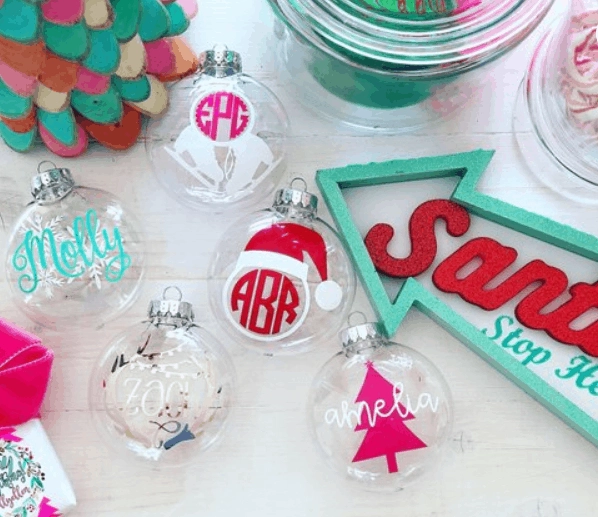 What do you guys think? Would you use a non-traditional gift tag idea for your gifts this year?
I'll report back and let you know how the grandparents like their ornaments….but I'm pretty sure I already know, and in that case I'll just take ALLLLLLL those daughter-in-law brownie points right now. Find more Christmas crafts for kids ideas over here.
LIKE THIS POST? PIN IT!