Turns out that IKEA isn't just for broke college students … there are actually SO many amazing IKEA products for kids that, as a busy mom, I know you'll absolutely love (just like I do!).
My kids are continually growing, but we owned so, so many IKEA kids products for them over the years.
From their cribs to kids' table and chair sets, to my most favorite shelving unit of all time (the IKEA KALLAX, of course), the retailer has so many affordable, durable, and good-looking products that are perfect for busy families.
Let's look at some of the very best IKEA products for kids, shall we?
I'm sharing a peek at how real people (just like you and me!) are using IKEA products for kids in their own homes … and making them look stylish.
IKEA Kids Playroom Ideas
IKEA has so many amazing products that are perfect for the kids' play area.
We love their shelving units and storage bins in particular.
Here's a look at how lots of busy moms — just like you and me — have used and styled IKEA items.
IKEA Kids Playroom Furniture
IKEA has great playroom furniture for kids playrooms.
It's affordable, durable, and can easily be mixed with just about any style of decor.
Here's a look at how we used the IKEA KALLAX shelving unit as toy storage in our playroom when my kids were really young:
It was perfect for corralling all kinds of toys, both big and small.
We especially loved it for storing puzzles and games.
Small Kids Playroom IKEA Product Ideas
IKEA has lots of smart solutions for smaller playrooms, too.
Here are a few small playroom ideas to inspire you, all of which feature IKEA items in them!
Take a look:
IKEA Kids Playroom Storage Ideas
IKEA sells so many versatile and affordable storage options that are perfect for keeping the kids playroom tidy. No matter what you need to store and organize, their TROFAST storage line is always a solid choice for kids playroom storage options.
Angela of Blue i Style Blog used the IKEA TROFAST storage solution when she converted a vacant closet into Toy Storage HQ.
Look how cute it turned out! I love that she added labels to each of the bins as well.
IKEA Kids Table and Chairs for Playrooms
IKEA kids table and chairs sets are ideal for the kids playroom — they're all affordable, they're durable, and IKEA offers various table and chair designs and sizes for kids of all ages.
Little Kid IKEA Table and Chairs
This is my favorite IKEA little kid table and chairs set — in fact, we owned this years ago when my children were both under the age of five.
This set is plastic so it's easy to clean, and it comes in a few fun colors.
Here are all of the IKEA MAMMUT items for children.
IKEA Kids Table and Chairs for Toddlers
When it comes to toddler table and chairs sets, the LÄTT IKEA kids table and chair set is a great option from IKEA.
You can't beat the price — plus, the white and pine color combination works well with every single decor style!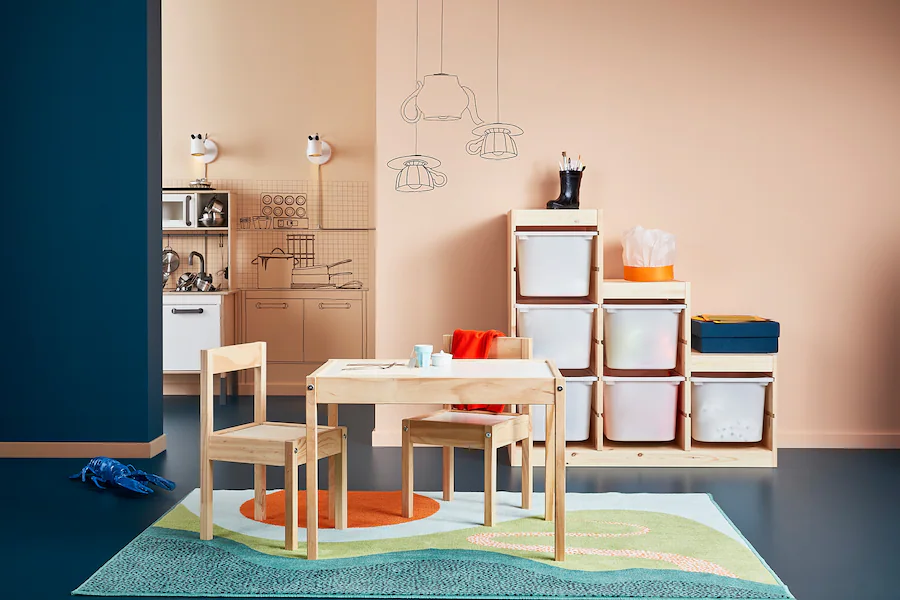 IKEA Kids Beds Ideas
While not exactly meant for the kids playroom, let's face it, kids often find themselves using their bedrooms as a kids playrooms and IKEA beds are great products to have as kids beds.
Cheap IKEA Kids Beds
My daughter has an IKEA MALM bed in her room — we gave her bedroom a colorful refresh and she LOVES it. You can see the full room makeover right here.
Here is the MALM bed in her space:
For kids who have graduated to a grown-up bed, the MALM is an excellent choice. It comes in several colors and the price is great — a full-sized MALM bed frame is under $200.
Bunk Beds from IKEA
I love the kids bunk beds from IKEA as well, although we haven't had an opportunity to test them out in our own home.
However, I sure do love what Rebecca Propes did in her son's bedroom with a set of IKEA bunk beds.
Check out the fun room she created over on Instagram.
Just goes to show that even a simple coat of paint — combined with some fun bedding — can go a long way!
IKEA Kids Dressers
IKEA's dressers are perfect for kids and adults alike.
My two favorite IKEA dresser models are the IKEA HEMNES dresser and the IKEA MALM dresser.
Both of these dressers can grow with your kids — they'll take them from the infant years through their teens and beyond.
IKEA Baby Dressers
Speaking of the IKEA HEMNES dresser, Morgan at Charleston Crafted hacked her IKEA HEMNES dresser and turned it into a gorgeous baby dresser and changing table!
How cute is this?
This is another great example of how IKEA furniture and decor is wonderful as is, but can easily be upgraded with new paint and hardware to create something that's totally unique.
IKEA Kids Playroom Storage Ideas
Last but not least, I absolutely adore all the kids' IKEA storage options.
Whether you want storage ideas for the playroom, kids' bedrooms or anywhere else, IKEA is a perfect place to find functional and affordable storage options.
IKEA Kids Playroom Toy Storage Ideas
When it comes to kids toy storage ideas, I love finding storage options that don't look like they're for kids.
For example, a woven floor basket is a perfect catch all for LEGOs.
Or a storage bench like this one is a great spot to hide superhero figurines.
Here's a quick peek at some of my favorite IKEA kids playroom toy storage ideas — including the IKEA TROFAST system that I mentioned earlier.
From left to right: TROFAST unit (white and pink bins; multiple colors and configurations available), INSVEP seagrass basket, HURRING black basket, SNIDAD rattan basket, PERJOHAN pine bench, TROFAST unit (white bins), RISATORP wire baskets in sky blue and white, NATADE wire basket, STOCKSUND bench in gray, INSVEP water hyacinth basket, BRANAS square basket, TROFAST unit (aqua bins).
IKEA Kids Playroom Book Storage Ideas
When it comes to storing kids' books, IKEA has a few kids book storage ideas that I think work well in nearly any space.
I still swear by the versatility of the IKEA KALLAX.
As you can see, we stored some books on our KALLAX when we had the unit in our playroom: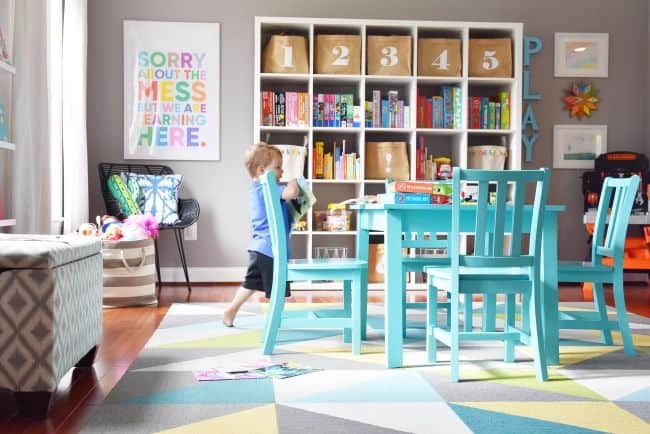 We also used some picture ledges from IKEA as bookshelves, too:
Enjoy that dose of playroom reality, too! Hey, even the most organized playrooms get messy sometimes.
IKEA Kids Clothes Storage Ideas
When it comes to kids clothes storage ideas, I love IKEA's dressers but also appreciate the line of clothing organizers they carry.
This hanging organizer is perfect for storing folded items in a kid's closet — think sweaters or t-shirts — and at under $10, the price couldn't be better.
If you're short on closet space but still want to hide clothing behind closed doors, then IKEA's wardrobe options are an excellent solution.
IKEA Kids Shoe Storage Ideas
Last but not least, let's talk about kids shoe storage ideas … all from IKEA.
Hands down, my favorite is the HEMNES shoe cabinet. It holds quite a few pairs of shoes but looks like a normal cabinet. Genius!
Some of IKEA's beds also have built-in storage, which would be great for hiding toys, clothing, and even shoes.
In this teen room makeover, my friend Julia of Tag & Tibby used an IKEA HEMNES day bed to store toys. You could easy house shoes in here too!
Love the idea of including hidden storage like this in a child's room.
Want Some IKEA Hacks Ideas?
Was this post helpful? Pin it!
Was this post chock full of IKEA products for kids helpful?
If so, I'd love it so much if you'd pin it and share it. Thanks so much for your support!